VIDEO: Hulk Hogan really likes Johnny Manziel
Hulk Hogan says he's the greatest of all-time, but someone's coming along who could challenge that: Johnny Manziel.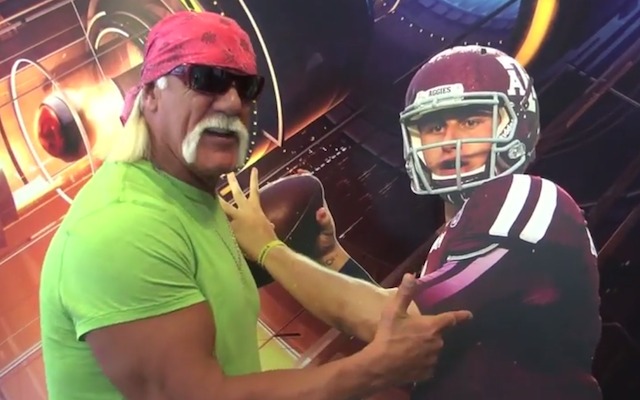 Johnny Manziel's Pro Day had everything on Thursday. There were 30 NFL teams, eight general managers, seven head coaches, a former president and Barbara Bush even brought her dogs because Manziel could get drafted by the Browns and dogs are Cleveland's mascot. 
That's not actually why she brought the dogs, but it's the theory I'm working with right now.
Barbara Bush walking the family dogs at Pro Day. Nbd. #JohnnyFest pic.twitter.com/4x1zLZYgob

— Albert Breer (@AlbertBreer) March 27, 2014
Anyway, what Manziel's Pro Day didn't have was a six-time WWE Champion. That's where Hulk Hogan comes in with this inspirational video. Hogan is such a Johnny Football fan that he calls him 'Johnny Mantell' at one point. Was it a slip of the tongue, or was Hogan really referring to 1977 AWA tag team champion Johnny Mantell? Hogan's been hit in the head a few times, so you can't rule anything out.  
Here's the Hulkster's video and yes, he was the first one to notice that Johnny Manziel has the 'heart of a lion.'
Cowboys rookie Jourdan Lewis got some good news on Tuesday.

The Ravens might need some help at running back

The Jaguars are making people rich
It looks like Michael Vick is hoping to make the transition from player to coach

The former undrafted free agent is about to get a huge raise

Both Malik Hooker and Andrew Luck are on the PUP list, so maybe it's time to start worryin...