VIDEO: New York Jets ALS ice bucket challenge involves fire hose
The Jets called in the local fire department to help them with the ALS ice bucket challenge after the team was nominated to take it by 'Tonight Show' host Jimmy Fallon.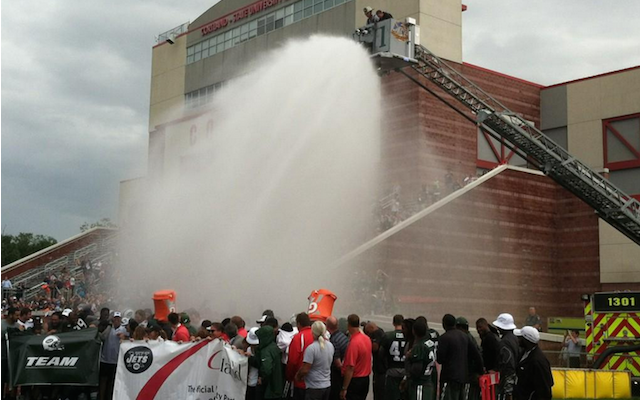 More NFL: Photos |  Videos & GIFs |  Training Camp updates | Manziel watch
The ALS ice bucket challenge is everywhere. You may have seen it on Facebook or Twitter or maybe you did it to yourself instead of showering this morning. The point of the challenge is to raise money and awareness for ALS -- also known as Lou Gehrig's disease. 
On Tuesday, Bill Belichick and Patriots owner Bob Kraft took the challenge. There was also some guy who used a helicopter to take the challenge. The Jets decided to one-up everyone on Wednesday by using a fire hose to take the challenge.
Actually, the Jets really didn't have a choice. Tonight Show host Jimmy Fallon challenged the entire team during his show on Tuesday night and really, a fire hose is probably the only way to make sure the whole team gets doused. 
Here's video from Bart Hubbuch of the New York Post. The best part of the video is the two players who use empty ice buckets to protect themselves from the fire hose. 
You can see Fallon challenge the Jets in the video below. The challenge comes at about the 3:10 mark. And just in case you're keeping track at home of who's following through with their ice bucket challenges and who's not, the Jets challenged the Mets, Yankees and Seahawks. 
Donald Trump would like to see NFL owners cut any players who kneel for the national anthe...

One of the biggest penalties in Thursday's game was a controversial flag that went against...

If Ezekiel Elliott gets suspended, it likely won't come until Week 5 at the earliest
The NFL is apparently concerned that the Chargers might not be viable in Los Angeles

Everything you need to know for Week 3 of the 2017 NFL season is here

You can find every official injury designation for each NFL team shortly after its Friday report...