Video of Woody Johnson announcing Rex Ryan's return is epic
When Woody Johnson announced Rex Ryan would return as Jets coach, the locker room exploded in happiness.
• 1 min read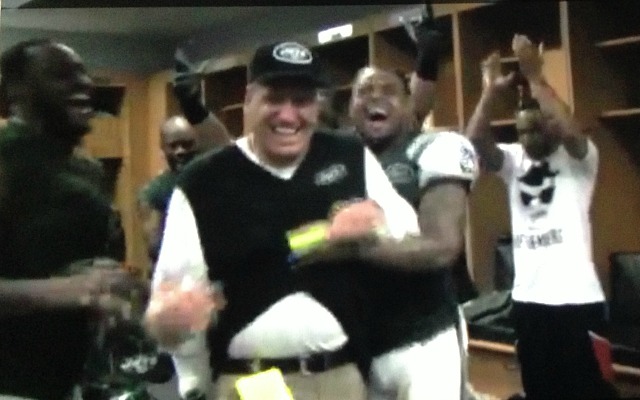 For so many months, many of us assumed that, no matter how many expectations the Jets exceeded this season, owner Woody Johnson and general manager John Idzik would fire coach Rex Ryan.
But after New York beat the Dolphins on Sunday to get to 8-8 on the season (and though he won't win the award, Ryan really should be highly considered for the coach of the year honor), the team announced Ryan would return.
And the video from inside the locker room when Johnson announced the news to the team Sunday is pretty epic. You can see it here on the team website, but a quick rundown.
•Johnson talks about how proud he is of the team and then says, "You gave it everything you had every play and you played hard for this coach. That's why I've elected to keep Rex ..." and then pandemonium exploded with the team surrounding Ryan in celebration.
•More from Idzik: "We're here, because we're proud to be Jets. We wear the logo and the colors with pride. We're here because we're confident. Not cocky. We're confident. We know what we're capable of doing and we know where we're going. We know who wears all those traits on his sleeve for everyone to see every single day, this man right here." Then, Idzik handed Ryan the game ball.
•A very emotional Ryan cries with tears of joy.
•Idzik and Ryan gave each other a very manly embrace as the video fades to black.
Follow Josh Katzowitz on Google+
Everything you need to know about the Packers-Panthers game on Sunday afternoon

The Lions will be wearing their Color Rush uniforms for the first time on Thursday

The Lions look to maintain playoff positioning while the Bears attempt to play spoiler
The Panthers have hired an outside law firm to conduct the investigation

Here's every official injury designation for each NFL team for Week 15

Bennett was one of the few players who escaped punishment after Sunday's melee in Jacksonv...