VIDEO: Richard Sherman spoofs NFC title game rant with Michelle Obama
Richard Sherman, Russell Wilson and Earl Thomas had no problem cooking up some salmon cakes and succotash in the White House kitchen.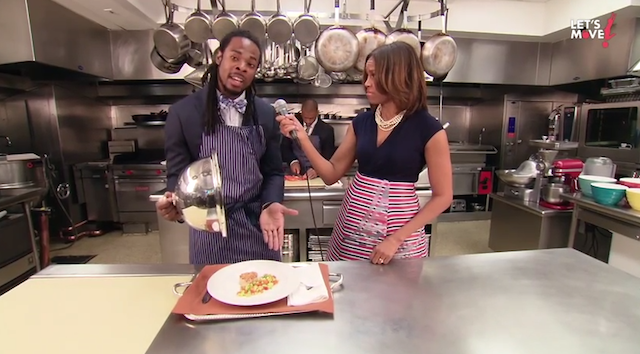 First Lady Michelle Obama will apparently go to any lengths to make sure kids are able to get a healthy lunch at school -- and that includes letting Richard Sherman yell at her in a spoof of Sherman's postgame rant after the NFC Championship in January. 
During the Seahawks visit to the White House, Sherman, Russell Wilson and Earl Thomas made their way to the White House kitchen where they made the video below with the First Lady, who seems shocked that the three football players know how to make corn, succotash and salmon cakes. 
"Well, let me tell you, we the best chefs in the game. So when you try us with an easy meal like salmon cakes and succotash, that's the result you're going to get," Sherman screams. 
Back in January, Sherman started off his interview with Erin Andrews with, "Well I'm the best corner in the game. When you try me with a sorry receiver like Crabtree that's the result you're going to get."
Here's the video, make sure to watch until the end where Thomas gets to show off his acting abilities. 
Everything you need to know heading into Week 15 is right here

Haden has been out since Week 10 with a fractured fibula

There's also the possibility Goodell steps aside early if his potential successor is progressing...
The league could return to its pre-2009 policy after a year in which pregame protests took...

Arians hasn't said he's retiring, but the team has discussed contingencies for a coaching...

O'Brien would be a coveted coaching candidate if he were to hit the open market