VIDEO: What it looks like skydiving into the AFC Championship game
What happens when you put a helmet on a skydiver before he jumps down into a stadium full of Broncos fans? You get this video.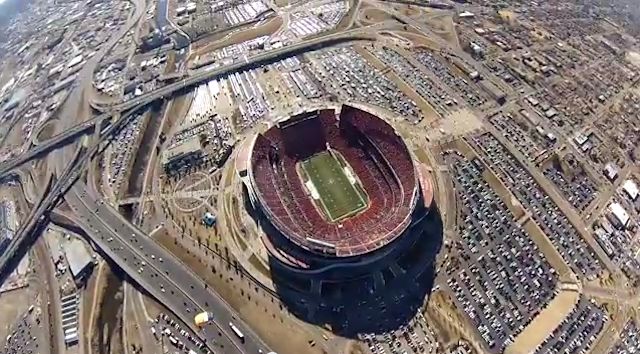 More SB coverage: XLVIII odds | Expert picks | Super Bowl news
CBS had a lot of cameras in Denver on Sunday to cover every angle of the AFC Championship game between Denver and New England. One angle we didn't cover though was the one you get when you jump out of a plane that's flying thousands of feet over the stadium. 
Luckily, a member of the Denver Thunderstorm skydiving team happened to catch that angle. In the video below, you can see almost exactly what it's like to jump out of a plane and skydive down into a stadium full of people. If you're afraid of heights, you may not want to watch. 
The jump happens near the 1:17 mark in the video. After that, just sit back and enjoy. 
(Wink of the CBS Eye to Deadspin)
Do you believe in miracles?

A Dallas Cowboys Salute to Service thermal pullover makes for the best early Black Friday...

It's time to hook up that jersey of your favorite NBA player with some Black Friday deals
Kaepernick said in a Twitter post that the rapper Meek Mill was a victim of a systemic sentencing...

Gruden called Beckham the best receiver in the league

Woods injured his shoulder during the Rams' loss to the Vikings on Sunday