The Seattle Seahawks are moving on in the NFL playoffs thanks to a bad kick from Minnesota's Blair Walsh and an even worse hold from Jeff Locke. 
With 26 seconds left in the game and the Vikings trailing 10-9, Walsh lined up for a 27-yard field goal attempt that was going to all but win the game for Minnesota. Walsh had already hit from 47, 43 and 22 yards in the game, so the 27-yard kick seemed like a lock. 
Unfortunately for the Vikings, the kick wasn't a lock thanks to a bad hold from punter Jeff Locke. After the snap hit Locke's hands, he put the ball down with the laces in.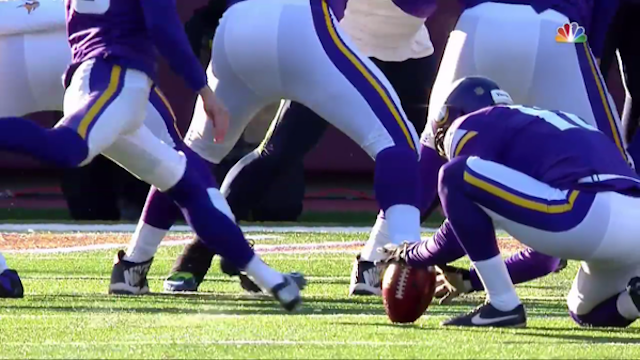 If you've ever seen Ace Ventura, then you know how important it is for a kicker to have the laces out. Walsh had to kick it with the laces in.
Even though Walsh had had hit an earlier kick with the laces in, he absolutely shanked his potential game-winner. 
Blair Walsh's go-ahead 27-yard FG is WIDE LEFT. Richard Sherman loses it. Michael Bennett loses it. Wow. #SEAvsMIN https://t.co/GfnJlvUbGU

— NFL (@NFL) January 10, 2016
The missed kick sealed the 10-9 win for the Seahawks and left the Vikings sideline devastated. 
Seattle wins on missed FG by Blair Walsh pic.twitter.com/eZQqc2btJP

— The Cauldron (@TheCauldron) January 10, 2016
Vikings coach Mike Zimmer was clearly upset, "'It's a chip shot. He's got to make it," Zimmer said after the game. 
Walsh took 100 percent of the blame for the miss, "I'll be working hard to erase that from my career but it'll take a while. It's just ridiculous," Walsh said, via the St. Paul Pioneer Press. "You've got to do better than that. I'm excited where this team's gonna go. But when they needed me in this moment, I didn't come through for them. That hurts."
For his part, Locke said that he, "Definitely could have spun the ball better."
After the missed kick, the Seahawks just kneeled the ball to run off the final 22 seconds of the game and earn the win.
Several NFL kickers on Twitter felt bad for Walsh, including former Cardinals kicker Jay Feely, who blamed both Walsh and Locke for the miss. This is what Feely had to say about what a kicker thinks when he sees a hold with the laces in. 
Not just psychologically it impacts you physically That is on Locke as much Walsh

— Jay Feely (@jayfeely) January 10, 2016
As for why Locke would hold the ball laces out? Former Vikings punter Chris Kluwe has the explanation, which revolves around the fact that it was minus-6 degrees in Minnesota on Sunday. 
No. Happens because the holder is wearing gloves and can't feel the laces, so just puts the ball down as is. https://t.co/GRCRXPyjOp

— Chris Kluwe (@ChrisWarcraft) January 10, 2016