Vikings DE Jared Allen enjoys Dez Bryant's latest tantrum
Dez Bryant was called for two penalties on one play against the Vikings and Minnesota defensive end Jared Allen took some joy in that.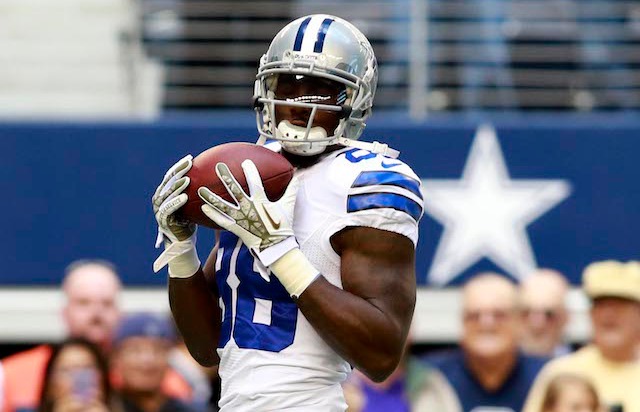 Cowboys wide receiver Dez Bryant is a passionate football player, we learned that last week when he exploded on almost every single player on the Dallas sideline. 
This week, Bryant exploded again, except he exploded at the one person you can't explode at: One of the officials in the Cowboys-Vikings game. 
On a third-and-15 in the third quarter, Cowboys quarterback Tony Romo threw a short pass to Bryant. Unfortunately, the completion didn't count because Bryant was called for offensive pass interference. Then Bryant did what a player should never do: he ripped his helmet off and started arguing with the ref. That move earned Bryant a 15-yard unsportsmanlike conduct penalty. 
As you can see in the GIF below, Vikings defensive end Jared Allen enjoyed the whole thing. Bryant got the last laugh though, the Cowboys went on to win 27-23 on a fourth quarter touchdown pass from Romo to Dwayne Harris.  
(Wink of the CBS Eye to BuzzFeed Sports)
Brandon Williams was involved in a scary situation in the first half against Denver

The Broncos are turning back to Osweiler after an injury to Siemian

The Cowboys legend admits he's not on 'great' terms with the Cowboys suspended running bac...
Here's the latest information on injured Steelers linebacker Ryan Shazier

The Titans quarterback has had a frustrating season but maintains that's not an excuse for...

The Seahawks defensive lineman almost ended up in the stands fighting Jags fans last Sunda...