Vikings fans steal seat backs after final game at Metrodome
A few Vikings fans will remember the last game at the Metrodome forever, mainly because they took home a piece of the stadium.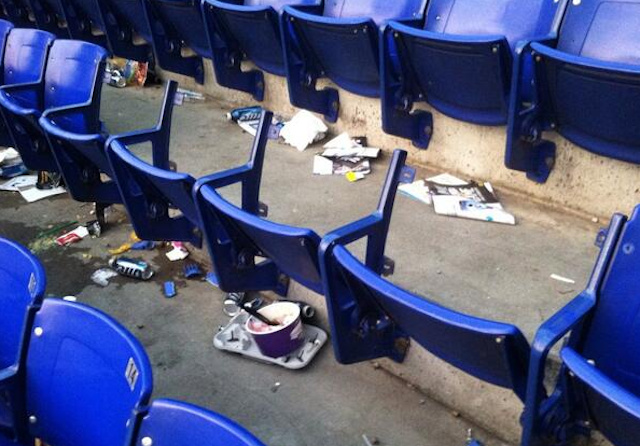 The Metrodome hosted its final game ever on Sunday and some fans decided to take their seat backs home with them, even though the team made it clear they didn't want fans to take their seat backs home with them.
The Vikings hired extra security officers for Sunday's game against the Lions to deter fans from stealing things like seat backs, but apparently, that strategy didn't work. 
As you can see above in this photo from WCCO-TV, at least four fans decided to unhinge their seat back and take it home, which is kind of impressive when you think about it. If you've ever been to a stadium before, you know it's not easy to steal a seat back. And it's even harder when there's extra security people around who are specifically looking for people trying to steal seat backs. 
I'm not sure what these fans are going to do with half a seat, but if they decide they want to buy the entire seat, they can. The Minnesota Sports Facilities Authority is selling Metrodome seats for $60. Or they can not buy a seat and spend that $60 on beer and frozen yogurt because judging by the picture they like that stuff too. 
The Raiders are preparing in case their Vegas stadium is not ready by the 2020 season

'You really can't blame him,' one team source said. 'He hasn't really had any holes to run...

Evans has two years left on his deal and is a franchise tag candidate after that if no deal...
Contrary to a report, Cowboys owner Jerry Jones was not a factor in the agreement

The NFL is interested in seeing how a team responds to playing back-to-back weekends in Lo...

After changing offensive coordinators, the Bengals will look to get their rookie back more...