Vikings RB Adrian Peterson: College athletes should be paid
Vikings running back Adrian Peterson has a strong opinion on whether or not college athletes should be paid.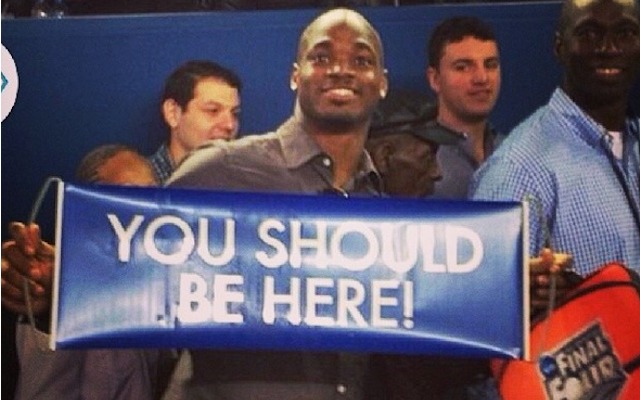 More NFL offseason: Mock Drafts | Prospect Rankings | Pro days | Top free agents
Vikings running back Adrian Peterson doesn't run the NCAA, but if he did, he'd make one big change: He'd make sure college athletes got paid. 
The debate on whether or not to pay college athletes has raged on for years and during a conference call on Wednesday, Peterson left no doubt about which side of the argument he stands on.  
"When I was in college, I know personally, as far as jersey sales and ticket sales, I helped make that university a lot of money," Peterson said. "Johnny Manziel helped make Texas A&M so much money. You're talking about championship games that he was able to lead those guys to. You're talking about jersey sales that he don't see a dime of. I feel like as much money as universities make, I feel that some of that money should be given down to the players as well because we are the ones that are making this university money."
Peterson spent three seasons as a running back at Oklahoma and played in three straight bowl games for the Sooners, "These bowl games? Without the players, how much money to do they make? None," Peterson said. "Without the players how much money do they make? They make no money without the players."
The Vikings running back, who attended the NCAA title game between Connecticut and Kentucky on Monday, didn't limit his 'pay the players' argument to just football, he also brought up basketball.
"I hear that they're trying to make basketball players go two years to college," Peterson said. "Wow. I wonder why? Just think about it. Imagine if LeBron James would've had to go to college for two years. How much money would that college have made off of LeBron James? They would've made so much money off LeBron James."
Ironically, Peterson made his comments while he was doing something NCAA players can't do: promoting a product. Peterson was pushing Hyperice, a recovery icing device that he endorses and a product he used while he rehabbed from the torn ACL he suffered at the end of the 2011 season.
Peterson will probably need some Hyperice this offseason after undergoing groin surgery in January, a surgery the 29-year-old running back said he's still recovering from, "Right now, the most important thing is getting healthy," Peterson said. "That's what I'm doing. I'm rehabbing, I'm working out, still, trying to get the body back to where it needs to be."
Bennett also dedicated it to 'all of the other athletes using their platform to promote ch...

The Patriots quarterback shows commitment from Day One

Cardinals' running back says he's feeling more energized
The Vikings' receiver is wearing his heart on his foot

The Ravens need help on the offensive line after dealing with injuries and a surprise reti...

The new Dolphins quarterback offered high praise for his receiver after his first preseason...