Vikings RB Adrian Peterson: It'd be cool to play in Dallas or Houston
Adrian Peterson would like to spend his entire career with the Vikings, but if that doesn't happen, he says it 'would be cool to play in Dallas or Houston.'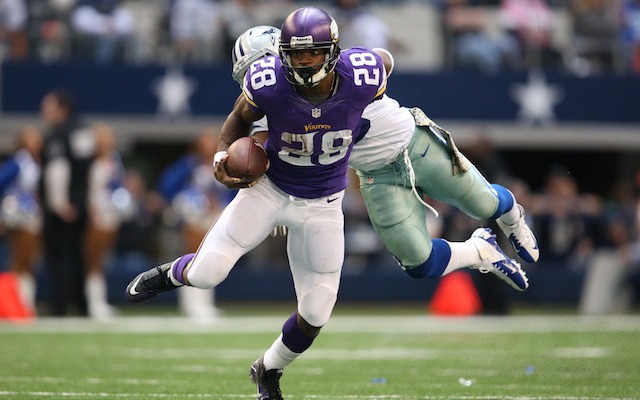 Vikings running back Adrian Peterson thinks it would be amazing if he finished his NFL career in Minnesota, but if he doesn't, he has his sights set on somewhere else: Texas. The Texas native, who's under contract with the Vikings until 2017, admitted on Wednesday that he's thought about playing for another team, but if only if that team were in Texas. 
"You know, I'd be a liar if I said it's something that hasn't crossed my mind before," Peterson said of playing for another team on ESPN Radio's SVP and Russillo show. "But I've also said to myself it would be so amazing to be one of those players who stays with one team his entire career, it would be good if I could do that. But being from Texas, I've always wondered, wow, it would be cool to play in Dallas, to play back home. Or to play in Houston."
Peterson grew up about 110 miles outside of Dallas in Palestine, Texas, and the reigning NFL MVP makes his offseason home in Houston, which is where he did most of his rehab after he tore his ACL in December 2011. 
The Vikings played in Dallas in Week 9 and in the days leading up to the game, Peterson explained what it meant for him to be playing in Texas, in front of friends and family. 
"I'd be lying to say it didn't mean something, anytime you play at home and play against the Cowboys, the team I grew up watching and liking," Peterson said at the time. "My hometown's an hour and change from there. It's still another game, but then again, having family there -- Dallas is where I lost my brother [who was killed by a drunk driver when Adrian Peterson was 7], as well. We stayed there for a few years before we moved back to Palestine. So, you know, it's always good to go back there." 
If the Vikings decide they want to send Peterson to Dallas, they should only do it under one condition: it has to be a reverse Herschel Walker trade.
The Vikings become the first team to play in a Super Bowl held in their home stadium

Belichick was predictably mum in regards to Brady's status

R.J. White, who nearly won the Las Vegas SuperContest, locks in his pick for the NFC Championship...
Everything you need to know about the AFC and NFC title games

The Patriots are looking to win back-to-back Super Bowls but will have to take out the surprising...

Gronk is one of the toughest players to defend in the NFL, so how will the Jaguars handle...