Vikings RB Adrian Peterson rewards O-line for 2012 with snowmobiles
If you block for Adrian Peterson and Adrian Peterson wins an MVP award, Adrian Peterson will reward you.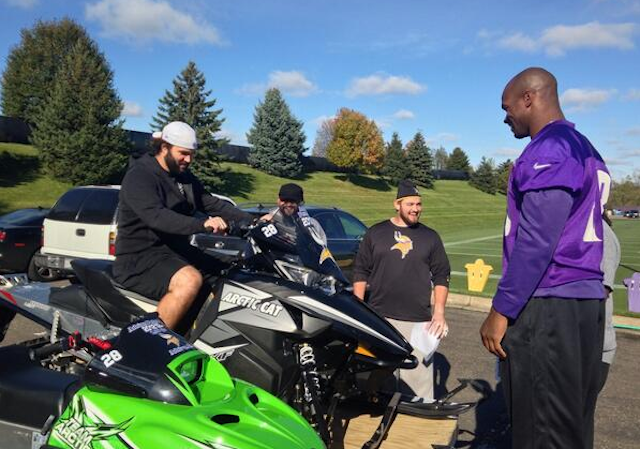 It pays to be an offensive linemen for Adrian Peterson. The Vikings running back was named NFL MVP in 2012 after rushing for 2,097 yards, the second-highest single-season total in NFL history. On Saturday, Peterson thanked his offensive linemen for paving the path to his MVP award by rewarding them with snowmobiles. 
Yes, snowmobiles. Except for a pet polar bear, a snowmobile has to be the coolest gift you can get if you live in Minnesota. Here's a closer look at the new vehicles: 
A look at the snowmobiles that @AdrianPeterson presented to the offensive lineman. #ArcticCat pic.twitter.com/BOZNWpoIWN

— Minnesota Vikings (@Vikings) October 26, 2013
If any other Vikings player thinks about stealing the snowmobiles, that's probably a bad idea. Each Snowmobile is personalized with each individual linemen's number. As you can see below, Phil Loadholt, Charlie Johnson, Matt Kalil, Brandon Fusco and John Sullivan all went home with snowmobiles on Saturday. 
Each snowmobile is customized with the player's name on the shield. pic.twitter.com/4fW5ZLZ77x

— Jeff Anderson (@andersonj) October 26, 2013
In the great pantheon of 'buying your offensive linemen gifts,' Peterson's gift probably comes in at No. 2. In 2005, then-Bengals quarterback Carson Palmer bought a hot tub for each member of his offensive line. That's comes in at No. 4. 
Reggie Bush and Arian Foster are tied at No. 3. In 2011, Bush rewarded the Dolphins offensive line with Segways. Foster did the same thing in 2012. 
Of course, the best linemen gift of all-time was given by Tom Brady because he's Tom Brady and he's at the top of every list. In May of 2008, Brady gave each of his linemen an Audi Q7 as a reward for the Patriots undefeated season. Yes, he gave them a car. 
The Falcons are trending in the right direction after a 34-31 win over the Seahawks in Sea...

It's the best division in the NFL and it's not even close

Larry Hartstein has his finger on the Vikings' pulse and made a play for the Thanksgiving Day...
National sports writer Mike Tierney tells you who to pick in your Week 12 football survivor...

For whatever reason Seattle decided to try a fake before the end of the first half

The Giants aren't the only NFC East that might've quit during a game this season