Vikings ST coach Mike Priefer denies Chris Kluwe allegations
Vikings special teams coordinator Mike Priefer released a statement on Thursday denying all of the allegations made by former Vikings punter Chris Kluwe. Kluwe alleges that Priefer is a bigot.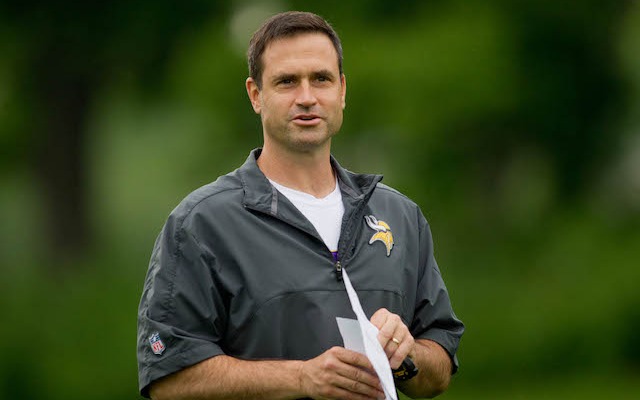 Minnesota Vikings special teams coordinator Mike Priefer released a statement on Thursday denying the allegations made against him by former Vikings punter Christ Kluwe. 
Kluwe wrote a scathing piece for Deadspin that was published on Thursday afternoon. The piece blasted the Vikings and referred to Priefer as a bigot. Kluwe also referred to former Minnesota coach Leslie Frazier and current general manager Rick Spielman as cowards. 
According to Kluwe, Priefer once said that Kluwe would burn in hell with the gays, "Mike Priefer also said on multiple occasions that I would wind up burning in hell with the gays, and that the only truth was Jesus Christ and the Bible," Kluwe wrote. 
Kluwe also alleges that Priefer once said, "We should round up all the gays, send them to an island, and then nuke it until it glows."
Priefer released a statement to several Vikings beat writers, denying Kluwe's allegations. Here's the entire statement, via the Minneapolis Star-Tribune. 
I vehemently deny today's allegations made by Chris Kluwe. 

I want to be clear that I do not tolerate discrimination of any type and am respectful of all individuals. I personally have gay family members who I love and support just as I do any family member. 

The primary reason I entered coaching was to affect people in a positive way. As a coach, I have always created an accepting environment for my players, including Chris, and have looked to support them both on and off the field.

The comments today have not only attacked my character and insulted my professionalism, but they have also impacted my family. While my career focus is to be a great professional football coach, my number one priority has always been to be a protective husband and father to my wife and children. 

I will continue to work hard for the Minnesota Vikings, the Wilf family and all of our loyal fans.
The Vikings also released a statement on Thursday, saying that the team would "thoroughly review" the matter.
Priefer does have some support in the Vikings locker room. Minnesota safety Harrison Smith called Priefer a 'respectful human being' on Twitter. 
Since I've had the privilege of playing for Mike Preifer he has been nothing but a class act coach and a respectful human being. #Vikes

— Harrison Smith (@HarriSmith22) January 2, 2014
Jeff Locke, the punter who replaced Kluwe in Minnesota, also came out in defense of Priefer:
(1/2) In my short time with the Vikings, Coach Priefer has treated me with respect and has helped me develop as a player and person.

— Jeff Locke (@jefflocke18) January 2, 2014
(2/2) I have never witnessed any actions or statements by Coach Priefer similar to those described in the recent Deadspin article.

— Jeff Locke (@jefflocke18) January 2, 2014
Most importantly for Priefer though, he has the support of Vikings kicker Blair Walsh. Several times during his piece, Kluwe referred to something that happened at a special teams meeting. Walsh would have presumably been at those special teams meetings.
I fully stand behind Coach Priefer, Rick Spielman, and Leslie Frazier. Just released a statement regarding the issue at hand.

— Blair Walsh (@BlairWalsh3) January 2, 2014
Here is Walsh's statement:
I have been a member of the Minnesota Vikings for 2 years.

I want to start off by saying I have the utmost respect for Rick Spielman, Leslie Frazier and Mike Priefer. All three, are good men.

I have had countless conversations and interactions with Coach Priefer, and I personally can attest to his integrity and character. His professionalism in the workplace is exemplary, and I firmly believe that my teammates would whole-heartedly agree. The allegations made today are reprehensible and totally not compatible with what Mike Priefer stands for.

As we all know, in the NFL you must perform at the highest level and meet the performance expectations of your coaches, management, and ownership. If these expectations, based upon past performance AND future potential for excellence, are not met, your NFL career with that team, is over. I believe this was the case with Chris, and it is unfair to think that his release was anything other than football related.

In my time here at Minnesota, Rick Spielman and Leslie Frazier have exemplified true leadership. Contrary to Chris' statements, they have promoted a workplace environment that was conducive for success. At no time did I ever feel suppressed or that I could not be myself.

I firmly stand behind Rick Spielman, Leslie Frazier, and Mike Priefer.

Blair Walsh
Pick Six Newsletter
Get the day's big stories + fun stuff you love like mock drafts, picks and power rankings.
Please check the opt-in box to acknowledge that you would like to subscribe.
Thanks for signing up!
Keep an eye on your inbox for the latest sports news.
Sorry!
There was an error processing your subscription.
Cooper has been fantastic since being traded to the Cowboys

A long defensive lineman and a crafty, downfield receiver headline the draft prospects in this...

A gifted blocker, and a small but ultra-productive edge-rusher headline the prospects in this...
An aggressive cornerback and a towering, long outside pass-rusher headline the prospects in...

A shifty slot receiver with three years of impressive production is the prospect to monito...

The Cardinals have had a forgettable season a year after going 8-8