Vikings to conduct independent review of Chris Kluwe allegations
The Vikings have called in former state Chief Justice and a former U.S. Department of Justice trial attorney to review the allegations made by former punter Chris Kluwe.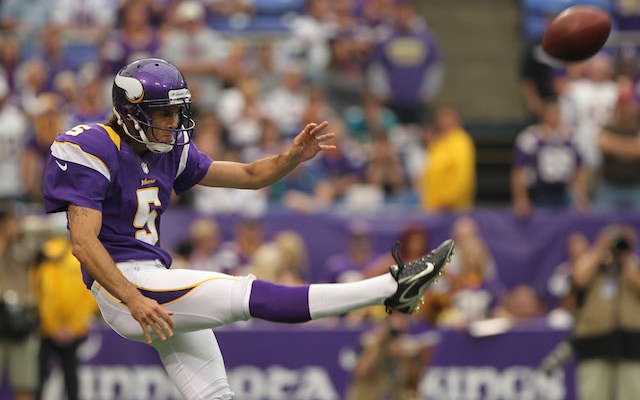 The Minnesota Vikings announced Thursday that the team would be doing a thorough review of the allegations made against assistant coach Mike Priefer by former punter Chris Kluwe. 
Less than 24 hours later, the Vikings have already started the process of that review by calling in former Chief Justice of the Minnesota Supreme Court Eric Magnuson and former US Department of Justice trial attorney Chris Madel to lead the investigation. 
"It is extremely important for the Vikings organization to react immediately and comprehensively with an independent review of these allegations," team owner Mark Wilf said in a statement. 
On Thursday, Kluwe wrote a scathing piece for Deadspin that blasted the Vikings and referred to Priefer as a bigot. Kluwe also referred to former Minnesota coach Leslie Frazier and current general manager Rick Spielman as cowards.
"This is a highly sensitive matter that we as an organization will address with integrity," Vikings vice president of legal affairs and chief administrative officer Kevin Warren said. "Eric and Chris have stellar reputations in both the local and national legal community. They have handled numerous cases involving a wide range of issues, and we are confident they will move swiftly and fairly in completing this investigation."
Kluwe's reaction to the investigation? "Let the investigation begin," he told USA Today. 
"I'm glad they're taking it seriously," Kluwe said of the Vikings. "This is something I wrote down because it's what happened to me and I'm 100 percent confident in what I wrote, and there are witnesses that will back me up." 
According to Kluwe, Priefer once said that Kluwe would burn in hell with the gays: "Mike Priefer also said on multiple occasions that I would wind up burning in hell with the gays, and that the only truth was Jesus Christ and the Bible," Kluwe wrote.
Kluwe also alleges that Priefer once said, "We should round up all the gays, send them to an island, and then nuke it until it glows."
Priefer released a statement Thursday evening, denying all of the allegations made by Kluwe. Several Vikings players have also come to Priefer's defense, including kicker Blair Walsh and Jeff Locke, the punter who took Kluwe's position. 
The Raiders lost on a bizarre final offensive play

Here are the Week 15 grades for every team that played Sunday

The Cowboys' game-winning drive was extended by the craziest first-down measurement we've...
The Steelers quarterback explains what happened on the play that sealed the Patriots' stunning...

The mogul wants to purchase the team from Jerry Richardson

The Seahawks apparently didn't enjoy getting shellacked by the Rams on Sunday