Von Miller expects to sign a long-term deal with the Broncos
Most people expect Miller to be hit with the franchise tag but the star pass-rusher has other ides.
Most people expect Denver Broncos outside linebacker Von Miller to get franchise-tagged this offseason. He tops pretty much everyone's "most likely" tag recipients list. He was on Joel Corry's list at CBSSports.com in November and Will Brinson's follow-up earlier this week. He's also featured on the lists at ESPN.com, NFL.com, and SBNation.
Miller himself, though, told ESPN that he expects to hammer out a long-term deal with the Broncos, rather than play next season on the tag.
"It feels like I've been here before -- we talked about [winning the Super Bowl] so much in the locker room," Miller said. "At the table where we sit all the time, Emmanuel [Sanders], me, [Aqib] Talib, T.J. [Ward], we talked about it so much. It feels like I've been here before. Chris Harris, all the guys, we've talked about this, dreamed it, in the locker room, it's surreal to be able to experience it.
"We've got plans of doing this again. We don't want it to be a one-year thing."
So, if Miller expects to sign a long-term deal, it's worth asking what that might look like. We don't have to look very far to get a good idea. Last season, Chiefs outside linebacker Justin Houston was considered one of the most likely franchise tag candidates.
Like Miller, Houston entered the franchise tag deadline at 26 years old. Like Miller, Houston entered the tag deadline as one of the NFL's best pass-rushers. Houston had 48.5 sacks in his first four seasons, an average of just over 12 per year. Miller has 60 sacks in his first five seasons, an average of exactly 12 per year. Sacks aren't the end-all, be-all, of course, but they still provide a nice, convenient way to compare two similar players, and it's a safe bet to assume those numbers are tossed around in contract discussions as well.
As such, it's also safe to assume Houston's six-year, $101 million contract with $52.5 million guaranteed will be considered a baseline in Miller's negotiations. And that makes a good deal of sense. If Miller were franchise-tagged in each of the next three seasons, he'd earn approximately $55 million in guaranteed cash (this year's tag value of $14 million, followed by $16.8 million the following year and $24.2 million the year after, using the 120 percent and 144 percent valuations for multi-year franchise tags). That's right around the same guarantee Houston got, and you can bet Miller's representatives will have that number in mind when they enter the negotiating room. Negtotiations aren't that simple, though, and it would also be safe to assume both the Broncos and Miller's reps will drive a hard bargain.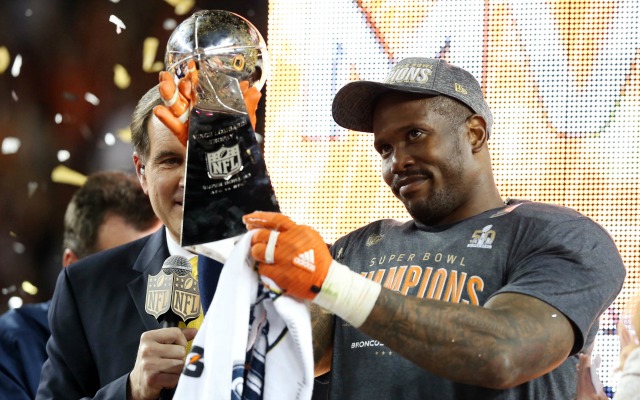 Also featuring holiday-themed celebrations, a pit crew, the Ickey Shuffle, and some racewa...

The former NFL quarterback sounds like he's ready to move to the front office

Mike Tierney has owned NFL over-unders and just locked in a strong pick for 'Monday Night...
Davante Adams was forced from the game with a concussion after Davis' headshot

The Steelers' wideout was suspended for his hit on the Bengals' linebacker

Plus everything you need to know about the game