Waiting to begin cancer treatment, Jim Kelly took in Knicks game
Jim Kelly got a quick sabbatical from the hospital on Friday. He went to an NBA game to surprise his daughter.
• 1 min read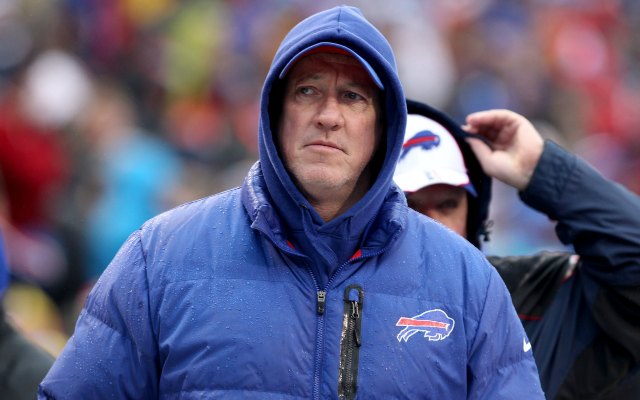 With Hall of Fame quarterback Jim Kelly, whose cancer surgery was recently cancelled, set to begin chemotherapy and radiation treatments next week, he's been wished well by scores of Twitter followers and one special hospital visitor.
But with a little bit of time to spare, the former Bills superstar emerged from his New York hospital Friday and took in a Knicks game at Madison Square Garden in an attempt to surprise his daughter, Erin, for her good grades.
And even though he told ESPN New York that he's feeling better, he also told the MSG Network, via ESPN.com, that he felt "sometimes good; sometimes bad."
"My big battle is Monday when I go in to start my radiation and chemo," Kelly told MSG. "I hope when it's all over, they get everything, but right now we're praying for a miracle."
When theMMQB.com's Peter King recently read him the well-wishing tweets from those on Twitter, he said he was humbled by the outpouring of support for him. He felt the same way Friday.
"It's a humbling experience and it makes you feel good when so many people are out there praying for you," Kelly told ESPN New York. "... Even people that were my enemies before from other teams have rallied to my support. It just makes you feel good deep down in your heart. Just keep praying for me. I am going to need them."
Though his original surgery was cancelled because doctors determined that the procedure wouldn't eradicate the cancer that has invaded his body for the second time in less than a year, Kelly's prognosis isn't all negative.
"As I have stated previously, Jim Kelly's condition remains very treatable and potentially curable," said Dr. Peter D. Costantino, the executive director of Lenox Hill Hospital's New York Head & Neck Institute. "Even if chemotherapy and radiation are not successful in eradicating the cancer, his skull-base tumor remains operable."
And this is why Tyrod Taylor is now the Bills' starting quarterback again

Here are the picks and props you need to be a winner while watching all the football you can...

Freeney, 37, was impressive in Seattle before getting surprisingly released
The 49ers have a realistic shot at home against a Seahawks club dealing with a myriad of i...

R.J. White has his finger on the pulse of the Packers and made a strong play for 'Sunday Night...