Warren Buffett always wanted to buy the Redskins
Warren Buffett said that he's always dreamed of buying the Redskins. So, um, what's stopping him?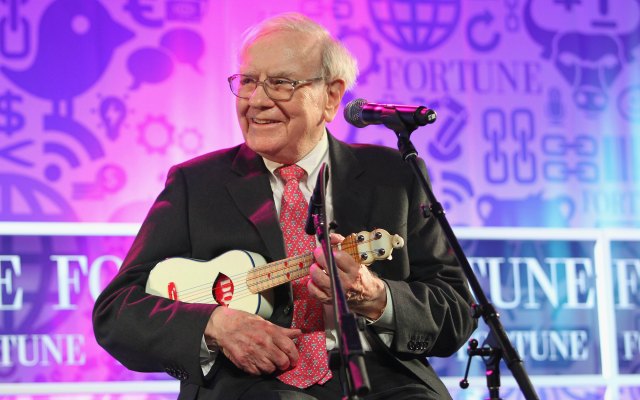 Warren Buffett is a pretty rich dude. Rich enough, in fact, that he and Cleveland Cavaliers owner Dan Gilbert are teaming up to offer $1 billion to anyone who can nail a perfect March Madness bracket.
So to find out that he's always wanted to own an NFL team -- specifically, the Washington Redskins -- but hasn't ever purchased one is a bit surprising. Buffett told the Dan Patrick Show, via the DC Sports Bog, that he used to be a water boy for the Redskins and always dreamed of buying the team. 
"You know, when I was a kid, I thought if I ever made a lot of money, I would go out and buy a team," Buffett said. "I was a water boy for the Washington Redskins for two games -- I lived in Washington at the time -- and I thought if I ever had a lot of money I'd buy the Washington Redskins."
Cue up the Change.org petition demanding Buffett buy the team outright from Dan Snyder yesterday. The Redskins are a proud franchise but haven't won much since Snyder bought the team after Jack Kent Cooke died.
Patrick told Buffett that fans would be all over him to purchase the team and the investor joked about being a sports star and whether or not Snyder would actually sell. (He probably won't.)
"I think Dan Snyder ... I don't know whether he would sell," Buffett said. "But Sammy Baugh was my hero in those days. That's a little before your time. It was the dream of every kid to have a sports team; well, it was the dream of every kid to be a sports star. But of course I never had a chance of that."
It's also the dream of many people to be a billionaire. Buffett checked that off his bucket list. Achieving that goal makes it a lot easier to achieve others as well, so it's kind of surprising he's not pursuing the idea of owning an NFL team with more gusto.
Redskins fans can dream though.
CBS All Access allows viewers to stream every NFL on CBS game in their local market

CBS All Access allows viewers to stream every NFL on CBS game in their local market

Two NFC East divisional foes face off this weekend in a big battle for both teams
Owners and CEOs from several teams released statements in response to Trump's remarks in A...

Nick Kostos won big on Monday nights last season and gives his best 3-team NFL parlay for Week...

CBS All Access allows viewers to stream every NFL on CBS game in their local market