Washington Redskins 2014 NFL Offseason Preview
Here's a look at the 2014 Washington Redskins offseason.
• 8 min read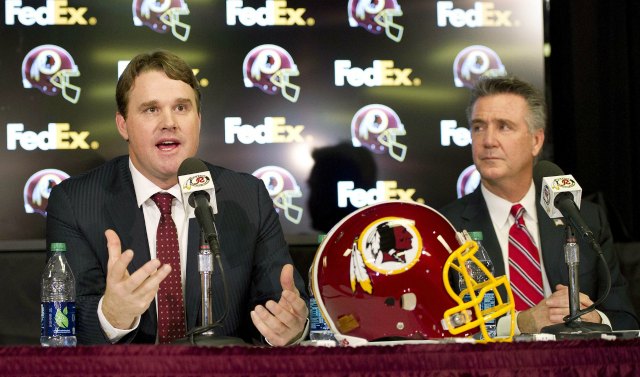 With the 2013 season officially in the books the Eye on Football staff is looking ahead to the offseason for all 32 NFL teams. Up now: the Washington Redskins .
Coming off their somewhat-surprising appearance in the 2012 playoffs, the expectations were high for the Redskins and quarterback Robert Griffin III heading into 2013. But there was the knee. The knee of Griffin that had exploded in the team's playoff loss to the Seahawks and which was the source of much speculation heading into the season. The knee, turns out, took a long time to heal, and even when he was ready to play, Griffin looked tentative for much of the year.
This is not to blame Washington's 3-13 record, a mark that ended the Mike Shanahan reign, entirely on Griffin's knee. After all, the defense was horrendous for much of the season, and we got the chance to see that the 2012 postseason run was probably more fluke than skill. But the knee still was a constant worry, and you have to wonder going forward how that knee will affect Griffin's mind.
The Redskins lost four of their first five to open the season, but after outlasting the Bears 45-41 in Week 7 and then beating the Chargers in overtime two weeks later, there was hope that Washington still could turn around its season (much in the same way it had done in 2012 when it overcame a 3-6 start to win the NFC East). But those hopes obviously were dashed by losing the final eight games of the year.
In all, it was a season that, if you were a Redskins fan, probably made you want to eat your beard in frustration.
What went right
Running back Alfred Morris showed that his surprisingly-strong rookie season in 2012 wasn't a fluke. The sixth-round pick picked up 1,275 more yards this season to go with seven touchdowns. Both numbers were down from the year before, but if you're looking for a building block that can help Griffin -- and Morris was a huge help in Griffin 's rookie season -- Morris is one of those guys.
As is Pierre Garcon -- who, while managing to be critical of Griffin this season, still caught 113 passes for 1,346 yards and five touchdowns. Also, rookie tight end Jordan Reed showed major promise, catching 45 passes and three touchdowns in nine games before suffering a season-ending concussion. Meanwhile Trent Williams continued to solidify himself as one of the better left tackles in the league.
On defense, Brian Orakpo and Ryan Kerrigan played well as outside linebackers, combining for 18.5 sacks.
Oh yeah, and Morris got his 1991 Mazda restored.
What went wrong
Obviously, you have to look at Griffin and his tumble from his high-flying rookie season. In 13 games this season, he completed 60.1 percent of his passes for 3,203 yards, 16 touchdowns and 12 interceptions for a quarterback rating of 82.2 (compare that to 2012 when he was 65.6 percent for 3,200 yards, 20 touchdowns and five interceptions for a rating of 102.4). This makes sense because of the nature of his injury, but Griffin ran the ball less (and less effectively), making him a more one-dimensional passer.
Which didn't go so well. As receiver Pierre Garcon said midway through the season, "If you suck at passing, you suck at passing."
There also might not have been a player in the league more scrutinized than Griffin, based on his supposed diva traits, his relationships with his head coach and offensive coordinator, and whether his dad should be allowed in the postgame locker room. Griffin's second season probably shouldn't even be classified as a sophomore slump. In reality, it was much worse than that.
Equally as bad was the defense, which ranked 30th in points allowed (though its No. 18 ranking in yards given up was better). When a team allows at least 27 points in a game 10 times in a season, more than 30 points in a game six times, and more than 40 points three times, that's not a great formula for winning.
And if all of that isn't enough, Washington's nickname continues to provide a dark cloud over the head of the franchise. Owner Daniel Snyder might not ever want to change the Redskins moniker, but at some point, if pressure continues to be applied by outside forces, I could see a day where he gives in and picks another name.
MVP
When everything else on offense failed, the Redskins could always hand the ball to Alfred Morris and watch him make big gains. His season wasn't as impressive as his rookie campaign in 2012, but Morris still managed to make his first Pro Bowl team.
LVP
Mike Shanahan: It'd be easy to blame this whole thing on Griffin, but here's how I see it. Shanahan used Griffin in the 2012 playoff game vs. the Seahawks when it was clear to the entire viewing audience that Griffin was hurt. Then, with Griffin still in the game, he had his knee blown out. To me, that's one of the biggest reasons Washington was so bad the next season. Not only did that injury destroy Griffin physically, it chipped away at his confidence. Some observers argued that Shanahan should have been fired immediately after that loss to Seattle. I thought that was too extreme. But he was let go a year later, in part because of his decision in 2012. And I thought the decision to let him go was spot on.
Sometimes, things just don't work out the way you hoped they would.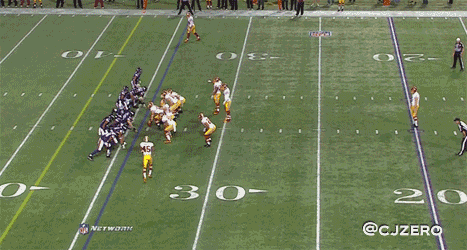 What's happened since the season ended
Clearly, Mike Shanahan -- whose 3-13 record in 2013 and his 24-40 mark overall in Washington seriously tarnishes his legacy-- needed to be fired after the season was over, and even before the new year began, Snyder made the decision to do so. With him went Kyle Shanahan, who landed a job as the Browns offensive coordinator. Somehow, defensive coordinator Jim Haslett kept his job.
And with the hiring of Bengals offensive coordinator Jay Gruden as head coach, the power of the personnel reportedly has returned to the front office, specifically general manager Bruce Allen.
Besides, Gruden has more important things to worry about. Like, for instance, his plans for Griffin. In an early news conference, Gruden said, " I see a guy that can run. I can see a guy that can move in the pocket. I see accuracy, I see long-ball accuracy, I see toughness, I see a guy that wants to win and I see a strong leader. I see every trait that a quarterback has to have to be successful -- I see Robert having all of those." Griffin's father has expressed interest in seeing RG3 throw the ball more and run the ball less, but Gruden calls the idea of Griffin becoming a pocket passer "foolish."
One of Gruden's first goals as head coach has to be to build a solid relationship with Griffin in which trust is complete and unending, because Gruden's fate is surely tied to Griffin. But, unlike his relationship with Shanahan, Griffin's fate in Washington might be tied to Gruden as well.
Free agents to be
Since Gruden already has committed to keeping the 3-4 defensive scheme in place, one of the team's biggest decisions will be how much they want to spend to keep linebacker Brian Orakpo. After a 2012 in which he was limited to only two games, Orakpo exploded for 10 sacks in 2013 -- one off his career high -- and he contributed 60 tackles. He won't be cheap, but he might be the most important defender Washington has on defense.
Though linebacker London Fletcher has tailed off in the past two years or so of his long, outstanding career, he still was a constant in the Washington starting lineup. Now that Fletcher is almost certain to retire, it's more imperative for the team to re-sign Perry Riley .
It's likely that DeAngelo Hall will want plenty of money to return as the team's No. 1 cornerback, and though he's oftentimes a homerun-or-strikeout kind of player, Hall's absence would severely hurt the Redskins secondary. Making matters more interesting is that Hall has expressed interest in transitioning to the safety position.
Don't expect the Redskins to keep tight end Fred Davis . With the emergence of Jordan Reed, Davis was irrelevant for much of the season. Plus, a failed marijuana test last month won't help his cause.
Free agency gameplan
The Redskins should have plenty of fun in free agency this year. They were penalized $36 million combined in the past two years because of the way they treated the final season of the last CBA. But as of this writing, they're nearly $24 million under the salary cap for 2014. Which means they'll have more options.
One of the biggest needs for the Redskins is to find a top-notch cornerback. Gruden seems to like the idea of re-signing Hall, but Patriots cornerback Aqib Talib has revitalized himself the past two seasons in New England. Talib figures to be an expensive acquisition -- as does Hall -- but it seems to me that the Redskins would do better to take Talib instead of Hall.
Speaking of the secondary, Washington also could use some safety help. Depending on how much money the team would want to spend, it seems likely that Jairus Byrd will hit the free agent market. But considering he's one of the best in the game, the contract he commands might be one of the biggest-ever for that position. Other targets could include Cleveland's T.J. Ward or Pittsburgh's Ryan Clark .
Draft gameplan
You'll recall that the Redskins gave up their 2014 first-round draft pick in order to move up in the 2012 draft and take Griffin with the No. 2 overall pick. I still think that was the right move, but the consequences remain: no first-round draft pick this year (and their No. 2 overall pick in 2014 goes to the Rams). Though Shanahan, at one point, said backup quarterback Kirk Cousins could be traded for a first-round draft pick, Cousins' mediocre play late in the season probably dispelled any possibility of that. So, it's likely the Redskins will have to wait until the second round to pick their first draftee.
We've already talked about the need to find more defensive backs and to re-sign Orakpo, but Washington also needs help for its defensive line. Pro Football Focus ranked defensive ends Jarvis Jenkins , Kedric Golston and Chris Baker as some of the worst-performing in the league. But, like what we wrote earlier, whatever the Redskins want to do, they'll have to until after the first round in order to make their move (unless Cousins really is worth a first-round pick).
Ridiculously premature prediction for 2014
Life will be better for the Redskins in 2014, though I'm still unclear about Gruden's head-coaching credentials. But if we are to assume there will be less in-fighting, the team will bank on Griffin's improvement in 2013, and a healthy, happy Griffin will put Washington back into playoff contention.
Predicted record: 8-8
Follow Josh Katzowitz on Google+
The Seahawks defensive end believes someone from 'the other side' needs to step up

Our annual Madden sim is all kinds of crazy, from the Pats not winning the division to a wild...

Madden season is almost here again. Here's everything you need to know.
The youngest coach in NFL history isn't coming off as someone out of his depth -- just the...

Henry is ready to take on a more substantial role in the Titans' run-heavy offense

In the past week, Marshawn Lynch and Michael Bennett have both sat during the national ant...