WATCH: Jim Harbaugh faces off vs. a walrus in pushup contest
Jim Harbaugh vs. nature is a thing to behold.
• 1 min read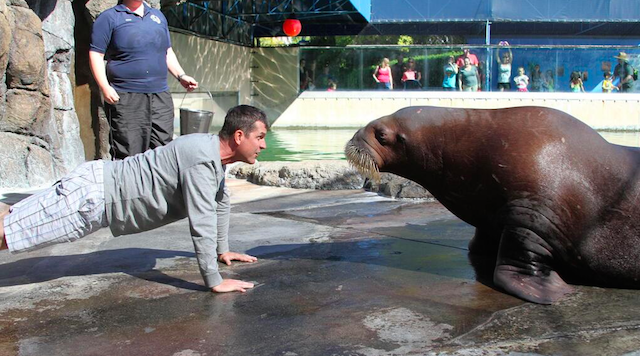 We've all been there before. We're at an amusement park -- be it a Six Flags or a SeaWorld or a Busch Gardens -- and we see a walrus. Instantly, we wonder how we would fare if we challenged said walrus to a push-up contest.
If you're lucky, the walrus will accept the challenge, and if you're really, really lucky, somebody will catch it all on video.
Fortunately for 49ers coach Jim Harbaugh, it was his really, really lucky day on Sunday.
As San Francisco's ABC affiliate points out, Harbaugh was at Six Flags Discovery Kingdom in Vallejo, Calif., when he got into a confrontation with Siku the walrus.
For your viewing pleasure.
While at Six Flags, Harbaugh also got a kiss from a sea lion and he bottle-fed a tiger. No word on how many pushups the tiger recorded.
And of course, there's this.
Clearly the most important news out of the "Jim Harbaugh does pushups with a walrus" story.. is that he actually does have other clothes

— trey wingo (@wingoz) March 17, 2014
Lawrence says the NFL should protect pass-rushers like it protects quarterbacks

With their 2017 season basically over, it's time for Redskins fans to turn their attention...

The Eagles quarterback reaffirmed his faith and said he plans on coming back stronger than...
The Buccaneers are 4-9 and firmly out of the playoff mix, and now their best player is hur...

It might be time for Johnny Football to head to the Great White North

Rodgers has been out with a broken collarbone since Week 6