WATCH: J.J. Watt is actually bigger, more focused than ever
J.J. Watt spent the offseason sleeping on a mattress in a friend's dining room. And he's bigger than ever, focused and poised for a big season.
More NFL: Photos |  Videos & GIFs |  Training Camp updates | Manziel watch
HOUSTON -- As J.J. Watt settled into the chair beside me, looking every bit the football warrior that he is, a sleeveless shirt showing off the huge arms that help make him the NFL's best defensive player, I showed him something on my iPad.
It was a download of the movie Remember the Titans, which happens to be one of my favorite movies ever -- and also one of his.
"It's a great one," Watt said.
The fact that J.J. Watt loves the somewhat-sappy, somewhat-true football movie is not surprising if you listen to Watt talk. The guy loves football, and anything and everything about it. But he's also a different type of player, a stay-at-home, out-of-the-spotlight star who will never let anybody see him playing the Johnny Manziel role out on the town.
Watt is such a homebody that one of the things he does each year is to get sheer joy out of handing out candy on Halloween. He sends pictures to staffers with kids and fans coming to his door dressed in his No. 99 jersey, something that truly flatters him when they do.
Oh, and he makes sure they know he gives out the big bars of candy. No little bars for this big guy. But that's about the only type of bars you will hear next to Watt's name. Think about it, have you ever seen or heard him mentioned in the tabloids? Or on TMZ? Anywhere?
He might be the NFL player who gets the whole concept of playing football for a living as well anybody. He is image conscious, but more than that he is smart about the way he goes about things. That's what makes him so appealing to the masses.
He is every bit the small-town Wisconsin kid you would expect him to be -- although he does get to L.A. once in a while -- which might be why so many fans are drawn to him in Houston. He can't even go the grocery store, or he gets mobbed. His circle of trusted friends is small, and he likes it that way.
Watt became a true star in 2012 when he had 20 1/2 sacks, 39 tackles for loss and 16 passes knocked down. He was named NFL Defensive Player of the Year. The Texans made the playoffs, and he became a household name.
But in 2013, the Texans went 2-14, losing 14 straight, and there was a perception that Watt didn't have the same type of season, which is way off base. The tape, in fact, shows that Watt was even better than he was the year before.
His sack numbers were down to 10 1/2 and he had only seven passes batted down. But that's in part because he had little help from his defensive teammates and he was double-teamed and triple-teamed a lot more than the year before.
I recently put in the Kansas City tape from last year to refresh some on just how he played last season. He was as dominant as you would expect. But one play in particular summed up things for Watt. It was a run play in the second quarter. Watt was doubled, beat the double, and when he did the fullback was waiting to hit him in the hole. The play went for a small gain, in large part because Watt paved the way for others to make the tackle.
I showed that play to Watt, and he had a typical Watt response.
"That's football, man," he said. "It's not fun without a challenge."
You can sense the hurt from Watt when the losing is brought up and, in fact, he doesn't really want to talk about it all.
"I think we've moved on," he said.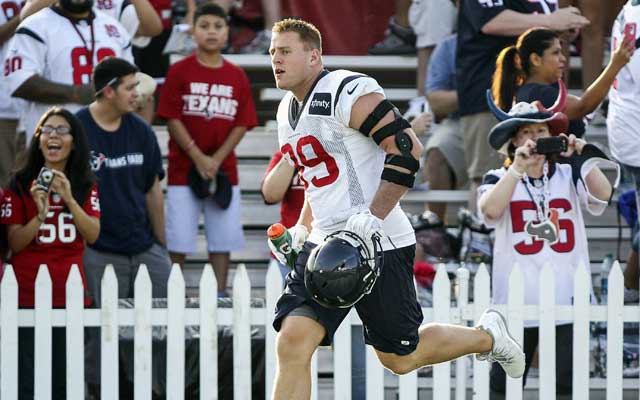 Yet after the season, he changed the way he did things. He took the Spartan approach. He slept on the floor at a friend's house near his home in Wisconsin, and instead of the usual two workouts a day, he ramped it up even more.
"I tried to minimize everything (off the field)," he said. "Just getting back to the basics to me and what I love, which is training and spending time with family and friends. I had a mattress, so it wasn't that bad. I was out in the dining room. Just working. Bare minimum. No fancy things. No frills. None of that -- just what football is all about. Kind of like a high school kid. Kind of like a college kid. To me, that's fun."
Two workouts a day, sleeping on a mattress on a buddy's floor for weeks, is fun? It is if you are Watt. It's part of what makes him so special as a player -- that desire to be great.
When I talked to him last summer, I asked him about goals for the season. He mentioned the 20-20-20 club, which was 20 sacks, 20 tackles for loss and 20 passes batted down. At the time, some were shocked that Watt would mention such a thing since it was out of character for him.
He never came close to reaching that goal, but he still led the league with 34 quarterback hits. So since he's in better shape, with the addition of top overall pick Jadeveon Clowney to the front seven, I asked him about 30-30-30. He wouldn't bite.
"No predictions, none of that," Watt said. "It sounds so cliché, but it's the honest truth. I am literally not focused past today. We just finished practice, so I am going to focus on the film from this practice and focus on being the best I can be from that film. I am going to workout. Then I am going into the meetings to prepare for tomorrow. Every single day putting the focus on that day.  Just focusing on each task at hand, and that makes you better moving forward."
That would sound like lip service from most players, but you get the idea it isn't from Watt.
His rise from college walk-on to best NFL defender is a lot like that movie he loves: Pretty sappy but also true.
Observations from Texans camp
•One of the keys for the Texans is getting left tackle Duane Brown back to his 2012 form. After signing a big contract last year, Brown didn't play as well. Part of the problem was he had a turf toe. But another issue was that he dropped too much weight in the 2013 offseason. He said that presented some problems.  "I got down to about 300," Brown said. "It looked good. And it felt good. But when it came to dealing with those bull-rushers, it didn't feel so good." Brown is back up to 320 now and clearly looks to be stronger as he heads into this season.
•Texans outside linebackers coach Mike Vrabel, a former NFL linebacker, was impressive in the coaching I watched. He has a real enthusiasm for the game and seemed to know the right buttons to push. I hear good things about his coaching future, as well as that of quarterbacks coach George Godsey. I like young coaches who could potentially be head coaches down the line. The Texans might have two. 
•Keep an eye on rookie running back Alfred Blue. He has impressed so far. If he can handle the blitz pickups, Blue has a chance to take some carries from Arian Foster.  He also has soft hands and does a nice job out of the backfield. He's a tall back at 6-2, and would be even taller but he's a bit bow-legged. I think he might beat out veteran Andre Brown for the backup job.
•The Texans have to get more from either Whitney Mercilus or Brooks Reed opposite Jadeveon Clowney. Those two combined for just 10 sacks as the outside rushers last season. That's not good enough.
•The team needs a bounce-back year from corner Kareem Jackson, who really struggled last season. He will slide inside some in the nickel, but he has to play like he did in 2012.
After an injury to Trevor Siemian, Brock Osweiler entered the game and helped the Broncos to...

The 32-year-old running back is done for the year

Brandon Williams was involved in a scary situation in the first half against Denver
The Broncos are turning back to Osweiler after an injury to Siemian

The Cowboys legend admits he's not on 'great' terms with the Cowboys suspended running bac...

Here's the latest information on injured Steelers linebacker Ryan Shazier