WATCH: Packers FB John Kuhn struggles with Lambeau Leap
Doing a Lambeau Leap isn't as easy as it looks. Just ask Packers fullback John Kuhn.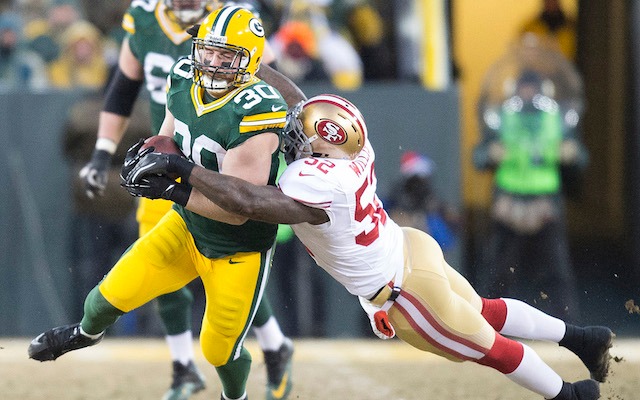 Green Bay Packers fullback John Kuhn hasn't had a lot practice doing Lambeau Leaps this season and it showed on Sunday against the 49ers. After scoring on a 1-yard run, Kuhn went to make the famous leap, only the 250-pound fullback didn't quite make it.
Instead, this happened. 
You can't blame Kuhn though, it's only the second time he's reached the end zone this season. Kuhn's only other touchdown came at home in a Week 16 loss to Pittsburgh.
(Wink of the CBS Eye to GIFDSports)
Warren Sapp was one of several players named in a lawsuit against NFL Network

Check out the uniforms that Denver and Indianapolis will be wearing on Thursday

The Cowboys are going to need a few things to go their way to get into the postseason
Rudolph will be put under the microscope in Mobile by clubs looking for a quarterback early...

This fan is taking the Saints to court for using 'football games as a platform for protest...

Can Aaron Rodgers get the Packers to the postseason? Even if they win out, they'll need he...