WATCH: Peyton Manning does a goofy jig to 'Rocky Top'
If you've ever wondered what Peyton Manning looks like while dancing, Monday was your lucky day.
• 1 min read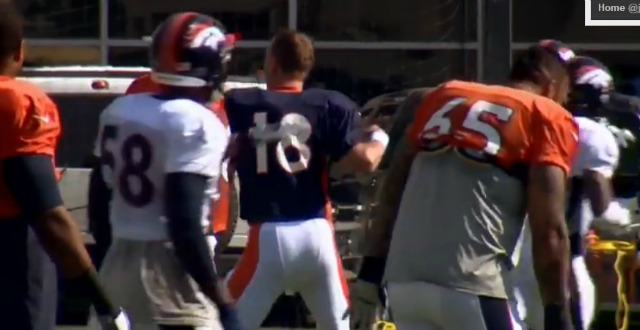 Peyton Manning: where Loosey meets Goosey.*
Only a few days after Peyton Manning tried to get reporters to name the color of his (foot)balls, Manning did a little jig when "Rocky Top" blasted away at Broncos practice at Monday.
If you've ever wondered just how goofy Manning might look if he ever tried to dance the fight song of the University of Tennessee, here's your answer: awfully freakin' goofy.
Take a gander, via 9 News.
Manning wasn't the only one getting down. Former Volunteers punter Britton Colquitt also took it upon himself to let loose (as did Wes Welker). Somehow, I think Colquitt is doing the University of Florida Gator Chomp while he dances.
Either way, things seem to be going OK at Broncos training camp Monday.
*Sorry, that's an old Rick Morrissey line from a 2002 Chicago Tribune story that has always stuck with me, and this is the first time I've ever written it for a story. So, thanks Rick, for the inspiration.
He'll reportedly appeal the suspension

Rodgers is eligible to return after eight weeks and the Packers reportedly aren't giving up...

The Packers think the hit is dirty, but the NFL apparently disagrees
Here's every official injury designation for each NFL team for Week 7

If it wasn't already clear, the Packers are not happy with the hit that injured Rodgers on...

Passengers were treated to some explicit chants from the Oakland running back, too