Sydney Seau didn't get to present her dad for Hall of Fame induction during Saturday night's Pro Football Hall of Fame enshrinement ceremony, but in the end, the NFL did give Junior Seau's daughter the forum to say what she thought needed to be said about her dad. 
Children of Junior Seau pose for a selfie with the bust of their late father. #PFHOF15 pic.twitter.com/hCkAcS7gBy

— San Diego #Chargers (@Chargers) August 9, 2015
After Sydney and her three brothers unveiled Junior's Hall of Fame bust, the telecast cut to NFL Network reporter Steve Wyche, who was backstage to conduct an interview with Sydney.
It was an interview in name only though, what really happened is that the Wyche -- and really, the NFL -- gave Sydney a forum to say what she wanted to say about her father and his 20-year Hall of Fame career.  
Sydney then took the floor for a three-minute speech about her dad, who committed suicide on May 2, 2012. 
"First and foremost, he would thank the seven buddies out on stage with him tonight," Sydney said. "This isn't my speech to give. This is his. He spent 20 years in the league and he deserves this moment. All I can do is humbly attempt to thank the people within his life and career that made this induction possible."
Sydney then smiled, thinking of her dad trying to thank everyone. 
"He would thank every team, teammate, fan, the community of San Diego and the Chargers for the career of a lifetime. You guys are everything to him. Without you, he wouldn't have become the player that he was," Junior Seau's daughter said. "He is the first Polynesian and Samoan to make it to the Pro Football Hall of Fame and that is an accomplishment in itself."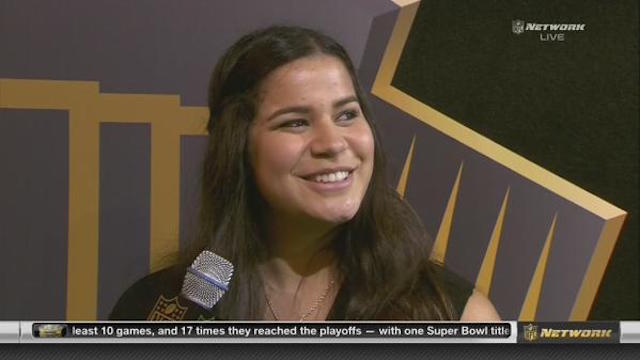 After thanking many people who were apart of Junior's life, Sydney talked about what her dad meant to her, personally. 
"Dad, you gave us your time, your presence and your love. But most of all, you gave us your heart," Sydney said. "I know at times, it seemed as if everything you accomplished in life wasn't enough, but today and everyday since you held me in your arms for the first time, you were more than  just enough, you were everything. I hope this induction can exemplify the fact that you were more than just Junior Seau, No. 55. You are a light and I want nothing more than to see you come on stage, give the speech you were meant to give, give me a hug and tell me you love me one last time. That isn't a reality, but I know his athleticism and talent made him extraordinary enough to make it into the Hall, but it is his passion and heart that make him truly legendary."
As Sydney's speech ended, many people watching at home found themselves in tears. 
Sydney Seau has me in tears. Losing your dad is hard.

— Deborah Johnson (@deborah91473) August 9, 2015
I had to wipe some tears while Sydney Seau was speaking. Not gonna lie. #Chargers #NFL #HOF

— Ron Clements (@Ron_Clements) August 9, 2015
Sydney Seau's speech was poignant and brought me to tears. Yea, I admit it. I cried watching the #NFL #HallOfFame Enshrinement ceremony.

— Jillian Lewin (@JillianSTL) August 9, 2015
What a wonderful, composed young woman Sydney Seau is. A heartfelt tribute to her father at #HOF tonight has me in tears

— Carla Anderson (@CarlaAndersonSD) August 9, 2015
Before Junior Seau's induction on Saturday, the New York Times had published "The speech Sydney Seau was prohibited from delivering,"
EXCLUSIVE: The speech Sydney Seau was prohibited from delivering at #PFHOF15 http://t.co/WHujbt3Urt https://t.co/Smxnk6cBNb

— New York Times Video (@nytvideo) August 9, 2015
However, that story became an afterthought because in the end, Sydney got to say what she wanted to say.
You can see Sydney's entire speech below.