WATCH: Walter Payton, Joe Montana spar with Church Lady in 1987
On the 61st anniversary of Walter Payton's birth, here he is appearing on Saturday Night Live.
• 1 min read
Former Bears superstar running back Walter Payton would have turned 61 years old today (well, 60 if you believe the team, 61 if you believe Payton's biographer).
And though he died in 1999, we'd like to celebrate his birthday remembering the time he appeared on Saturday Night Live and sparred with the Church Lady.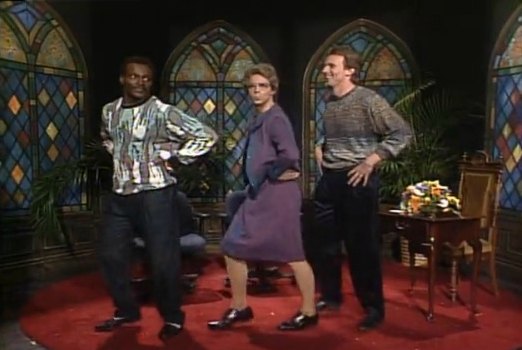 Despite Dana Carvey's character calling it the Satan Bowl and decrying the fans who watch it as "little beastmasters who drink beer and spit up," Payton, luckily, is there to talk to her about the finer points of the game. Also, he smiles while thinking about how he could kill the average man walking down the street with his bare hands.
So, take 7 minutes of your day and watch Payton and Joe Montana riff with the Church Lady in 1987, via Yahoo Screen. It'll probably make you laugh.
Here's an up-to-date look at the 2018 Pro Bowl roster

New England is 3-0 wearing white in Super Bowls under Bill Belichick

Bettors are favoring the Eagles to keep Super Bowl LII close, but the Patriots remain clear...
No one wants to give the Eagles any respect

The three-time Grammy winner will sing before Super Bowl LII on Feb. 4

Here's a look at the NFL's entire postseason schedule for 2018