Watt's star burns brightly because of his intense, singular focus
Houston Texans defensive end JJ Watt is a stickler for details. When and what he'll eat. When to sleep. When to work out. And it's all with the goal of the being the best.
• 9 min read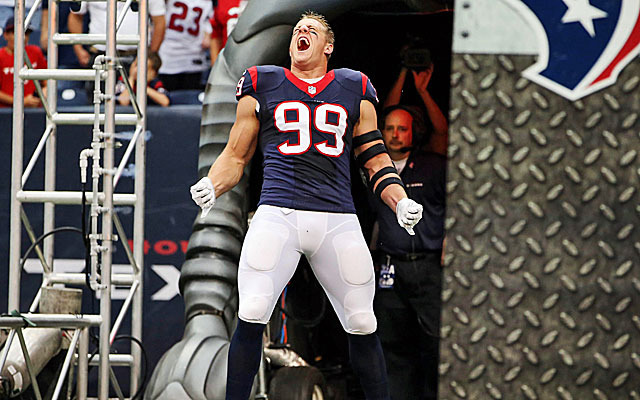 HOUSTON -- JJ Watt has a pretty good idea what time he will go to sleep tonight, and next Monday, and could probably recite the times he will eat and what foods he will put in his body for at least the next few days or so.
His existence -- singularly focused on being the best football player he can possibly be, if not one of the greats of all-time -- is stunningly calculated, particularly for a 24-year-old kid.
Potential distractions are cast aside or never entertained; girlfriends, a social life, swank parties do not exist in his world where literally every hour, or half hour, is carefully scripted to maximize the Houston Texans defensive end's opportunity to fulfill his dream.
This pursuit has served him incredibly -- historically -- well in two explosive seasons, despite the challenges he faces as a 3-4 defensive end, and if Watt were to shatter the single-season sack record or knock down even more passes than he did a year ago, at this point no one who knows him would be surprised.
"Every single part of my life is calculated," Watt said, looking refreshed even as the monotony of training camp transitions into the regular season routine. "Everything. I'm sure part of it is unhealthy, because my personal relationships suffer, I don't have much of a social life. I literally dedicate my life to this game, and you're not going to find me out, you're not going to find me at the bar, you're not going to find me outside my house very often, because if I'm not at the stadium I'm recovering, I'm eating, I'm doing some recovery for my legs, I'm getting my body ready.
"I know that I have probably an eight- to 10-year window in this league, and if I want to be what I say I want to be, then I have to commit myself 100 percent. That's why I don't have a girlfriend, because I give my life to this game and I want to be the best in this game, and I know it takes an unbelievable commitment. And so I've sacrificed that stuff. I know I've probably missed out on some great parties and some fun at the bars, but to me getting sacks on Sunday and the opportunity to be an All Pro and the opportunity to get Defensive Player of the Year far outweighs any party I could go to."
Watt admits that his approach may be "a little crazy," but the results are beyond reproach. And he isn't wired to change it even if he wanted to.
By now most football fans realize the 6-foot-5, 295-pound game-changer is a true freak-of-nature athlete who had to force his way on to the Wisconsin football team as a walk-on not all that long ago and now possesses an almost preternatural ability to anticipate a quarterback's release and then pound the ball back to where it came, or merely pick it off.
The 11th overall pick in 2011, Watt helped the Texans to their first playoff appearance with 5 1/2 sacks, four passes defensed, two fumble recoveries, a blocked field goal and a burning desire to make plays. His interception of Andy Dalton swung the AFC Divisional playoff in Houston's favor, and the Texans went on to their first ever postseason victory.
Last year he was clearly at ease with his surroundings and produced a season for the ages, with 20 1/2 sacks, 39 tackles for a loss, four forced fumbles, two fumble recoveries and a ridiculous 16 passes defensed. He became "JJ Swatt," morphing into a household name and one of the players fans are most excited to see in 2013, with the Texans again in Super Bowl-or-bust mode.
Texans general manager Rick Smith surely believed he had a special player, and person, when he selected Watt, but this has astounded everyone. The Texans loved the fact that Watt, who also played varsity track, basketball and baseball in high school, was self-made. He transferred from Central Michigan to Wisconsin, going from delivering pizzas to walking on in Madison and starring in two years there. They loved the fact he already had a charitable foundation and strong values.
But for him to be the game's dominant defensive player just entering his third year in the league?
"I don't think that anyone could have known that this is who he would be," Smith said. "You saw some indications that he was a little bit more driven and mature beyond his years. He went to work to change his body when everybody told him he wasn't good enough. So you saw some of the elements and characteristics that would lead you to believe he had that type of makeup.
"But I don't think anyone could have predicted that this guy is as together as he is. He's a great football player but he's also a great man. He's got all of the athleticism you're looking for, the size, weight, speed ratio -- and he has tremendous instincts and he's got the will and drive. He's a got a rare, rare combination of physical, mental, emotional characteristics that you don't see very often."
So if that is born of careful strategic inner dialogue about how to maximize his sleep, naps, massage times, diet -- down to which types of calories he puts in his body at certain times -- to say nothing of when he's in the cold tub or watching film, then so be it. This is the path Watt's chosen.
Watt thinks of someone driving a six-figure performance car and how easily a trained driver could detect a slight defect in the breaks or handling. That's how his body feels to him. He knows what it needs, is in tune with it, and feels like he can quickly detect if anything is awry, and then immediately address it. He doesn't necessary enjoy eating avocados, but he understands what that food does for him, likes how his body responds to it, so avocados are in heavy rotation.
"I can tell if my body enjoys it and is using it as fuel," Watt said. "If I put a food in my body that is bad for me, my body rejects it and doesn't like it and that makes me feel bad for the rest of the day."
Few things bring him more joy than knowing that while others may be lounging or dabbling with a bowl of ice cream or out at the club, he is flushing his legs of toxins or honing his craft and harnessing his energy.
"I love the thought of working when other people are resting," Watt said, unable to entirely keep a devilish grin from flashing across his face.
"It's hard to imagine how quick this guy is," tight end Owen Daniels said. "And over the past couple of years he's gotten super strong. His technique, the way he uses his hands. It's almost like you can't win. He has so much power. He's so athletic. And literally, he's all about football. Everything in his life, it's like, 'Will this make me a better football player?
"The toothpaste he uses, the kind of water he's drinking, when he stretches, his diets, supplements. It's everything. He's that focused. It's impressive and it's obviously really paying off."
But, again, he is not crazy.
Occasionally, Watt will deviate slightly from the day's prescribed course of action, and he may go to bed a few minutes later than he planned. He will, however, adjust the next day's naptime to account for whatever he sleep he lost, lest things get too far out of whack.
"It's not one of those things where I'm like OCD and I freak out," Watt said. "So I can cope with it and I'm fine with it. But I'm not happy about it."
He's also far from satisfied about anything he has accomplished thus far. Watt doesn't speak in terms of numbers but spend any time with him and you know that even another 20-sack season wouldn't sate him.
"I'm always looking for that next thing that I can do to become even better than I am now," Watt said. "And a lot of people say I might regress some, a lot of people say, if he can just have half as good a year or as good a year.  I say I have no interest in complacency, no interest in regression, no interest in mediocrity. I want to be better and that's how I approach every day."
Perhaps you have heard similar sentiments before, but to be in Watt's presence while he says it lends a unique believability to his words. He's living this. And savoring it.
He's a hero to the Texans community relations department, eager to do outreach, a more-than-willing ambassador for the team. Even as Watt's life began to change, especially following his interception of Dalton in the playoffs following his rookie year, when he started to be noticed more in public.
By the end of last year, no type of hooded sweatshirt, sunglasses or hat could obscure him from the masses, inescapable at his size. So often someone would walk up, even when Watt thought he might be somewhat cloaked, look closely, ask if it was him. He would say, yes, I'm JJ Watt, and sometimes chaos would ensue.
"Sometimes it becomes a swarm, but it's cool," Watt said. "Someday nobody will know who I am and nobody will care and it's nice to enjoy it while you can."
Watt seems at times to almost be too good to be true. He's a model teammate, wowing veterans with his mindfulness. His potential, on the field and in terms of earnings, seems limitless. After this season the Texans would be able to redo his contract -- they also have star linebacker Brooks Reed entering his third season and Pro Bowl linebacker Brian Cushing in the final year of his deal.
These are good problems to have, of course, and Smith didn't want to discuss future contracts but did note the team's precedent of retaining its talent. It's fair to assume if former Texan Mario Williams got $50 million guaranteed from Buffalo in 2012, then Watt's figure will shatter that.
No matter when such a record-setting deal goes down -- and it most certainly will as long as Watt is healthy -- he's not thinking about it now. Those things aren't mapped out in his daily plans; it's not anything in his control now. Getting his team a Lombardi Trophy, doing right by those who support him, and adhering to his code are all that really matter.
"I try and represent my team, my city and all the fans and my family, the way I feel it would make them proud," Watt said. "I'm always trying to make people proud, so I try to do things the right way. I try to work hard and try to give back as much as I can, because I want be a good representative of these people who put a lot of trust in me.
"We've got fans that spend their hard-earned money on my jersey and support my charity, and for me if you're going to spend your hard-earned money on my jersey I want you to be proud. I want you to be proud every single time you put that on. When you go out in public, I want you to be extremely proud of wearing No. 99."
And this is why Tyrod Taylor is now the Bills' starting quarterback again

Here are the picks and props you need to be a winner while watching all the football you can...

Freeney, 37, was impressive in Seattle before getting surprisingly released
The 49ers have a realistic shot at home against a Seahawks club dealing with a myriad of i...

R.J. White has his finger on the pulse of the Packers and made a strong play for 'Sunday Night...