Week 1 Game Rankings: Packers-Seahawks kicks off solid debut week
Can't go wrong with Green Bay-Seattle. Add Bengals-Ravens and Colts-Broncos and you can live with a Bears-Bills clunker to have football back, right?
• 31 min read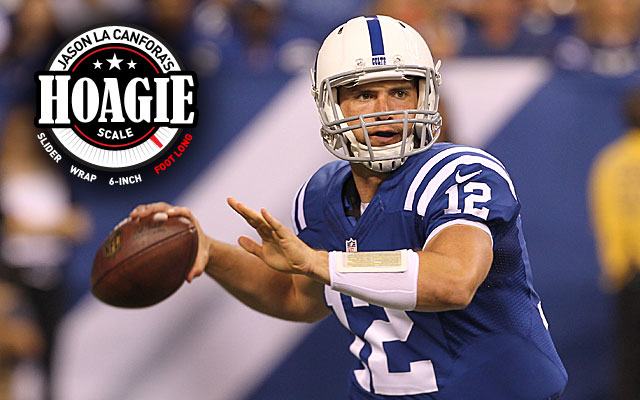 The NFL offseason is entirely too long. Days feel like weeks; months feel like years. The preseason feels like an entire season.
But the wait is finally over. Week 1 is here. Full slate of 16 games, including the now standard opening Monday night doubleheader, always featuring at least one matchup which normally wouldn't fire us up. Except, well, it's Week 1 and we'll celebrate any and all things pigskin. The Thursday night kickoff game is always one of the marquee matchups of the season, and no different in 2014, with the Seahawks hosting the Packers in what could be a precursor to the NFC Championship Game.
Overall, it's a week short on natural rivalries and divisional games. But have no fear, the schedule will be jammed with those down the stretch. And the upcoming Thursday night slate on CBS, starting in Week 2, far surpasses the kind of meaty games we used to get on that night. The few divisional games we do get all carry at least a whiff of future playoff ramifications and tiebreaker scenarios. We'll probably end up reading more into these games than makes sense. But, hell, when we haven't had a game with any meaning played at all since February and no regular-season games since early January, that kind of thing is going to happen.
It doesn't matter that a good number of teams are opening with quarterbacks most of us would rather not pay to see, or that only one of the rookie passers will actually start in Week 1. All that matters, right now, is the NFL is back, and we'll be watching as much as we possibly can.    

| | | |
| --- | --- | --- |
| |  at  | |

Green Bay at Seattle
Thursday, Sept. 4, 8:30 p.m. ET (NBC)
Why To Watch: Anyone remember the Monday night game they played in Seattle two seasons ago that pretty much ended the lockout of NFL game-day officials? Yeah, me too. I doubt we get an ending that bizarre, but we just might get a better-played game. If there was an offense that looked better than Seattle's in the preseason, let me know, or a quarterback who looked better than Russell Wilson. Oh yeah, and the Seahawks' strength remains on defense. The Packers have the personnel to be as dominant offensively as any and Aaron Rodgers is healthy and ready. There also is no shortage of familiarity between the decisions makers for these clubs, with Seahawks GM John Schneider a long-time personnel man for the Packers. These two teams have legit Super Bowl aspirations and are looking to start with positive momentum. And, with CBS moving its top-rated Thursday night lineup to other days of the week to accommodate the arrival of Thursday Night Football, well, there really isn't anything else on to watch anyway.
What To Watch For: Is Wilson ready to take another massive leap forward? His decision-making, athleticism and accuracy were fairly surreal in August and I don't think it was any fluke. He was pretty damn good to begin with ... The Packers just might overload the right side of Seattle's line. The Seahawks are breaking in a new right tackle and if there is an area of the roster they aren't over-sold on, it's the offensive line ... Will Marshawn Lynch carry his normal beastly load? The Seahawks have several other backs they trust, and after his holdout we'll see if any undercurrents of discontent linger ... I imagine Jordy Nelson will be one of the NFL's 5 to 10 most productive receivers with Rodgers back, and I wonder if the Seahawks toggle corners on him ... I bet we see a bevy of designed screens for Percy Harvin in the opening 15 plays, and look out for him in an empty backfield as well. 
| | | |
| --- | --- | --- |
| |  at  | |

Cincinnati at Baltimore
Sunday, Sept. 7, 1 p.m. ET (CBS)
Why To Watch: The AFC North might end up being the league's most improved division, and the road to the title now goes through Cincinnati. The Bengals have been regular-season rulers ... but have yet to back that up with any postseason bite. It's never too early to play a big game in this division, and the Ravens have been damn good at home for a long time. These two played a wild one in Baltimore a year ago, with Baltimore ultimately prevailing, and the Ravens vow to have a semblance of an NFL-caliber offense this season. Let's see if they can establish that early against what might be the AFC's best defense. Plenty of contrasts at play here, with Joe Flacco's regular-season stats hardly overwhelming, yet he wins (and on the road) in the playoffs, while Andy Dalton has good Fantasy numbers but has yet to look the part in a postseason game.
What To Watch For: The Ravens were pretty beat up at corner in the preseason and dispensed abundant time off as a precaution. But can Lardarius Webb and Jimmy Smith get the 'A' game going in Week 1, especially with A.J. Green feasting on this secondary over the years? ... How much work does Bengals rookie RB Jeremy Hill get, and can Gio Bernard be a bellcow? ... Mohamed Sanu may be the secret weapon for Cincy's offense. Bet he shows up big on third down ... Dalton in three career games at M&T Bank Stadium: 3 TDs, 7 INTs, 11 sacks, 52.6 completion percentage, 58.7 rating ... How active is Geno Atkins from the git-go after his long injury layoff? ... Can Haloti Ngata stay healthy this season, which could be his last in Baltimore if the defensive tackle doesn't return to form? ... Fullback Kyle Juszczyk will make big plays for the Ravens this season, and Gary Kubiak will line him up all over the field -- lead back, ball carrier, in-line tight end, H-back, slot receiver, in motion, outside receiver ... Big shoes for new Bengals defensive coordinator Paul Guenther to fill, though he has the pedigree and moxie to continue to reign of excellence of Mike Zimmer ... Steve Smith vs. Adam Jones in the slot is going to be fun. There will be no shortage of one-liners. Hopefully somebody has them mic-ed up.     
| | | |
| --- | --- | --- |
| |  at  | |

Indianapolis at Denver
Sunday, Sept. 7, 8:30 p.m. ET (NBC)
Why To Watch: Another game that, though it's only Week 1, could end up whetting our whistle for a mid-winter rematch. When the Colts took the game to Peyton Manning and the Broncos a year ago, at a time when Denver looked like a juggernaut and Manning making his emotional return to Indianapolis, it seemed the horseshoe team might be bound for greatness. The Colts won the game but lost Reggie Wayne to an ACL injury, and really weren't the same afterward. Wayne is back, Manning comes in with the ugly taste of Super Bowl embarrassment relatively fresh and the Colts are still trying to prove they are truly ready to challenge for the Lombardi themselves. So, yeah, this will be emotional on many levels and, for the Broncos, begins a gauntlet of daunting challenges as the schedule does them no favors.
What To Watch For: On paper, this Broncos defense has the ability to harass the passer, play with venom and instill a hard-nose edge to a team that relied on an unprecedented aerial attack to win last season. Now it gets a chance to show it in real time, and do so against a Colts offensive line that still looks in need of repair. Do DeMarcus Ware and Von Miller form a dominant pass-rushing duo? Is Aqib Talib a shutdown corner who can stay out of trouble, now, even after getting that massive contract? ... I have to think at least one of the Colts' talented young tight ends has a breakout season, and this might be the game one of the two start to command Andrew Luck's attention ... Even if Wes Welker were not suspended (four games because of a PED violation), there are serious issues about his concussion history at this point, and the Broncos look a little thin at slot receiver ... Is Trent Richardson beyond repair? Is he just a plodder, unable to average more than even 3 yards per carry? Wouldn't surprise me if so ... Do the Colts have a pass rush with Robert Mathis suspended to open the season? ... With Montee Ball missing a good chunk of the preseason (appendix surgery), is he up for a full load in Week 1? How much do the Broncos go runningback by committee?   

| | | |
| --- | --- | --- |
| |  at  | |

New Orleans at Atlanta
Sunday, Sept. 7, 1 p.m. ET (FOX)
Why To Watch: The Falcons want you to believe that last year was an aberration, the worst possible perfect storm, an outlier. But was it? For all the rhetoric about toughness, can anything like that be proven in a Hard Knocks preseason? Does it take more than signing a veteran or two to change it? Do they still have some of the same ol' issues, in terms of a shaky offensive line and a lack of pass-rushing talent? I wonder. Getting Julio Jones back is huge, but I'm not sure it's enough to cure all that ailed this team in 2013. As for the Saints, well, getting Sean Peyton back last season paid immediate dividends, as expected, and no one would be surprised if this is a 5,000-yard season for Drew Brees. It all started going downhill for the Falcons after a close loss to New Orleans to kick off last season; if things are really changed for the better there, then, well, no better time than the present to start to show it.
What To Watch For: As bullish as I may be on the Saints, there are some serious issues with their secondary. The corner situation in particular could be troubling and no doubt the Falcons will try to exploit that right away ... Can Stephen Jackson give the Falcons anything on the ground? History, and his recent injury history, don't paint a pretty picture ... I like the Falcons adopting more 3-4 elements to their defense, and Mike Nolan is a helluva coach, but I still don't see a lot of horses on that side of the ball ... Everyone's excited to see rookie WR Brandin Cooks in this electric Saints offense but he's still a little raw ... Have a feeling Mark Ingram is going to have a big year, and absolutely kicking myself for not drafting him where I should have in our Fantasy league, only to have Will Brinson swoop in and take him. I'm an idiot ... I'm not sure the Falcons can block Cam Jordan, and Akiem Hicks is going to give them fits as well ... Don't underestimate the void left by Tony Gonzalez retiring. He'd still be the second-most attractive receiving weapon on the Falcons if he were still playing. (Of course, you can still see him at noon every Sunday on The NFL Today).  
| | | |
| --- | --- | --- |
| |  at  | |

San Diego at Arizona
Monday, Sept. 8, 10:20 p.m. ET (ESPN)
Why To Watch: Few teams provided more pleasant surprises a year ago than the Chargers and Cardinals, but now everyone wonders if they can keep it going. Sustaining things isn't easy in this league and more than a few clubs take a step back a year after making three steps forward. For Arizona, things are more complicated by the potential legal issues facing John Abraham, the suspension of Daryl Washington and the season-ending injury suffered by Darnell Dockett. That's a major blow to a defense that had become downright menacing. Throw in Tyraunn Mathieu coming off surgery, and you have to wonder if they can live up to last season's standards. San Diego's defense had some major issues in the preseason as well and the Chargers are keeping their fingers crossed about the health of several key contributors.
What To Watch For: Andre Ellington and Michael Floyd could be on the cusp of absolutely blockbuster seasons for the Cardinals. With their offensive line looking solidified, and QB Carson Palmer comfortable now in Bruce Arians' system, that side of the ball might be primed to make up for any slip on defense ... Is Antonio Gates still a top target for the Chargers? I suspect to see Lardarius Green cut into his downfield presence sooner rather than later ... Cardinals rookie receiver John Brown, despite lacking great size, seems primed to continue his strong preseason showing. Arizona is very excited about getting him involved all over the field ... Can Dwight Freeney, after more or less a lost 2013, get back to his past form for the Chargers? And if not, do they have enough options to make opposing quarterbacks feel uncomfortable? ... Excited to see Frank Reich calling plays for the Chargers. He and Philip Rivers have a very strong relationship.  
| | | |
| --- | --- | --- |
| |  at  | |

New England at Miami
Sunday, Sept. 7, 1 p.m. ET (CBS)
Why To Watch: Tom Brady isn't going to play forever. I mean, I realize quarterbacks play deep into their careers these days, but this is a very bright dude, who has plenty going on, and a supermodel wife who far out-earns him. So we should savor Tom Terrific while he is still in his extended prime. With another year under his belt with a group of targets who were largely feeling their way through this system in 2013, this offense has the potential to take a major leap. Sure, they lack size overall, but they do have Gronk back (we think) -- we'll see for how long -- and plenty of options in the backfield. Oh yeah, and they now have a bunch of corners who can excel in man coverage, a departure from the past for New England, led by some guy named Darrelle Revis, who kind of has a book on the AFC East. Meanwhile, the Dolphins are trying to put the Wells Report and all the other madness from 2013 behind them, but do so at a time when another pedestrian season will likely result in owner Steve Ross making major changes across the organization.
What To Watch For: Do the Dolphins have a running game, finally? Moving on from Daniel Thomas was a good start, in all likelihood, and no matter what they need to find more offensive balance in order to get Ryan Tannehill over the hump ... Of course, the Dolphins' O-line issues have the potential to undermine any gains Tannehill might make. He has been a little shell–shocked at times already and I fear his protection again will be substandard ... James White will get involved in that backfield rotation sooner rather than later ... Julian Edelman could be poised for a huge season, and I wouldn't write off Danny Amendola just yet ... Could see Revis marking Mike Wallace right out of this game. Not sure this Dolphins offense has nearly enough complimentary parts to be effective, though don't overlook the ability of new coordinator Bill Lazor ... Vince Wilfork may have turned back time a bit and be ready to anchor the Pats' D-line again, and getting an opening gig against this offensive line, with center Mike Pouncey injured, could prove to be the perfect re-introduction for the veteran.

| | | |
| --- | --- | --- |
| |  at  | |

Cleveland at Pittsburgh
Sunday, Sept. 7, 1 p.m. ET (CBS)
Why To Watch: Johnny Football, baby! All the time! Every Sunday! Must-see TV! Wait, what? He's not starting? Really? Brian Hoyer kept the job? Actually, none of that is a surprise, but I'd be equally shocked not to see Johnny Manziel on the field a few times for the Browns. Coordinator Kyle Shanahan can't resist Manziel's skill set, and in third-and-short or goal-line or something, JFF will get his shot to get his first NFL action. But, yeah, 70 snaps against a Dick LeBeau defense never really made all that much sense. If the Steelers are going to make a power move back to the top of the AFC, they best make a strong statement from the onset and avoid the kind of weak opening that doomed them in 2013. I don't believe the way the Steelers finished last season was any sort of fluke. There is never any love lost between these teams as well.
What To Watch For: Just how much does Manziel see the field? And is he able to do enough in those small windows to offer an expanded role in the immediate future? ... Can Hoyer expel demons about his ACL injury last season and fire through his throws and get sufficient support from his teammates? ... Right tackle Mitchell Schwartz remains a concern and no doubt LeBeau will dial up blitzes to target him ... Ben Roethlisberger is going to have a big, big year, and watch Heath Miller shine in the red zone now a year removed from his injury woes ... When the Steelers bracket tight end Jordan Cameron in coverage, do the Browns have anyone else able to make a play downfield? The loss of Josh Gordon for the yearlong suspension will be crippling ... How soon can rookie RB Terrance West start to steal carries away from Ben Tate in Cleveland's backfield? ... RB Le'Veon Bell, coming off his arrest, will be under more pressure to produce immediately after an injury-plagued 2013 ... I still like Markus Wheaton to be a solid cog in the Steelers' passing game.
| | | |
| --- | --- | --- |
| |  at  | |

San Francisco at Dallas
Sunday, Sept. 7, 4:25 p.m. ET (FOX)
Why To Watch: The 49ers have been as close as team in the NFL to winning a Super Bowl over the past three years without actually doing so. And now, one wonders if that window is closing a bit with coach Jim Harbaugh unable to get a contract extension and veterans like Frank Gore, Anquan Boldin and Justin Smith perhaps in their final seasons. All of the above might end up being the ultimate motivation and help push this team over the top, or perhaps the tension begins to cause bigger fissures to form in the foundation. The Cowboys, meanwhile, didn't appear to do much to improve what was a historically deficient defense in 2013, and Tony Romo is coming off back surgery. Could they actually be worse on the defensive side of the ball? And would all of that result in Jerry Jones ceding some power at some point and moving away from coach Jason Garrett?
What To Watch For: Colin Kaepernick's speed should give this Cowboys' defense fits, especially on the edge where Dallas is lacking. Not sure Monte Kiffin has enough tricks and adjustments to his Tampa-2 scheme to offset the gains offenses have made picking it apart in recent years ... How much more of a limited role will Gore have? Seemed like the 49ers tried to bring him along slowly a year ago as well ... Will a week of practice be enough to have former holdout guard Alex Boone in full game shape by Sunday? The 49ers' offensive line was not sharp without him in the preseason, and overall the offense itself left much to be desired ... There is no way to simulate being pummeled the first time, particularly for Romo -- coming off his back issues -- and facing this defense, it bears monitoring ... How do the 49ers respond initially to the suspension of Aldon Smith, the prolonged injury absence of NaVorro Bowman, and now the domestic violence arrest of Ray McDonald? If this roster is as good and as deep as the 49ers would have you believe, then the dropoff won't be so great. Personally, I wonder about that.    
| | | |
| --- | --- | --- |
| |  at  | |

Oakland at N.Y. Jets
Sunday, Sept. 7, 1 p.m. ET (CBS)
Why To Watch: Rookie quarterback alert. Rookie quarterback alert. We've actually got one starting Week 1, and it's Derek Carr. I applaud this decision. Oakland has nothing to lose, and Matt Schaub ain't the answer (especially a dinged-up Schaub with an ailing elbow). Geno Smith begins Year Two clearly under the microscope, and one wonders how deep he'd be able to plummet before Mike Vick gets the call out of the bullpen. Certainly it will be measured in games and not series, but how many games? We have to assume the Jets won't look as stale offensively as they did a year ago. Heck, the fact Stephen Hill was a starter for them a year ago and didn't find any immediate work when cut last week has to be a sign of progress alone I figure.
What To Watch For: Rex Ryan's defense feasts on inexperienced quarterbacks, and Carr is obviously as novice as they come in the NFL. Expect plenty of exotic looks and hybrid blitzes, no matter the down and distance ... It's been pretty hot and muggy on the East Coast this week, and I wonder how Oakland's over-the-hill gang of free-agent signings holds up off the bat if it's sticky Sunday. The Raiders are one of the older clubs in the league, and we'll see about their overall team speed, which is weird to say about a team that put such a premium on wheels for so many years under Al Davis ... I believe the Raiders' wide receiver group will surprise people. Decent depth overall and plenty of options ... but, man, tight end could be a big concern with injuries mounting to an already thin group this preseason ... Then again, do the Jets have any healthy starting-worthy corners? The Jets' front three, as awesome as it was a year ago, is going to have to be even better because there are a lot of questions with the rest of the defense ... Is Eric Decker a difference-maker? We start to find out.
| | | |
| --- | --- | --- |
| |  at  | |

Carolina at Tampa Bay
Sunday, Sept. 7, 4:25 p.m. ET (FOX)
Why To Watch: The Bucs might just be this season's Panthers, a team emerging from the basement of the NFC South to surprise America as a playoff factor. They appear to have upgraded on offense and found some health on that side of the ball. There were young studs on every level of the defense already in place. Plus, the Panthers are a popular pick to fall back to the pack, with this offseason not so kind from a personnel and health standpoint, and their schedule as a 2013 division winner much more difficult on paper. The loser of this one could face an early uphill climb, with the Saints seemingly a Super Bowl contender and the Falcons surely at least somewhat improved from a year ago. The Panthers are likely going to have to win with a smothering defense, again, while the Bucs threaten to be explosive offensively.
What To Watch For: Cam Newton already was coming back from one surgery when his ribs became an issue. He missed lots of time this offseason and opens wearing a flak jacket, behind what could be a porous offensive line. Not a good combination. Forget all the talk about the receiver changes in Carolina, if the tackles can't hold up the receivers won't matter anyway ... The Bucs feel good about the improving health of offensive coordinator Jeff Tedford after he had a procedure done following the fourth preseason game. However, he's new to the pro game and missing time at this level, you wonder if it may have some impact. If for some reason he isn't ready Sunday, obviously that's a factor with others calling the plays for his offense ... Carolina's secondary could be tested by jump balls to a bevy of huge targets for QB Josh McCown. If this Bucs offense looks like a version of McCown's high-flyin' Bears offense from 2013 I wouldn't be surprised in the least ... Good luck blocking Gerald McCoy this season. Could be the NFL's Defensive MVP in waiting. Oh, and no one has been sacked more than Newton the past three season, and that was when the Panthers had more established tackles ... Interested to see how LB Lavonte David adjusts to his new role in Lovie Smith's 4-3 scheme. He was always around the ball a year ago ... Bucs RB Doug Martin looks like he is all the way back from last year's season-ending surgery.

| | | |
| --- | --- | --- |
| |  at  | |

N.Y. Giants at Detroit
Monday, Sept. 8, 7:10 p.m. ET (ESPN)
Why To Watch: When they get in the zone, few NFL gunslingers can toss interceptions with the regularity of Eli Manning and Matt Stafford. Manning, in particular, has turned it into an art form. And now, with both learning new offenses under new coordinators, you wonder if that sparks turnover fireworks while they work out the kinks. New York is already under fire for its preseason anemic display, with new coordinator Ben McAdoo's name a hot topic on sports radio in The Big Apple before he's been a part of his first real game. The expectation is new Lions coach Jim Caldwell will be a quarterback whisperer for Stafford, but is he enough of a Type A personality to tame a locker room with its share of issues? Could start getting late, fast, for both of these teams. And everything will be magnified opening the season on Monday night.
What To Watch For: How long before Frustrated Manning Face emerges? Will it be more of the same miscommunications with receivers and guys running the wrong routes and/or Eli throwing it into the wrong window? Not having WR Odell Beckham, a first-round pick, for pretty much all of the preseason and at least the next few weeks is another big blow to an offense very much in transition ... Do the Giants have a pass rush? The glory days of being able to attack people with only a ferocious four-man front are gone, but have they found some sort of happy medium? ... Calvin Johnson's health has been a concern the past few years. Will the knees hold up and will he have to start sitting out practices early in the season? ... A slimmed-down Nick Fairley, in a contract year, playing next to Suh could bode well for the Lions. They need that defensive line to play at an elite level week in and week out ... Um, did I mention that over the past three seasons Manning leads the NFL with 58 picks, while Stafford is tied for second with 52 (Carson Palmer)? So, um, yeah, I see a potential theme here.  
| | | |
| --- | --- | --- |
| |  at  | |

Minnesota at St. Louis
Sunday, Sept. 7, 1 p.m. ET (FOX)
Why To Watch: Some team is going to come from nowhere to shock the NFL. And while I wouldn't put money on either of these teams, especially in light of the Rams' injury woes at QB, well, you never know. On the surface, Matt Cassell vs. Shaun Hill isn't going to inspire images of crisp offensive football, but if nothing else it is a meeting of two of the more powerful young kicking legs in the NFL, and in a dome no less. And the Rams defense will be worth watching, and with Gregg Williams now at the helm the potential for even greater things is there. The front four is scary good, and the Vikings will want to try to offset that potential with a heavy dose of Adrian Peterson. How big of an impact will Norv Turner, the Vikes' new offensive coordinator, make, and how soon can he make it? Meeting of two coordinators who could end up paying huge dividends.
What To Watch For: Will Williams move guys around up front and play games with Robert Quinn and Chris Long off the edge? Quinn will threaten the single-season sack mark if healthy ... Benny Cunningham could cut into Zac Stacy's carries for the Rams. Regardless, because of Jeff Fisher's emphasis on the run game and a beefed-up offensive line, the Rams try to control games on the ground ... For all the talk of Bradford's loss, statistically he has been a below-average QB for the Rams and this team was competitive with Kellen Clemons at the helm last season ... Kyle Rudolph is being paid like a top TE now, and Turner has been a TE guru, so the expectation is he has a monster season ... First time in a a long time the Vikings don't have Jared Allen leading their defensive huddle. Can't tell me that isn't significant. End Everson Griffen's another guy who will be under pressure to play up to his new contract ... Is Kenny Britt really primed for a comeback season? ... Can the Vikings get Cordorelle Patterson as involved in their offense as they hope?
| | | |
| --- | --- | --- |
| |  at  | |

Tennessee at Kansas City
Sunday, Sept. 7, 1 p.m. ET (CBS)
Why To Watch: For the first time in a long time, Alex Smith has a long-term commitment from a team. The Chiefs are now paying the QB the kind of money that binds him there for more than a year or two. He never seemed particularly burdened by his contractual limbo, and heaven knows he made enough money as a first-round pick under the old CBA to pay his water bill, but it always feels good to have your employer make a commitment, and Smith has security in KC. Will he be able to duplicate his numbers, and the Chiefs' win total, from 2013? That could be a different story, and as much as KC made leaped forward last year, keep in mind this was a major rebuild when coach Andy Reid and GM John Dorsey got on the scene, and it was going to take more than a couple of drafts to build a perennial contender. Sometimes teams have to take a step back before they move ahead for good, and the Chiefs face a much more daunting schedule this season -- which makes a game like this something of a must-win at home.
What To Watch For: Titans rookie RB Bishop Sankey was getting a lot of buzz in the spring, then some fumbling issues quieted that in the summer. I still expect him to be a big part of the offensive approach as the Titans feel out whether Jake Locker is ready to turn the corner under center ... The Chiefs will deploy rookie RB De'Anthony Thomas all over the field and Reid won't be shy about trying to get the ball in his hands. There isn't an abundance of gifted receivers and tight ends to negate that approach ... Kansas City's O-line is very young and struggled plenty in the preseason. Tennessee's defensive line made major strides last season and Jurell Casey will be a handful for this young group Sunday ... The Titans feel very good about the young WR duo of Kendall Wright and Justin Hunter ... Locker has been able to start only 18 games the past two seasons because of injuries, stunting his growth.  
| | | |
| --- | --- | --- |
| |  at  | |

Buffalo at Chicago
Sunday, Sept. 7, 1 p.m. ET (FOX)
Why To Watch: Expect to see plenty of points on the board when the Bears play, because they may have the best offensive talent in the NFL. I'll remain a skeptic on their ability to stop people on the other side of the ball until there is empirical evidence otherwise. Now, whether the Bills have the wherewithal to challenge even a tepid defense remains to be seen. QB EJ Manuel has much to prove, and 2014 top pick WR Sammy Watkins has battled some nagging injuries. And, well, if he isn't getting adequate accuracy from the QB position, then he isn't going to produce big numbers. The Bills doubling down on Manuel by mortgaging next year's draft to move up and take Watkins sent a message to the fan base the team is ready to compete now. So another 6-10 season won't sit well.  
What To Watch For: Many assume a second year with Marc Trestman will get the errant passes and sporadic poor decision-making out of Jay Cutler's system. But will he ever really change his spots? Otherwise, there isn't much to nitpick with this offense and Trestman's bright, innovative mind will continue to yield results ... Lot of internal fireworks and turmoil through this Bills camp, with coach Doug Marrone blowing a gasket over camp fights. A slow start for this outfit would only seem to ramp up the combustibility factor ... How do the Bills spread around the carries with C.J. Spiller, Bryce Brown and Fred Jackson in the backfield? And do they have the offensive line to get it done regardless of the ball carrier ... Bears will need to get immediate results from their investment in defensive linemen in this draft; they were overpowered at the line of scrimmage far too often in 2013. Bears had the second-worst first-down rushing defense in the NFL a year ago, allowing a staggering 5.57 yards per carry (only the Lions were worse). So, um, with Manuel as my QB and all those backs, I'll risk predictability by trying to run my way into manageable third downs by plowing away on the early downs.
| | | |
| --- | --- | --- |
| |  at  | |

Washington at Houston
Sunday, Sept. 7, 1 p.m. ET (FOX)
Why To Watch: RG3 is a rock star in the Houston area from his Baylor days. But back in DC, well, the back-up QB is always beloved and you could debate the merits of whether Griffin or Kirk Cousins would be a better fit in this offense. Either way, Robert Griffin III didn't look like the best athlete on the field in the preseason and if he has slowed a step out on the edge, that's a problem. Especially against a Texans defense that has a now-paid J.J. Watt and rookie Jadeveon Clowney looking to prove a lot of detractors wrong. Jay Gruden and Bill O'Brien are making their NFL coaching debuts. Gruden, in particular, is under pressure to produce right away and rehabilitate RG3 after his benching by Mike Shanahan for the final quarter of last season. A loss in Week 1 to the NFL's worst team from 2013 wouldn't exactly be a confidence booster.
What To Watch For: If Ryan Fitzpatrick falls back to his old habit of turning the ball over, how long before O'Brien gives Ryan Mallett a shot? Mallett knows the system from New England. O'Brien isn't used to being around QBs who make back-breaking decisions with the football ... Can Arian Foster stay healthy long enough to bring some balance to the Texans' attack? ... I expect to see Jordan Reed featured early and often in Washington's offense, and if he can avoid further concussions could be poised for a true breakout ... Redskins safety situation could be an early cause for concern and Andre Johnson and DeAndre Hopkins could be just the duo to expose some things early on, especially with Brandon Meriweather suspended the first two weeks, taking away his enforcer role (Ryan Clark still a big hitter as well, but his mobility is in question at this stage of his career ... Is Alfred Morris an every-down back for the Redskins under Gruden?  
| | | |
| --- | --- | --- |
| |  at  | |

Jacksonville at Philadelphia
Sunday, Sept. 7, 1 p.m. ET (CBS)
Why To Watch: What will Chip Kelly do for an encore? His offense took the NFL by storm in his first pro season, Nick Foles went from spare part to looking like a Pro Bowler. And almost everyone in the offense had a career year, whether it was Riley Cooper or DeSean Jackson or Shady McCoy. So how does he top that? Well, I wouldn't bet against him at this point, and as risky as casting aside Jackson seemed at the time, it could be another gamble that goes Kelly's way. Will the defense be able to hold up its end of the bargain as it did in the second half of last season? And, can the man who would have had the Eagles job had Kelly not reversed his original decision about returning to Oregon, Gus Bradley, build off his fine rookie showing, with the Jags a .500 team in the second half after an 0-8 start? Bradley added speed and depth to his defense, and we'll see how long before rookie quarterback Blake Bortles gets his shot, with Chad Henne the opening day starter.
What To Watch For: Foles has to throw more picks this season like, you know, a human being. He is a second-year starter at that, and not some machine incapable of turning the ball over, right? Like a regression-to-the-mean type of thing? At least to some degree? ... Hard not to think TE Zach Ertz has a breakthrough in this Eagles offense in 2014 ... Jags TE Marcedes Lewis wowed coaches and teammates with his renewed health and fitness throughout the offseason and I can't imagine he doesn't see plenty of the football given the limited options at receiver on this roster due to suspensions and the like ... Is Toby Gerhart a No. 1 running back in the NFL? The Jags are going to give him every opportunity to show he can be ... Not sure if losing tackle Lane Johnson to a suspension for the first month of the season will slow down that Eagles offensive line that was so in-sync a year ago and excelled without getting much help from backs and tight ends ... Another tough stretch of games to open the season for the Jags. Can they get off to a better start than a year ago?
The Cowboys owner says this has nothing to do with Goodell's six-game suspension of Ezekiel...

John Elway addresses the Broncos' major need at quarterback by drafting the Oklahoma State...

The QB carousel could spin more than usual in 2018 with some big names likely on the move
The Pro Football Hall of Fame is one step closer to announcing the Class of 2018

Grab some turkey and get ready for this NFC North showdown

SportsLine's top NFL and college football experts pick a 4-team parlay that pays 10/1