Week 1 picks: Bet your mortgage on Patriots to beat Bills
Here are three reasons why the Patriots will blow out the Bills.
• 2 min read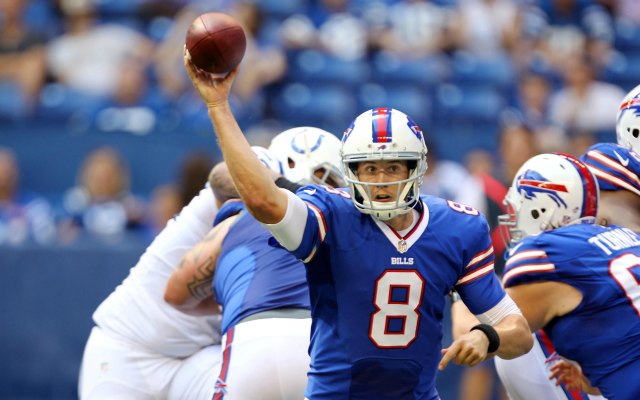 I'm not saying anyone should ever do this, but if I had to bet my mortgage on one game for Week 1, the decision would be awfully easy: taking the Patriots to cover the 10.5-point spread against the Bills.
Here are my three reasons why (again, DON'T BET YOUR MORTGAGE. If you really find yourself in a bind, don't bet anything more than your wife's precious jewels) I'd go all-in on New England blowing out Buffalo.
1) Jeff Tuel very well could start for Buffalo. Yes, the undrafted rookie free agent quarterback from Washington State who didn't have a great season for a downtrodden program last year might be the starter after Manuel underwent minor knee surgery. This is both awesome and terrifying. Awesome, because the fates have smiled on Tuel, who was mostly an afterthought in the preseason for Buffalo. Terrifying, because this could be an absolute destruction for Tuel's team and for his own body, soul and spirit.

2) Even if Tuel doesn't start vs. the Patriots, you know who will? EJ Manuel, who also will be playing his first-ever NFL game. Sure, there seems to be a big difference between Manuel and Tuel. After all, one guy went No. 15 overall, and the other went with nobody. But the Bills also brought in Kevin Kolb to compete against Manuel for the starting job, and at first, it wasn't a slam-dunk that Manuel would win it. If I'm guessing -- and since it's Tuesday, I reserve the right to change my guess -- I think Tuel will get snaps. It'd be a phenomenal story if Tuel plays well and the Bills stay close in this game, but I just don't think it'll happen. Ditto with Manuel if he's healthy enough.
3) Tom Brady is awesome vs. Buffalo. In his career, Brady has faced off 22 times against the Bills. He's won 20. He's completed 65.04 percent of his passes for 5,407 yards, 51 touchdowns and just 17 interceptions. If there's anybody Brady wants to play, it will be Buffalo. Which, of course, is bad news for the Bills.
And for the hell of it, here's one reason you could put your money on the Bills.
1) Brady has faced the Bills three times on opening day, and the combined score is 72-44. In favor of the Bills.
The Patriots won two very close games, but you'd do well to remember what happened Sept. 7, 2003: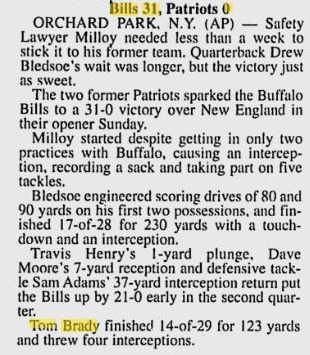 In other words, don't bet your mortgage.
Follow Josh Katzowitz on Google+
Ken Norton Jr. didn't even last a week in San Francisco

One bettor in Vegas is going to make some serious money if the Jaguars win it all

The Jaguars, Vikings and Eagles have combined to win exactly zero Super Bowls ever
The Steelers wilted under the pressure of the postseason

The Bears fan is now officially linked up with the Packers quarterback

The Cardinals have the future in mind at quarterback with the dynamic Louisville quarterback...