Week 10 Injuries: Eagles LT Jason Peters (quad) leaves game
Here's an roundup off all the major injuries that will impact your favorite team in Week 10.
• 4 min read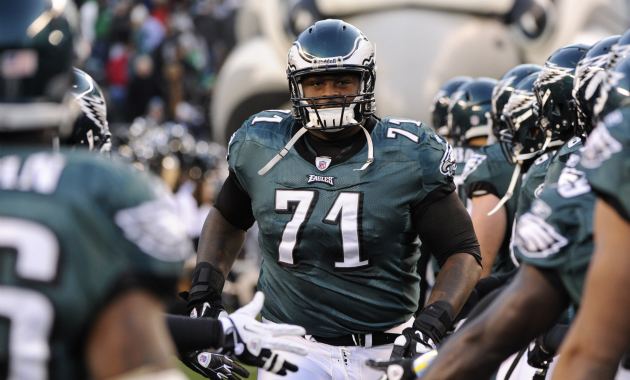 Eagles LT Jason Peters hurt for second time

Eagles left tackle Jason Peters has left the game twice and returned to the locker room, the second time with a quadriceps injury.
At first, he was question to return with a head injury after one report stated that he got kneed in the helmet in the first quarter.
He reentered the game later in the quarter, but after one play, he hurt his leg.
Allen Barbre has replaced him, while first-round pick Lane Johnson has remained at right tackle.
Scott Tolzein replaces Seneca Wallace as Packers QB
Packers quarterback Seneca Wallace, the interim starter while Aaron Rodgers is out with injury, has a groin injury and is questionable to return. He's been replaced by Scott Tolzein, who was signed off the practice squad this week.
In a word: gulp.
Ngata hurts knee but returns
Ravens defensive tackle Haloti Ngata has left the game with a sprained left knee.
According to a report, he couldn't put weight on his left leg as he limped off the field by himself. But by the second quarter, he was well enough to return to the game.
Browner out with a groin injury
The Seahawks secondary has received a bad blow as cornerback Brandon Browner is out for the rest of the Falcons game with a groin injury.
Casey Hayward out with hamstring
Packers cornerback Casey Hayward has hurt his hamstring, and he's officially out for the rest of the game.
He originally had been listed as questionable to return.
Roddy White active for first time in five weeks
For the first time since Week 5, Falcons receiver Roddy White is active.
White, who has been battling injuries all season and who was questionable this week with a hurt ankle and hamstring, has practiced all week and proclaimed this week that he would play. Turns out he wasn't lying.
"How I felt at the beginning of the season and right now is totally different," White said this week. "I've been doing a lot of work inside the weight room and outside, getting myself ready to go. It's going to be a battle out there. I'm excited. I just want to get back out there on the field and play."
Jermaine Gresham (groin) out
Though it appeared as though Bengals tight end Jermaine Gresham would play, based on reports of his pregame warmups, the team has announced he's inactive Sunday.
Gresham has been battling a groin injury. Though he practiced Wednesday in a limited fashion, he missed Thursday and Friday. He was listed as questionable on the injury report.
EJ Manuel to start for Bills
On Thursday, Buffalo coach Doug Marrone said that, barring any setbacks, quarterback EJ Manuel would start for the first time since he suffered a sprained LCL on Oct. 3.
Apparently, there were no setbacks, and Manuel will make his start for Week 10.
In his absence, the Bills went 1-3.
Jimmy Graham still questionable to play
Despite practicing all week, Saints tight end Jimmy Graham is still questionable to play Sunday with a foot injury.
You'll recall that Graham -- who was limited in practice all week -- was also questionable heading into Week 9, and he recorded nine catches for 116 yards and two touchdowns.
So, for Graham, maybe being listed as questionable is a harbinger of good things to come if you're a Saints fan.
Dez Bryant ready to play
Cowboys receiver Dez Bryant is ready to play vs. the Saints, and according to ESPN.com, Bryant took an epidural shot earlier in the week to staunch his back pain.
Bryant was listed as probable, but there was also a question whether his injury was disc related.
"It's bothering him a little bit off and on," coach Jason Garrett said this week. "We don't think it's a significant deal."
Arian Foster done for season
Texans running back Arian Foster, who has battled with multiple injuries this season, will undergo season-ending back surgery.
It's a tough blow for Foster and the Texans, who gave the ball to Foster a league-leading 351 carries last year.
In his place, Ben Tate will be the starter with Dennis Johnson and Deji Karim expected to play as backups.
Brandon Jacobs out
With Giants running back David Wilson out for the year with a neck injury, New York also will have to play Sunday without Brandon Jacobs, who's still dealing with hamstring and knee issues.
The team, though, will play with Andre Brown, fresh off the short-term Injured Reserve list, along with Peyton Hillis.
Report: Percy Harvin expected to debut Week 11
Seahawks wide receiver Percy Harvin (hip) will not make his season debut Week 10 at Atlanta, but "it would be an upset" if he didn't debut Week 11 vs. Minnesota, according to ESPN. Harvin remains on the PUP list. -- Michael Hurcomb
Mario Manningham ready to make debut
49ers wide receiver Mario Manningham is not listed on the injury report for Week 10 against the Panthers, after being activated from the PUP list. Manningham is set to make his first appearance Sunday since tearing his ACL Dec. 23 last year. -- Chris Towers
Follow Josh Katzowitz on Google+
This might go down as the best ending of the 2017 season

The Raiders beat the Chiefs, 31-30, on Thursday night thanks to Derek Carr's heroics

This was easily the most exciting final 10 seconds of any game in the NFL this season
Everything going the Chiefs way on Thursday Night Football

Beast Mode went Beast Mode on someone he shouldn't have gone Beast Mode on

This is how you do a 99-yard touchdown drive