Week 13 NFL Grades: Lions, despite mistakes, display dominance
Even though the Lions turned the ball over four times Thursday, their win vs. the Packers never was really in doubt.
• 3 min read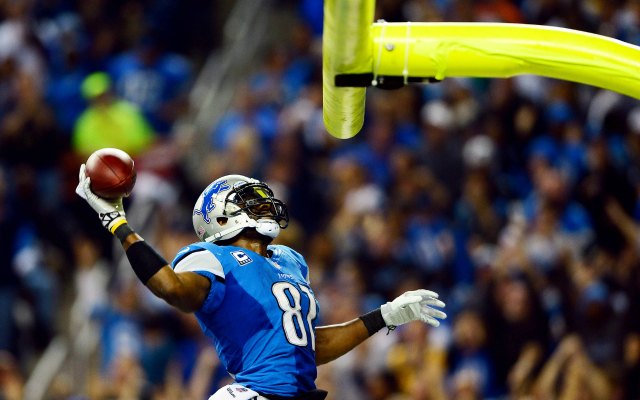 Despite breaking his promise not to fumble for the rest of the season and despite the Lions recording three turnovers in the first half to allow the Packers to build up a seven-point lead, Detroit clearly was the dominant team Thursday.
For instance, the Lions gained 561 total yards on the day and the Packers accumulated 126. Meaning that for the first time since 2005 and only the second time since 1988, one NFL team outgained another by at least 435 yards.
But like has been the case for much of the Jim Schwartz era, the Lions, who won their first Thanksgiving day matchup since 2003, made things difficult for themselves with bad turnovers and a lack of discipline in their 40-10 win.
Green Bay, with Matt Flynn starting at quarterback, never really had a chance in this game. But with Bush's fumble on the game's first series and sack-fumble by Matthew Stafford deep in Detroit territory that was recovered by Green Bay and run in for a touchdown, Green Bay took an early lead.
The Packers offense, however, was worse than brutal and only broke the 100-yard barrier because of a long pass from Flynn to James Jones in the last 2 minutes of the game.
And eventually, Detroit's dominating offense pulled ahead, thanks in part to Reggie Bush's 182 total yards (Joique Bell contributed 128 total yards of his own) and Stafford's performance (22 of 35, 330 yards, three touchdowns, two interceptions).
So yes, Detroit -- despite four turnovers, a missed David Akers field goal and two kickoffs out of bounds by Sam Martin -- was clearly the better team on Thursday.
But the question is what Aaron Rodgers will have to work with when he returns to action from his broken collarbone. The Packers are 5-6-1 and look like they have no business of making the playoffs. Not with that shoddy offensive line and that porous defense. Rodgers might make things better, but it's clear that this team's postseason hopes are in trouble.


Team
Grade
Analysis
Lions 40, Packers 10
D
The Packers forced four Lions turnovers, and that was the only good thing they did all day. Green Bay's defense was brutal, and the Packers offense was even worse. Where oh where is Aaron Rodgers?
B
As dominant as the Lions were, their ease in giving up turnovers has to be worrisome moving forward. But Detroit's defense destroyed any hope Green Bay might have had, and the Lions made the Packers look like one of the worst teams in the league.
Cowboys 31, Raiders 24 
C+
If this grade were for the first half only, the Raiders would be getting an A. Oakland jumped out to a 21-7 first half lead thanks to two touchdowns from Rashad Jennings. Unfortunately for Oakland, everything fell apart after that. 
B
The Cowboys weren't spectacular, as matter of fact, they almost looked bored to be on the field for the first two quarters. However, everything changed after Tony Romo led a 73-yard touchdown drive at the end of the first half. 
Ravens 22, Steelers 20
B
Joe Flacco had a strong Thanksgiving game and utilized his deep-ball targets. The running game still really struggled. The Ravens got bailed out a bit at the end but came away with a win. They could be the team that doesn't really look all that good to sneak into the wild-card race or even the AFC North hunt. Sound familiar?
C+
Injuries and major mistakes ultimately cost the Steelers. This game may have wrapped up their season. Le'Veon Bell being hurt would be devastating since he rejuvenated that running game. Ben Roethlisberger's had a better season than he'll get credit for. The defense simply couldn't stop the Ravens enough.
The winner of Sunday's game will he headed for Super Bowl LII

SportsLine's Mike McClure, a DFS pro with more than $1M in winnings, gives optimal lineup...

Super Bowl tattoos are never a good idea until your team has actually won the Super Bowl
A couple of dogs emerge victorious in the Conference Championship round

Our computer model simulated the AFC and NFC title games 10,000 times with surprising resu...

If the past 18 weeks are any indication, Tom Brady could be in trouble Sunday