Week 2 Game Rankings: Feast on Manning Bowl, Battle in Seattle
We have another Manning Bowl and prime Seahawks-Niners as footlong feasts. But the rest slides from good all the way to Raiders and Jags with No. 1 implications.
• 26 min read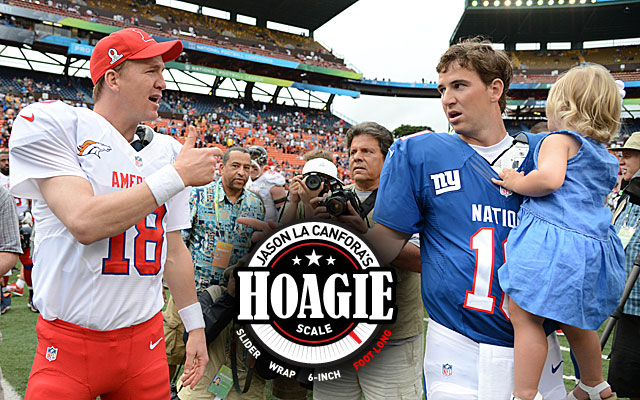 This is a weird week. Teams are either playing a divisional rival, or, it seems, facing an opponent with no historical, geographic of even conference ties.
And, save for the latest installment of a Manning Bowl, with Eli and Peyton trading passes at the Meadowlands at 4:25 p.m. ET on Sunday, most of the out-of-conference menu leaves something to be desired. We end up with stuff like Chargers-Eagles, Panthers-Bills and Cowboys-Chiefs. Just not a whole bunch of pop or natural allure to some of these matchups.
It's not loaded with games between consensus contending teams. Then again, it is short on meetings between total dogs. Even the one that looks like the biggest clunker -- Jaguars at Raiders -- could end up having one of the most meaningful outcomes of the entire season. The loser of that one would be on the right end of a potential tiebreaker for the first overall pick should Jacksonville and Oakland end up where many project they will. The Jags had a chance to blow a game a few years back and keep Andrew Luck away from division rival Indianapolis, and this Sunday's game could end up dictating where Louisville quarterback Teddy Bridgewater lands this spring.
But, saying all of that, last week we ended up with some wild finishes and sufficient drama in games like Bucs-Jets, Patriots-Bills and Raiders-Colts last week, which looked like clunkers on paper (OK, Bucs-Jets was pretty awful for the most part until the fourth quarter), so you never know.

| | | |
| --- | --- | --- |
| |  at  | |

Denver at N.Y. Giants
Sunday, Sept. 15, 4:25 p.m. ET (CBS)
Why to watch: Just consider all of the various forms of Manning Face we could take in during one three-hour sitting? Of course, for Peyton in Week 1, it was all celebratory, fist-pumping stuff, like Tiger Woods draining a long putt. For Eli, Week 1 was summed up by the utter frustration that gripped him after that last pick-six went off another set of hands (brief aside -- pay close attention to where the helmet makes those red indentations in the foreheads of the brothers Manning. Has always seemed to me to be pretty much identical and more pronounced than when non-Mannings take off their helmets). I don't really have to sell this much, do I? We have Tom Coughlin ready to strangle someone after a six-turnover game. We have Peyton strutting in after throwing seven TDs against the champs, and we'll be overloaded with shots of Archie Manning squirming in the press box. (Another aside, the Papa John's guy should step it up and offer $2 off a pizza for every TD Peyton throws in a game this season; perhaps he could single-handedly crumble that pizza empire by Week 8).
What to watch for: Besides various degrees of angst-ridden faces on the sidelines and luxury suites, will we find any young running backs ducking for cover? Montee Ball of Denver Broncos and David Wilson of the New York Giants have major pass protection issues, and Wilson got benched despite all his dynamic talent last week for fumbling. One of them could end up doing something that tilts this game, and not necessarily in his team's favor. ... Jason Pierre-Paul flashed a wee bit Sunday for someone who missed the entire preseason, and with the Broncos still adjusting to a new center, New York's defensive line could muster a push. ... If the Giants try to take away the outside receivers the way Baltimore did, at least for the first half, Peyton seems plenty comfortable hammering away with Julius Thomas and Wes Welker in the slot. ... The Broncos' run defense, and emerging lineman Derek Wolfe, were outstanding in the opener, and the Giants' protection can be spotty. ... Even if Champ Bailey returns to Denver's secondary, covering all three of New York's 100-yard receivers from the opener will be a challenge. I expect another shootout here.
| | | |
| --- | --- | --- |
| |  at  | |

San Francisco at Seattle
Sunday, Sept. 15, 8:30 p.m. ET (NBC)
Why to watch: This easily could be a preview of the NFC Championship Game. Games between the San Francisco 49ers and Seattle Seahawks will likely settle the NFC West, and these two teams and their coaches don't really like one another (OK, outside of his brother, John, I'm not sure how many coaches have the warm and fuzzies for Jim Harbaugh). It makes for great, hard-hitting football, and it often has an old-school bent. All of the talk will be on the meeting between superb young quarterbacks Russell Wilson and Colin Kaepernick, but the team that finds a way to pound the ball on the ground best will likely prevail. The atmosphere at Seattle on a Sunday night is about as loud and wild as it gets, and with all of the roster jockeying these two teams did -- each trying to pick up players from the other's roster on waivers, etc. -- there shouldn't be too many secrets between them, although I did get the sense watching each win in Week 1 that they were perhaps holding back a few wrinkles for Week 2.
What to watch for: There's no way Anquan Boldin can go for 200 yards again this week, right? Not against this Seattle secondary. Regardless, it's clear he and Kaepernick have no shortage of confidence in one another. ... 49ers RB Frank Gore was less than explosive in the opener, and I wonder if we'll see a little more of Kendall Hunter here. ... San Francisco held back on the read option stuff against the Packers in the opener, even though Green Bay struggled mightily with it last season in the playoffs. Seattle's physical corners will be eager to creep down and try to get in on the action if Kaepernick does keep the ball more this weekend. ... Seattle's protection needs to improve from Week 1. ... Wilson refuses to make mistakes with the football. ... Expected more out of Seattle WR Golden Tate in the opener, but he certainly showed up big in prime time early in the season a year ago (even if he didn't actually catch that ball, Lance Easley). ... The Seahawks are still without suspended pass rusher Bruce Irvin and end Chris Clemons (coming back from ACL surgery); the lack of those edge threats could sway the game. ... How quickly do the Seahawks start picking on Nnamdi Asomugha?

| | | |
| --- | --- | --- |
| |  at  | |

Pittsburgh at Cincinnati
Monday, Sept. 16, 8:40 p.m. ET (ESPN)
Why to watch: I know neither team impressed in Week 1, but this still could be a huge game in the AFC North race. Even though the division went a combined 0-4 last week, I still believe it will be among the league's best. Pittsburgh Steelers coach Mike Tomlin, who put his team through about as physical a training camp as you can under today's neutered standards, was steamed with how his club got manhandled by the Titans at home last week, and the Cincinnati Bengals will match you hit for hit on defense. Pittsburgh's offensive line, never loaded with elite talent, lost its anchor and leader when center Maurkice Pouncey suffered a season-ending knee injury last week, and Ben Roethlisberger's frustration through that game was palpable. Meantime, long-suffering Bengals fans, who have a hard time buying the Super Bowl hype that bozos like me propagated in the preseason, will be demanding a statement game out of their club after blowing an 11-point lead in the second half at Chicago last week. The bottom line is one of these teams will be 0-2, and facing some scrutiny.
What to watch for: Andy Dalton is always knocked for not stepping up big in big games, and in terms of the regular season, this is pretty big, a Monday night at home against a division rival. Last week he forced some balls -- a slant in particular -- and paid for it. The Bengals' passing offense is still trying to evolve, A.J. Green aside. ... I wouldn't be surprised if recently re-signed RB Jonathan Dwyer ends up seeing plenty of the ball after the Steelers' horrid showing in the run game last week. He's a big body who has had some big games in the past. ... Didn't see as much of Bengals explosive rookie Gio Bernard in the opener as I expected, and he could take his lumps against an angry Steelers front seven here. ... Steelers TE Heath Miller quietly had his best season ever a year ago and coordinator Todd Haley loves funneling balls his way. This would be his first game back from a Week 17 ACL tear, but he'll be needed on hots and quick stuff against the Bengals pass rush. ... Another slow start and you wonder if Roethlisberger starts improvising too much. ... He may not be a factor much this season, but you'll never convince me Bengals LB James Harrison isn't beyond fired up for his first game against his old team, and won't find a way to deliver at least one crushing hit. ... The Steelers might be without K Shaun Suisham, which would be a significant setback. Ex-Bengal Shayne Graham would replace him, and likely get quite a Bronx cheer.
| | | |
| --- | --- | --- |
| |  at  | |

St. Louis at Atlanta
Sunday, Sept. 15, 1 p.m. ET (FOX)
Why to watch: Will the pupil beat the master, and will Steven Jackson spoil his old team's day? St. Louis Rams GM Les Snead has made a slew of shrewd moves since leaving the Atlanta Falcons , where he worked under general manager Thomas Dimitroff. St. Louis has quickly gone from the dregs of the league to a team no one relishes playing, particularly a very physical defense and swarming pass rush. The Rams gave up more points to the Cardinals than they would have liked, but pulled out the comeback win. The Falcons lost in the final minute on a failed fourth-down conversion in the red zone. Jackson, for years the face of the Rams franchise -- and through some ridiculously lean years, at that -- is going for a ring at the end of his distinguished career, and he can still flash like his old self on powerful jaunts, like a 50-yard surge last week.
What to watch for: Robert Quinn is an absolute beast of a pass rusher for the Rams. He exploited the Cardinals and tackle Levi Brown last week for three sacks and can give the Falcons issues. He and Chris Long could have a field day this weekend. Atlanta's right tackle spot could be a problem and New Orleans was all over that line last week. St. Louis has a fearsome front seven and physical corners. ... Falcons WR Roddy White was clearly still hobbled by his ankle injury last week and look for Harry Douglas to have to step up again here. Julio Jones also was limited in practice. ... Tony Gonzalez ran routes with precision but the veteran TE was rusty in the blocking game, where he will be imperative Sunday. The lack of a preseason seemed to show there. ... LB Sean Weatherspoon and S William Moore could have their hands full with Rams TE Jared Cook, who the Cardinals had no answer for. ... Look for Rams WR/return man/jack-of-all-trades Tavon Austin to do a little bit more each week in an ever-expanding role.
| | | |
| --- | --- | --- |
| |  at  | |

Washington at Green Bay
Sunday, Sept. 15, 1 p.m. ET (FOX)
Why to watch: Robert Griffin III will be a story every week, win or lose, in sickness or in health, for better or for worse, just because he is RG3. It's must-see TV, even though the first half Monday night was so inefficient it was hard to stomach at times. How much more will he do? How much pistol will we see from the Washington Redskins after Green Bay Packers LB Clay Mathews hogtied Colin Kaepernick last week? Can he replicate the precision with which Kaepernick carved up the Pack? The Packers didn't have to deal with the read option much last week, with the 49ers staying away from it after using it to steamroll Green Bay in the playoffs. I doubt Mike Shanahan takes the same approach. Aaron Rodgers was pretty damn good himself, without the fanfare, though the run game remains a work in progress.
What to watch for: Packers rookie RB Eddie Lacy remains in purgatory, with the staff not in love with some of the details of his craft. Still, he is their best weapon on the ground, and I expect his workload to increase steadily. ... It didn't take long for Packers WR Jordy Nelson to make an impact despite missing a bulk of the preseason with injury. I expect him and TE Jermichael Finley to have big games. Seam routes trying to challenge LB London Fletcher in coverage early in the game wouldn't surprise me at all. ... The Packers were stout against Frank Gore last week, but the outside zone stretch play, with Alfred Morris at full speed, could be a particular problem. ... Will some of Green Bay's talk about how it will defend the read option with brute force backfire? Kaepernick clearly used it as motivation, though RG3 is far less imposing than his counterpart. ... Redskins CB DeAngelo Hall's over-aggressiveness will likely cost him in this one against the best quarterback in the game.
| | | |
| --- | --- | --- |
| |  at  | |

Dallas at Kansas City
Sunday, Sept. 15, 1 p.m. ET (FOX)
Why to watch: Andy Reid has barely been in Kansas City Chiefs two weeks of the regular season and already he's facing Dallas again. His first home game outside of Philly comes against a familiar foe, and his team's confidence should be high after a systematic road dismantling of the lowly Jags last week. The Dallas Cowboys managed to hold on to a game the Giants were intent on giving them, but that obscured what was an off-kilter offensive performance for the most part (Tony Romo, dealing with a rib issue again, is always too exulted in victory and often too ridiculed in defeat). Given the short and accurate thinking Reid has imparted upon game-manager QB Alex Smith, it seems unlikely the Cowboys will leave Arrowhead with another half dozen takeaways, and they'll need to establish more offensive balance as well. This is the kind of game the Cowboys would usually blow -- coming in a little too high off a modest accomplishment last week; we'll see if anything changes.
What to watch for: Is Romo grimacing and hunched over after throws? How quickly are the Chiefs able to get to his body and test him out? ... If Dez Bryant is able to play on his ankle, it could still be a situation where he is significantly limited (a la Roddy White last week). If so, Miles Austin will have to show up in key situations again, and we know Romo will be looking for TE Jason Witten in the red zone. ... Reid, long critiqued for being too pass happy, was back to his old self Sunday, even with a big lead. He will be feeding Jamaal Charles early, and trying to keep DeMarcus Ware moving laterally and backward rather than attacking their backfield. But Charles is ailing now, too, and that will be worth monitoring, especially early. ... Morris Claiborne being beat up should open some things up for Dwayne Bowe, with Dallas' secondary struggling big time last week. ... After having issues in the interior offensive line Sunday night, I would be very surprised if Brian Waters isn't starting at guard for Dallas in this one, which would be his first action since the end of the 2011 season. ... The Chiefs should be pretty conditioned for what could be intense heat, already playing in Jacksonville, while the Cowboys were in their dome and had plenty of short fields to work with from all the Giants' turnovers.
| | | |
| --- | --- | --- |
| |  at  | |

Miami at Indianapolis
Sunday, Sept. 15, 1 p.m. ET (CBS)
Why to watch: Are the Miami Dolphins a 2013 version of the 2012 Indianapolis Colts ? I don't think so, but for those who do, we may get an indication Sunday in Indianapolis. Dolphins QB Ryan Tannehill is being tabbed by some to take that step up into Andrew Luck territory, but that may prove to be a long time coming as well. Regardless, the Colts are lucky they didn't get beat by the Raiders in their opener, and while they had some good fortune in the fourth quarter, they didn't quite look like that second-half juggernaut from a year ago. If Miami manages to win this game, look out, the hype machine will be rolling big-time. And if the Colts lose, some might start to wonder if they played a little over their heads a year ago and were riding an emotional wave it might be difficult to duplicate.
What to watch for: Luck had to run for his life a few times last week and saved the game on a run that was not designed to be a run. After Miami pass rusher Cameron Wake ate the Browns up last week, he gets a crack at another less-than-stout offensive line. It was already a scary enough prospect to get Colts owner Jim Irsay howling on Twitter. ... The Colts need to get the run game going. I could see a nice dose of Ahmad Bradshaw early and in the screen game too. ... The Colts still prefer Darius Heyward-Bey over T.Y. Hilton as the second receiver in their offense, but Hilton could still get open deep a few times against Miami. ... How about Mike Wallace already moaning about his role a full four quarters after the Dolphins made him the fourth-highest paid WR in football? Following a win, no less. This offense isn't designed for too many deep balls, and Brian Hartline is a more complete and trusted -- if not nearly as explosive -- option for Tannehill. ... When he does go deep, Wallace can be sure S LaRon Landry won't be far, looking to deliver a heavy hit. I could see Landry trying to do something early. ... Colts TE Dwayne Allen needs to stay healthy. We'll see if he can find his way after picking up another nick last week. ... Miami's running back by committee is still in the sorting-out process, and might be for a while.
| | | |
| --- | --- | --- |
| |  at  | |

San Diego at Philadelphia
Sunday, Sept. 15, 1 p.m. ET (CBS)
Why to watch: It's Chip Kelly's first home game as Philadelphia Eagles coach, and surely more surprises await. Against this San Diego Chargers defense, travelling cross country, worn out from a Monday night loss and playing a game that feels like it started at 10 a.m. on their natural body clocks should all aid Kelly's warp-speed vision of offensive football. Could this be the week the Eagles run 100 plays? Will the Chargers ever have the ball? Will Fantasy owners be locking up third-string Eagles skill players because with all these plays and all these blowouts, there are yards and points to go around? ... Perhaps not quite that extreme, but this looks like a complete mismatch of this Eagles offense against this Chargers defense, and I'm tempted to make this a footlong for that alone, though San Diego's woes prevent me.
What to watch for: The Eagles may go through four quarterbacks this season. They play so fast and loose with their protections and the quarterback is so utterly vulnerable so often, it's hard to imagine Michael Vick being built for the long haul here ... and Matt Barkley better keep himself in tip-top shape because Nick Foles could be churned up, too. It's the bargain this offense is making -- intense speed and trying to exploit matchups all over the field on every play at the expense of protection. It will be worth monitoring every time they play. ... Could see two Eagles backs going over 150 yards. ... Do you see any way guys like Dwight Freeney, at this stage of his career, are going to hang with this Eagles offense? ... How long before Chargers defensive coordinator John Pagano just says screw it and starts dialing up Cover-0 blitzes every down? ... Eagles left tackle Jason Peters, coming off multiple Achilles tears, had to leave the opener. His health, given the athleticism required in this scheme, is vital. ... Have to wonder about the Chargers, mentally, after letting another lead get away on Monday night even if they are under a new regime now. Part of the reason I think this one could snowball.

| | | |
| --- | --- | --- |
| |  at  | |

Minnesota at Chicago
Sunday, Sept. 15, 1 p.m. ET (FOX)
Why to watch: Could this season spiral quickly for the Minnesota Vikings ? Losing a second straight to a division foe on the road wouldn't be a great omen. They couldn't stop the Lions last week, the usually bountiful run game was bottled up after Adrian Peterson's 78-yard TD to open the game and the passing game remains iffy at best. Meantime, the Chicago Bears pulled off a late rally over the Bengals, trailing by 11 in the first half, and need to take advantage of getting their first two games at home. Jay Cutler actually had some pass protection last week. What a novel concept. Can it continue two weeks in a row?
What to watch for: Jared Allen seemed frustrated at times last week. This is the kind of game where he could usually take over -- and he just may need to. ... The Vikings secondary was in disrepair last week. ... After watching what Reggie Bush did a week ago, you could see Matt Forte being asked to do much of the same this weekend. ... Christian Ponder best stay away from Charles Tillman. For real. Even on apparently innocuous little digs and slants. ... Some are complaining about how little Vikes rookie WR Cordarelle Patterson saw the field, but keep in mind it wasn't too long ago this raw prospect was playing junior college ball. He has a ton to learn about pro concepts and a full passing game.
| | | |
| --- | --- | --- |
| |  at  | |

Carolina at Buffalo
Sunday, Sept. 15, 1 p.m. ET (FOX)
Why to watch: EJ Manuel's speed, ability and athleticism are natural assets, but the Buffalo Bills are up against a fast young defense with dynamic linebackers who will be able to shadow and perhaps thwart what he's trying to do. It should be an interesting little chess match going on in that regard. As for the Carolina Panthers , they need to show some semblance of an offense, and already questions are being asked if they're too conservative. But besides Steve Smith, I'm not sure where the options are, and if they don't let Cam Newton use his feet more in orchestrated option runs, the predictability is problematic.
What to watch for: Can C.J. Spiller get it going this week? Expected to see more of him and fellow Bills RB Fred Jackson in the backfield together, or with one of them in the backfield and one flexed out in the slot. That could be in order here. Running the ball on this group of defenders won't be easy. The Panthers shut down Marshawn Lynch last week. ... Bills WR Stevie Johnson is still dropping balls in big moments; this offense isn't evolved enough yet to overcome that. ... Can the Bills secondary, without its best corner and safety, hold up as well again as it did last week against Tom Brady? We would certainly think so. ... Possibly this is the week the Panthers rediscover their run game. Buffalo was awful in that department last season and got gashed last week as well.
| | | |
| --- | --- | --- |
| |  at  | |

Cleveland at Baltimore
Sunday, Sept. 15, 1 p.m. ET (CBS)
Why to watch: The Baltimore Ravens , who got torched in the second half of their season opener at Denver, couldn't have two straight clunkers, could they? The reigning champs are usually better than that, especially at home, and if Brandon Weeden takes sacks and throws picks like he did in Week 1, Baltimore could be back on good footing soon enough. Of course, the Cleveland Browns gave the Ravens a game at M&T Bank Stadium a year ago, and they have more than enough talent on defense to possibly keep this close, especially if the Ravens can't coax receivers and tight ends into actually catching the ball. The options are pretty limited right in now in terms of who Joe Flacco can trust.
What to watch for: Joe Haden will make things tough for Torrey Smith, as he did for Mike Wallace in the opener, but look for Marlon Brown to continue to see targets from Flacco. Could have himself a decent day here. ... The Ravens need to get Michael Oher back at right tackle quickly; that's the side they run the ball best and the run game was brutal at Denver. ... Ed Dickson, in a contract year, continues to display brutal hands. Pressure will be on him to step up. ... Could Dallas Clark and Brandon Stokley look any more aged for the Ravens than they did in Week 1? ... Browns T Joe Thomas usually does a very nice job on Terrell Suggs, but Elvis Dumervil on the other side could be a different story for Mitchell Schwartz. ... Ravens CB Lardarius Webb was one of few bright spots in their opener in his first game back from ACL repair. Bet he makes a few big plays in this one, and look for him on selected blitzes as well. ... The Ravens are carrying just four receivers, which could limit their playbook.
| | | |
| --- | --- | --- |
| |  at  | |

Tennessee at Houston
Sunday, Sept. 15, 1 p.m. ET (CBS)
Why to watch: All of a sudden the Tennessee Titans look like they just might have a defense. Wouldn't that be something? Who saw that coming? They absolutely shut the Steelers down and were dominant at the point of attack. Of course, they still seem to have some major offensive shortcomings and Jake Locker might be a coach killer, but they showed enough to have this game appear more intriguing than when the schedule came out. If Titans coach Mike Munchak can dial up some offensive line wizardry and find a way to limit the damage J.J. Watt can do for the Houston Texans , maybe, just maybe, this isn't lopsided.
What to watch for: The Titans need to get Chris Johnson going ASAP. They can't afford another slow start from the star RB (i.e., they need to block for him and open up some sliver of holes now) given where Locker is at this stage of his development. ... Think the Titans were watching Jared Cook's highlights last week thinking maybe they should have applied that franchise tag after all? Could use a security-blanket type. ... Wonder if Arian Foster will have to go with more outside runs, because the Titans might make it tough sledding inside. ... Have a feeling Owen Daniels shows up big in this one, with the Titans wanting to dial up some blitzes and not afraid to sell out to do so.
| | | |
| --- | --- | --- |
| |  at  | |

Detroit at Arizona
Sunday, Sept. 15, 4:05 p.m. ET (FOX)
Why to watch: The Detroit Lions could have put up 50 points, easy, on the Vikings in Week 1, and that was with WR Calvin Johnson being pedestrian at best. RB Reggie Bush seems to be the exact complement they need for Matthew Stafford's big-yardage passing game, and few players were more exciting than he was in the opening weekend. And we know that Arizona Cardinals coach Bruce Arians will live and die with the deep ball. Facing a tough Rams defense last week, Arizona's passing game looked more robust than it has been since Kurt Warner retired. So I suspect we see a fair amount of aerial risk taking if that's your thing.
What to watch for: Ndamukong Suh still skirting the rules and blurring the lines. Officials will be paying close attention to him, and he should have a fine time feasting on this weak line. That can bring out the worst in him at times, with the adrenaline flowing. ... Cards T Levi Brown has to know he has a target on him after his woeful outing in the opener. ... Cards WR Michael Floyd will continue to benefit from the heavy coverage Larry Fitzgerald demands. ... Wonder if the Cards go to more of a screen game, too, because seven-step drops against this defensive line can be scary.
| | | |
| --- | --- | --- |
| |  at  | |

New Orleans at Tampa Bay
Sunday, Sept. 15, 4:05 p.m. ET (FOX)
Why to watch: A year ago, without leader/coach Sean Payton, the New Orleans Saints gave their season away early. They were aimless, they forced plays, QB Drew Brees tried to do too much. They never seemed to have their confidence about them. They found ways to lose. No longer. A big win over the Falcons in Week 1 and now the opportunity to go 2-0 in the NFC South looms against a Tampa Bay Buccaneers team that took a page out of the 2012 Saints playbook last week and handed a game to the Jets. Could be an offensive statement made right here by New Orleans, and Tampa better find a way to get the ball in its playmakers' hands, or else.
What to watch for: Bucs coach Greg Schiano just might be losing his grip on this group a little bit, if he ever had it at all. The Bucs went in a freefall after a fast start in his first season, they commit silly penalties, they have a QB with an uncertain future who hasn't been shown, or earned, the love from this staff. They have a potential scandal on their hands with these MRSA cases. It will be interesting to see the sidelines, how things play out and if fissures appear. ... This is the first real challenge for Bucs CB Darrelle Revis since he came back from ACL surgery, getting a look at a diverse offense. Wouldn't be surprised if Payton challenges him some. ... Jimmy Graham will drive the Bucs crazy. ... Tampa needs G Carl Nicks, a former Saint, back from his MRSA infection, if at all possible, for this game. RB Doug Martin and their rushing attack suffered badly without him last week.

| | | |
| --- | --- | --- |
| |  at  | |

Jacksonville at Oakland
Sunday, Sept. 15, 4:25 p.m. ET (CBS)
Why to watch: As previously mentioned, this game could have historical significance. We're talking about potential franchise quarterback, a generational game-changer, sitting out there with the first overall pick for these two cellar-dwelling franchises. Of course, they won't be thinking about it that way, and, frankly, given the ineptitude displayed by the Jacksonville Jaguars in the opener, and the fight with which the Oakland Raiders played, Jacksonville might be in for a long, long day no matter what. Raiders QB Terrelle Pryor alone is worth tuning in for, given the way he competed in Week 1. Chad Henne has to bring more spirit to the Jaguars' huddle than what we saw with Blaine Gabbert at the helm last week.
What to watch for: It's still early, very early, and he missed a ton of time last year and has some rust, but I wonder if this ends up being a long season for Maurice Jones-Drew. With the Jags clearly in a youth movement, how much work will he get over the season? ... Oakland's pass rush looked pretty good at times last week, and the Jags have some issues on their line. ... Will the Jags stick with a hurry-up approach if it's constant three-and-outs? Won't be doing their struggling defense any favors if so. ... Sebastian Janikowski missed a very makeable kick, in a dome no less, last week. Wouldn't think that's a harbinger of things to come, though he isn't a spring Seabass anymore.
DFS pro Mike McClure says Carson Palmer and Dez Bryant should be nowhere near your lineups

Chiefs quarterback Alex Smith has a 9-1 career record against the Raiders

The 49ers have been competitive despite an 0-6 start. Are they getting the Cowboys at the right...
Kansas City is looking to bounce back from its first loss of the season

Check out the uniforms that Kansas City and Oakland will be wearing on Thursday

Cliff Avril's NFL career might be over