Week 2 NFL free agency: Jared Allen's price and other observations
Are the Seahawks in play for Jared Allen? Could be, especially if the All-Pro comes down on his desire for a $12 million annual salary.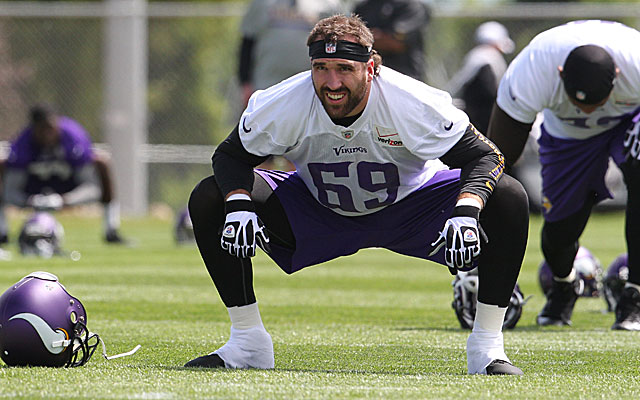 More NFL offseason: NFL Mock Drafts | Prospect Rankings | Top free agents
It's Week 2 of free agency, the owner's meetings are days away, and college draft preparation is heating up. This is the time of year teams are built and torn down. It's a tough time of year for bubble players but a gold mine for others. Here are my takeaways:
Reports were that Jared Allen was looking for $12 million a year in what he called a "fair" deal. The market has been set for pass-rushing defensive ends and it's not $12 million a year.
Allen is a glaring name at this point in free agency. Players with a lot less production are already under contract. Allen threatened to retire if the right deal didn't come in, but I seriously doubt it will come to that situation. Allen can't turn down the right market deal especially if the world championship Seahawks become the leading candidate.
After studying him, I say Allen is better than most and will eventually strike a four-year deal worth $36 million ($9M average) with $17 million guaranteed. Don't be surprised if the Seahawks stay in the race for Allen.
College film room
Draft preparation must continue even though free agency is stealing the headlines. More than half of the best veterans are moving on to different clubs, which creates hope and intrigue, but the process of evaluating potential draft picks goes on.
This week I have watched the following players on game tape:
Ryan Shazier, LB Ohio State. I think he's a late first-round type who should play weakside linebacker on early downs for a 4-3 defense and move to the middle in nickel and dime. He has range to cover, plays with leverage as a pass rusher (watch the Cal game), sheds blockers better than an undersized linebacker should and has the long arms to make plays. Shazier is a good open-field tackler but I would like to see him use his sideline to sideline speed on more consistently.
Bishop Sankey, RB, Washington. He is more of a third-down, complementary back who has quick feet but likes to bounce to the outside too much and he rarely delivers a blow to the tackler. He wants to win by being elusive and takes some unnecessary shots.
Logan Thomas, QB, Virginia Tech. In a game against UCLA, Thomas looked like a raw Josh Freeman and not much different than he did in the week at the Senior Bowl. I would consider Thomas for a practice-squad situation for at least a year. He has a strong arm and solid escape skills but he doesn't like defenders closing in on him, especially if they are going for his legs.
David Yankey, G Stanford. He is a solid player and we should hear his name soon after the first round ends. He can fold block or pull. He is quick to effectively cut penetrators. In the UCLA game he would always sit back in his stance but still deliver good contact. He has zone-run block skills and he knows how to drop his weight and sustain a pass block.
Off the cuff
I talked with more players than I can count this week. Here is the best from what I gleaned:
Josh McCown is now the starting quarterback for the Buccaneers and he is starting to sound like Rich Gannon did when he and Jon Gruden were united. McCown is 34 and realizes it's now or never for him. But what has gone unnoticed is what a mentor he will be to Mike Glennon or whoever the team drafts.
"I've been in the same place Glennon is right now and I will encourage him to compete for this job so he makes me and this team better,'' McCown said.
Evan Dietrich-Smith left his first and only real home in the NFL, with the Packers and good friend Aaron Rodgers, to join McCown in Tampa Bay. Dietrich-Smith was emotionally torn by the decision to leave Green Bay but knew he had to do what was right for his family. He said he and his wife danced around the house for at least five minutes when he finished signing the contract. He will be missed in Green Bay.
Justin Tuck backed off the comments from earlier in the week about being disrespected by the Giants organization. Tuck recognized it is a business and it's time to move on, but someday he will come back to New York and retire a Giant.
Right now he made it clear the NFL just believes the over-30 crowd can't play anymore but liked the hypothetical idea I posed to him about a team of over 30-year-olds playing NFL teams. He was very confident that they could put a whipping on the youngsters that don't really know what it takes to be a consistent professional.
Joique Bell is a utility running back for the Lions who really is a heart-and-soul player for his hometown team. He will play any role the team asks of him, but when I asked him about filling in for Reggie Bush he said, "Reggie can do things no other back can do, but I will do my best to represent the Lions in Reggie's role if they need me too." What impressed me most about Bell was the gigantic chip on his shoulder and the absolute pride he had in being a Lion.
Tough cornerback Corey Graham returns to his hometown, Buffalo, to join the Bills. Like Bell, Graham is excited about joining the team he cheered for as a kid. Graham remembers the glory days of the Jim Kelly era and he is determined to convince Bills plays to call Buffalo their home and build a team that can beat the Patriots.
Jameel McClain, former linebacker of the Ravens and now a New York Giant, was the most impressive player of all. New York is getting one tough player who spent time as a kid living in a Salvation Army center and he never forgot how tough things were. McClain said he was told by a doctor he would never play again and that he hoped Jameel saved all his money because his playing days were over because of a spinal contusion. McClain paid no attention to the diagnosis and returned to be a very good linebacker. The doctor who cleared him to play was the same doctor who told him his playing days were over.
Ripple effect of the Penn deal
Donald Penn was in Oakland a few days ago and left for Washington to shop his deal and drive his market up. He returned to Oakland and now the Raiders have gone for the short-term answer at left tackle and probably will not draft a talented young left tackle like Greg Robinson or Jake Matthews.
Instead, the Raiders are probably in play for a quarterback like Johnny Manziel. Isn't it interesting how a 31-year-old offensive tackle cut by the Bucs can have a possible e-ffect on a rookie QB?
Who's left in free agency?
The list is shrinking even from my top 10 available, which I posted on Monday. Three players from that list have now signed -- Dominique Rodgers-Cromartie, Henry Melton and James Jones. Left to be signed are Jared Allen, Knowshon Moreno, Michael Vick, Brian De La Puente, Alex Carrington, Shaun Phillips and Antonio Cromartie.
It's only Wednesday and I still think most will be gone by the owners meetings in Orlando starting Sunday.
Lawrence graded out as one of the NFL's best pass rushers last season

In three seasons, Taylor has 51 touchdowns and just 16 interceptions

The Vikings quarterback, soon to be a free agent, missed all but two of Minnesota's games in...
Miami needs to make some roster moves to be salary-cap compliant

Carolina is a weird spot and might be overthinking this franchise tag stuff

Alex Van Pelt didn't specify whether Dalton could be Joe Flacco-level elite, however