Week 3 NFL picks: Why Dolphins will beat the Falcons and cover
Here are the three reasons why Miami will beat the Falcons and cover the 1.5 spreads.
• 2 min read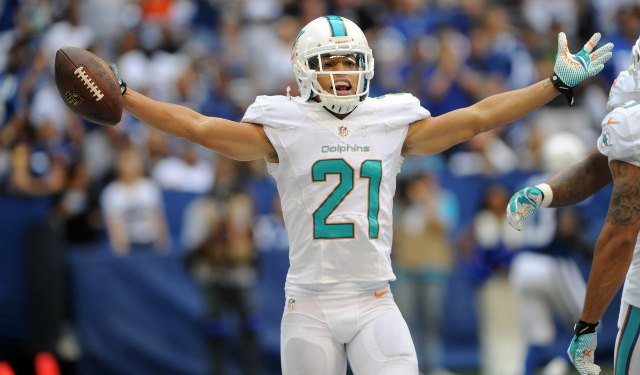 The Dolphins are 2-0, tied with the Patriots for first place in the AFC East and showing so far this season why Miami actually might have a legit chance to compete with New England for divisional supremacy. Or at least have a shot at the Dolphins first playoff appearance since 2008 (and their second since 2001) while saving general manager Jeff Ireland's job in the process.
Which was kind of the point of the entire offseason spending spree that saw the team add receiver Mike Wallace, linebacker Dannell Ellerbe and cornerback Brent Grimes.
Quarterback Ryan Tannehill just outdueled Andrew Luck in Indianapolis on Sunday, and a receiving corps that mostly been barren the past two years suddenly has plenty of depth. Now, the early line for Miami's home game this Sunday vs. the Falcons is up, and the Dolphins are getting 1.5 points. Which makes them a slight underdog against the spread at Sun Life Stadium.
So, why do I like the Dolphins to cover this game? Well, I've got three reasons.
1) The Dolphins receivers are pretty darn good now. How did this happen? Last year, the only playmaker Miami had at receiver was Brian Hartline. Other than him, Miami showcased players like Davone Bess, Rishard Matthews and Marlon Moore (and the departed Reggie Bush at running back). Now, though, you've got Hartline, high-priced free agent Mike Wallace (coming off a nine-catch, 115-yard performance), tight end Charles Clay and Brandon Gibson. Suddenly, it's an explosive-type offense in which Tannehill can excel. That's a big change from last season.  
2) The Falcons running game might be worse than last year. Last season, Atlanta's rushing attack, led by Michael Turner's plodding, was ranked 29th in the league. When the Falcons signed Rams refugee Steven Jackson, they were hoping for a running back that could average more than the 3.6 yards per carry that Turner gave them in 2012 (to be fair, Turner did score 10 rushing touchdowns). Well, the team has gotten that, sort of. Jackson has rushed for 77 yards on 14 carries, which averages to 5.5 yards per attempt. But you take away the 50-yard run Jackson made in Week 1, and that average plummets to 1.9 yards. And he had to leave Sunday's game early with a thigh bruise. If Jackson can't play Sunday, that's going to be a huge problem for Atlanta.
3) It's hard to score against the Dolphins. It's not that often when a defense ranks 18th in the league in yards given up but third in points allowed. In Week 1, Miami held the Browns to 10 points. Which is good, but remember, it's only the Browns. On Sunday, though, the Dolphins held what should be a solid offensive attack for the Colts to 20 points and shut them out for the last 26 minutes of the game (and didn't allow a touchdown for the final 31 minutes). Atlanta's passing attack will be a tough test for Miami, but so far, so good.
Follow Josh Katzowitz on Google+
Kareem Hunt has fallen off after a hot start, but he can get back on track against Buffalo

A Dallas Cowboys Salute to Service thermal pullover makes for the best early Black Friday...

It's time to hook up that jersey shirt of your favorite NFL player with some Black Friday...
It's time to hook up that jersey of your favorite NBA player with some Black Friday deals

The Chargers were not confident in their kicking situation past Nick Novak

Trump also mocked Roger Goodell's 'hemorrhaging league' while retweeting a quote on poor r...