Week 5 Grades: Browns-Bills a Josh Freeman showcase?
2013 NFL Grades from Week 5 wonder if the Bills and Browns should be calling Josh Freeman's people.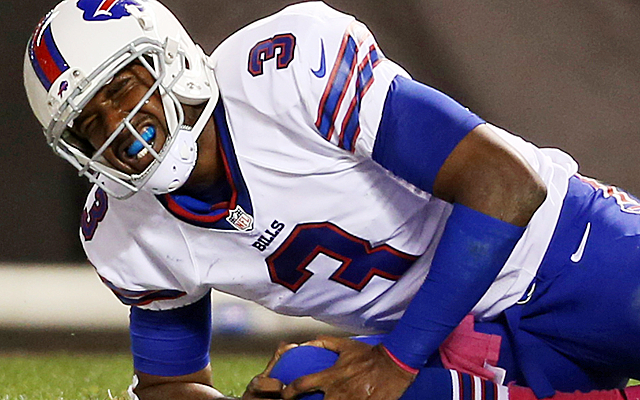 On Thursday the Buccaneers released Josh Freeman, setting him into the free-agency wild. It turned out to be pretty good timing because both the Browns and Bills saw their starting quarterbacks go down later in the evening.
Brian Hoyer, who took over for the Browns two weeks ago, suffered what looked like a pretty serious injury. The Browns reportedly fear ligament damage for their starter, which would put them in the market for another quarterback.
Deposed starter Brandon Weeden stepped in and performed alright after a shaky start but it's not like the Browns are totally in the clear here. Davone Bess was their emergency quarterback with Jason Campbell injured.
The Bills might have more of a concern. It stands to reason that EJ Manuel will come back sooner than Hoyer. But if Manuel misses any significant time, the Bills are stuck with undrafted free agent Jeff Tuel. As much fun as "Tuel Time" jokes on Twitter are, it's probably not the best thing in the world for Buffalo.
Freeman's free from Tampa Bay, he doesn't have to clear waivers as a vested veteran, and whatever he makes from a new team is just gravy as Tampa owes his salary regardless of what happens. So he might be willing to sign for cheap.
It's also possible that with Manuel on the roster Freeman's camp will decide they want to wait and see what more secure starting gigs could open up. And it's possible that neither of these teams are that interested in bringing in a free agent coming off a dramatic exit from Tampa Bay.
But with the way things looked at times during Thursday night's game, it's entirely possible that Freeman's folks could get a call on Friday morning.
Team
Grade
Analysis
Browns 37, Bills 24
C
Losing EJ Manuel hurt bad and Jeff Tuel just wasn't able to get the job done. The defense did a great job of stuffing the Browns offense early but then special teams broke things open and Cleveland started picking up chunks of yardage when it mattered. C.J. Spiller showing a sign of life was quite nice.
B-
Not a perfect evening but the Browns are in first place in their division. It just feels weird to say. Travis Benjamin was a monster in special teams. Brandon Weeden struggled early but then stepped up late. Josh Gordon made some nice catches, including a big third down late in the game. The defense didn't have its best effort and the offensive line should be a concern.
Everything you need to know about the Packers-Panthers game on Sunday afternoon

The Lions will be wearing their Color Rush uniforms for the first time on Thursday

The Lions look to maintain playoff positioning while the Bears attempt to play spoiler
The Panthers have hired an outside law firm to conduct the investigation

Here's every official injury designation for each NFL team for Week 15

Bennett was one of the few players who escaped punishment after Sunday's melee in Jacksonv...