Week 6 injury news: Rob Gronkowski out, teammates asking why
Updating NFL Week 6 news, injuries and inactives by the Eye on Football team. Check back routinely before kickoff.
• 6 min read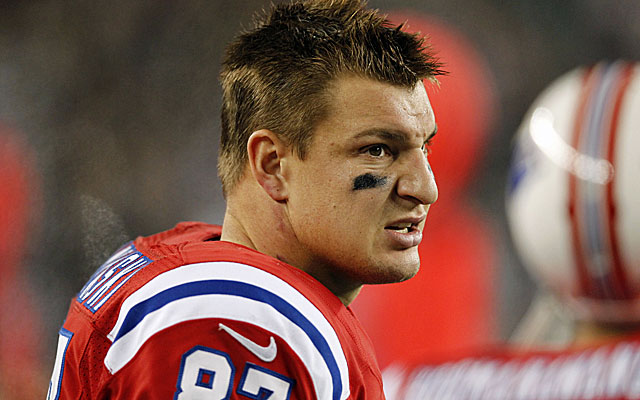 For more injury news and notes from around the league, be sure to check out CBSSports.com's NFL Rumors blog. And here's your link for the comprehensive list of game-day inactives.
The closer we got to gametime Sunday, the less and less likely it seems as if Patriots tight end Rob Gronkowski will make his 2013 season debut. Now, it's official. He's inactive for Week 6.
Earlier this week, there was a report that claimed it was likely Gronkowski would play, but at the end of the week, he was listed as questionable but thought of as doubtful because of continuing (and disturbing) issues with his forearm.
Now, he'll miss the game vs. the Saints, and according to an ESPN report, teammates are questioning why and some are wondering whether he'll play at all this year.
"There's curiosity and resentment, and he's creating it by going out and kicking ass during the week and then he doesn't show up on game day and help the team win," a source told Ed Werder.
Though Gronkowski is listed on the injury report with back problems, the problems reportedly are in his forearm because of his decision to get surgery in the offseason rather than let the fracture heal on its own.
"The source indicated that if the bone had healed on its own without an implement, there might have been no infection," WEEI.com's Mike Petraglia reported earlier in the week. "However, there now are concerns that an abscess developed, causing infection and likely weakening the bone. This prompted three more surgeries in the offseason on the forearm, separate from the procedure on his back."
Meanwhile, Gronkowski reportedly is waiting to be cleared by the famed Dr. James Andrews, so it seems as though there's a possibility that Gronkowski doesn't completely trust New England's medical staff.
Writes Werder: "Teammates, coaches and other members of the organization have watched Gronkowski practice fully for weeks -- this week he was described as dominant while playing the role as New Orleans Saints tight end Jimmy Graham while taking 50 reps a day on the scout team -- and yet he has not been available on a game day … They are having difficulty reconciling seeing Gronkowski perform like that and then not take the field with them for the games."
Matt Schaub injures ankle
In the second half with the Texans getting smoked by the Rams, Houston quarterback Matt Schaub went down with an ankle injury after he was hit by Chris Long. Reportedly, the fans cheered as Schaub rolled around in pain. He would walk off the field under his own power.
As he was being examined on the sideline, backup T.J. Yates entered the game to relieve Schaub.
Aqib Talib back to locker room
Patriots cornerback Aqib Talib, who covered Saints tight end Jimmy Graham well in the first half, has returned to the locker room with the Patriots medical staff. According to reports, it appears as though Talib's hip is bothering him.
Danny Amendola (head) out
Patriots receiver Danny Amendola took a massive shot from New Orleans' Rafael Bush and immediately went face-first into the turf. He walked off the field a moment later with the help of trainers, but he was very wobbly. Not surprisingly, he's out for the game with a head injury.
Cecil Shorts out
Making life that much more difficult for Jaguars, who are battling with the Patriots, receiver Cecil Shorts is out for the rest of the game with a shoulder injury.
Calvin Johnson to play

Although Lions receiver Calvin Johnson was a last-minute scratch last week -- his absence badly affected that offense -- he's officially active for Week 6. Reports indicate, though, that Johnson might be limited to third downs and red zone situations.
Michael Vick active, but won't start
Though Eagles quarterback Michael Vick, who was questionable with a hamstring injury, is active for Sunday, he won't start. That honor, instead, goes to Nick Foles. Basically, Vick will be the emergency third quarterback, and Matt Barkley will be Foles' backup.
Levi Brown injures triceps in pregame
The Steelers got a bad blow in the preseason warmups when left tackle Levi Brown injured his triceps. The biggest problem, though, was that the team already had announced that Mike Adams, the previous starter, was a healthy scratch. That means Guy Whimper had to take over at left tackle.
Randall Cobb limps off
After catching a pass across the middle late in the first half, Packers receiver Randall Cobb hurt what appeared to be his right leg after getting hit there by a Ravens defender. He's the second Green Bay receiver to go down with an injury in this game, following James Jones.
James Jones out
Early in the first quarter vs. the Ravens, Packers receiver James Jones injured his leg and had to limp off the field. He originally was listed as questionable to return, but he's been downgraded to out.
Champ Bailey expected to go
Broncos CB Champ Bailey is active Week 6 against the Jaguars. Bailey was listed as probable on the team's final injury report, so the move shouldn't come as a surprise. He's been dealing with a foot injury, but was able to participate in practice all week.
Keisel questionable to return
Steelers defensive end Brett Keisel has a rib injury, and he's questionable to return.
Desmond Bishop leaves game with injury
Vikings linebacker Desmond Bishop left Sunday's game against the Panthers late in the first half with what appeared to be a right knee injury. He was seen pounding the trainer's table in anger before being taken to the locker room.
Rashean Mathis out with groin injury; return questionable
Lions cornerback Rashean Mathis has sustained a groin injury in Cleveland. His return is questionable. He has been replayed by Darius Slay.
Harrison Smith leaves with foot injury
Vikings defensive back Harrison Smith left the team's Week 6 game against the Panthers midway through the third quarter with a foot injury. His return is doubtful. Smith was carted from the sideline to the locker room. Smith had three tackles when he left the game.
Danieal Manning sidelined by knee injury
Texans defensive back Danieal Manning was forced to leave Sunday's game against the Rams in Week 6 in the second half, due to a knee injury. The extent of the injury is not yet known, or whether he will be able to return to the game.
Cromartie active for the Jets
Earlier this week, there was a scary report from Jets practice that stated top cornerback Antonio Cromartie might have suffered a non-contact knee injury. Soon, though, the injury was classified as minor, and on Sunday, he officially is active vs. the Steelers.
Report: Guard Carl Nicks won't play
Buccaneers guard Carl Nicks, who suffered a reccurrence of MRSA this week, is not expected to play Sunday, according to ESPN. Tampa Bay cornerback Johnthan Banks, also battling MRSA, is expected to play, however.
Oakland running backs to play?
Raiders running backs Darren McFadden and Rashad Jennings -- both of whom were questionable to play with hamstring injries -- reportedly will take the field vs. the Chiefs, according to NFL.com.
Bucs' Mike Williams inactive
Tampa Bay receiver Mike Williams, questionable this week with a hamstring injury, is inactive for the Buccaneers. After practicing a limited amount Wednesday and Thursday, he didn't practice at all Friday, so this news isn't a huge surprise. Still, it's not great news for new Buccaneers quarterback Mike Glennon, who will be without his team's No. 2 receiver.
Chiefs' Flowers inactive
Though he's been bothered by his right knee this season, Chiefs cornerback Brandon Flowers hurt his left knee in practice this week, and it's bothering him enough to keep him inactive for the Raiders game.
After tossing five picks in his NFL debut, Nathan Peterman is heading back to the bench

Micah Roberts has the pulse of Bill O'Brien's team and just made a strong play for 'Monday...

The Factory of Sadness is closing in on the worst three-year run in NFL history
Mike Tierney has owned NFL totals and has a strong pick for the Thanksgiving Day NFL game

The president will not be taking a break from Twitter during the Thanksgiving holiday

A Dallas Cowboys Salute to Service thermal pullover makes for the best early Black Friday...