Week 8 Injury News: Michael Vick (hamstring) replaced by Barkley
Saints tight end Jimmy Graham will try to play Sunday, even though he's reportedly suffering from a plantar fascia injury.
• 4 min read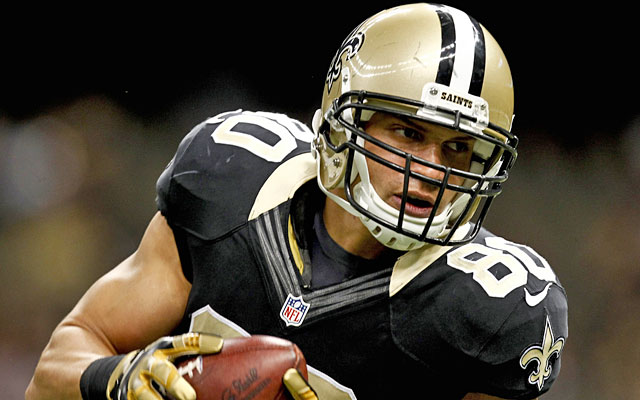 For more injury news and notes from around the league, be sure to check out CBSSports.com's NFL Rumors blog. And here's your link for the comprehensive list of game-day inactives.
Michael Vick leaves game, replaced by Matt Barkley
With Nick Foles out with a concussion, the Eagles had to speed up Michael Vick's recovery from his hamstring injury this week.
After playing most of the first half, Vick's leg apparently is bothering him, and he's left the game. He's questionable to return, and in the meantime, rookie Matt Barkley has replaced him.
Before he left the game, the Eagles had fallen behind 12-0 while completing 6 of 9 passes for 31 yards and an interception.
Cruz gets X-rays on his neck, returns to game
After he was body-slammed to the ground by two Eagles defenders in the second half, Giants receiver Victor Cruz is getting X-rays on his neck, the team has announced.
But near the end of the third quarter, Cruz returned to the game.
Jimmy Graham to start with foot injury
In news that surely is a big blow to the Saints offense, tight end Jimmy Graham is suffering from a partially torn plantar fascia in his foot, according to Fox Sports. But according to CBS Sports' Dan Dierdorf, Graham is active for New Orleans on Sunday and will start vs. the Bills.
Graham told Fox Sports that he would head over to the stadium early in order to test the foot.
"[He] felt better Friday but still a very painful issue," Jay Glazer reported. "If he can play Saints will put him on pitch count."
Thad Lewis hurt on first play of game but returns
On the first play of the game, Bills quarterback Thad Lewis, running the read option, took a shot from Saints linebacker David Hawthorne that caused a fumble and kept a clearly-hurt Lewis on the turf.
But on the next series, Lewis returned to the game.
The only other active quarterback on Buffalo's roster is undrafted rookie Jeff Tuel.
Brandon Gibson carted off with serious knee injury
Dolphins receiver Brandon Gibson had to be carted off the sideline to the locker room after suffering a knee injury. According to NFL.com, the initial diagnosis is that it's a season-ending injury. 
Gibson already had caught a touchdown pass Sunday.
Sebastian Vollmer leaves game with leg injury
Patriots right tackle Sebastian Vollmer has left the game with what appears to be a bad right leg injury after he got rolled up on by Dolphins defensive tackle Randy Starks.
After he went down, Vollmer was in so much pain that TV viewers could hear him audibly scream.
He immediately was fitted with an air cast and carted off the field.
Danny Amendola cleared to play
Two weeks after suffering a nasty-looking concussion after a tackle by New Orleans' Rafael Bush, Patriots receiver Danny Amendola is active Sunday vs. the Dolphins.
Amendola said late last week that he had passed all the imperative concussion tests.
"I've done pretty much everything they've asked me to do. I'm healthy and I'm ready to play," Amendola said, via ESPN Boston. "I'm sure it's the same thing if you get [in] a car accident. It's all independent doctors. The NFL does a great job of helping guys out with that sort of thing. It's been a big deal in the past three years; you just have to go through [the process] and listen to what they're telling you."
Dwayne Bowe to play
Despite a groin injury that kept him out of practice Friday, Chiefs receiver Dwayne Bowe is active for Weeek 8..
Bowe worked out in pregame, and reports said that he would take the field for Sunday's game vs. the Browns unless he tweaked his groin during his pregame routine.
C.J. Spiller (ankle) is inactive
Bills running back C.J. Spiller won't play Sunday as he continues to struggle with his ankle injury.
Buffalo coach Doug Marrone listed Spiller as doubtful for the game, but he also said Spiller would be a gametime decision.
DeMarco Murray ruled out for Week 8
Cowboys running back DeMarco Murray is inactive for Sunday's game vs. the Lions.
Murray missed last week's game against the Eagles due to a sprained MCL and was limited in practice three days in a row. He was officially listed as questionable on the injury report leading up to Sunday. According to Broaddus, Murray may have pushed himself too quickly to get back on the field. Lance Dunbar and Joseph Randle will split the load, if he is unable to start against Detroit.
Receiver Miles Austin also is out for Dallas.
Brandon Jacobs (hamstring) is out
For the second-straight week, running back Brandon Jacobs won't play Sunday because of his lingering hamstring problems.
That means Peyton Hillis likely will get the vast majority of rushing carries vs. the Eagles.
Aqib Talib is out for Week 8
Patriots cornerback Aqib Talib, who was listed as questionable on the injury report with a hip injury, is inactive for the Miami game.
Talib suffered the injury in Week 6 against New Orleans and has not been able to play since. He practiced on a limited basis this week, but according to the report, Talib is closer to not playing than playing.
Reggie Bush to play
Although he was limited in practice this week, Lions running back Reggie Bush is active for the Cowboys game.
Bush has been battling a knee injury, and although he was listed as probable on the injury report, he also sat out Friday's practice.
Follow Josh Katzowitz on Google+
After an injury to Trevor Siemian, Brock Osweiler entered the game and helped the Broncos to...

The 32-year-old running back is done for the year

Brandon Williams was involved in a scary situation in the first half against Denver
The Broncos are turning back to Osweiler after an injury to Siemian

The Cowboys legend admits he's not on 'great' terms with the Cowboys suspended running bac...

Here's the latest information on injured Steelers linebacker Ryan Shazier