Whaley brings Steelers ways to Buffalo, banks on top pick Manuel
How to get off the mediocrity treadmill? The Bills are trusting in Steelers-trained Doug Whaley and his first big pick, EJ Manuel.
• 8 min read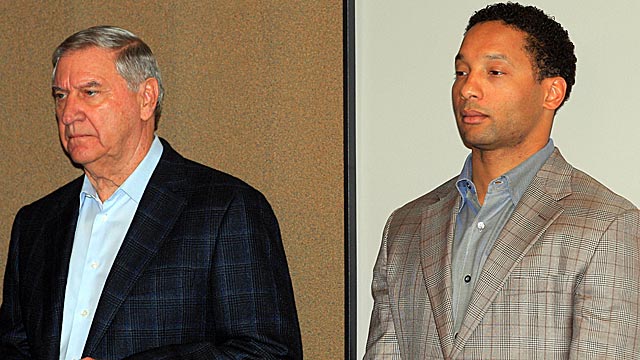 PITTSFORD, N.Y. -- The Buffalo Bills share a few similarities with the Pittsburgh Steelers, believe it or not. OK, so very little in terms of recent success or Super Bowl titles, but the sometimes frigid temperatures, the blue-collar geography, and the small-market realities that exist for both clubs make them not all that disparate in those terms.
And if Doug Whaley has his way, and capitalizes on his opportunity as the Bills' new general manager, then perhaps this perpetually-rebuilding franchise will find the stability it covets and Buffalo will have more in common with the Steelers in the standings as well. Whaley worked as assistant GM under Buddy Nix the past three years here, but is every bit a product of the Steelers front office and the Rooney Way, where he learned this business, and he is quietly trying to forge a roster and identity in Pittsburgh's likeness.
"Talking to (team president) Russ (Brandon) and Buddy, when we started the coaching search we said, 'let's start a philosophy and identity of the Buffalo Bills,'" Whaley said after his team's walk-through this morning at St. John Fisher College. "And what we came up with is an identity as an aggressive, attacking, innovating team, and a lot of that I got (from Pittsburgh).
"And we kind of subscribe to that, and a team with an identity that can win in the Northeast, in the division we play in, and it's proven to be an identity that can consistently compete. And that's one of the major things I got from the Pittsburgh Steelers -- having an identity."
Whaley spent 12 years in the Steelers' organization before coming to Buffalo, with Pittsburgh's excellent GM, Kevin Colbert, his mentor (the two remain close, speak frequently and continue to share season tickets to the Pittsburgh Pirates and Penguins). Whaley, a Pittsburgh native who played collegiately at -- you guessed it -- Pitt (1990-93), began his front-office career as a pro personnel assistant with the Steelers in 1995, and returned to the organization after scouting for the Seahawks from 1996-1998.
He was raised in the Rooney's town, old enough to have been raised in the area when the Steelers' dynasty of the 1970s was whipping Pittsburgh into a manic frenzy. Under Colbert for 11 years Whaley served as pro scouting coordinator, handling advance scouting of the team's opponents, evaluating free agents and spending the bulk of his existence on the road driving from one campus to the next, trying to keep the lifeblood of young, cheap talent churning each spring in the draft.
The Bills aren't going to be competing at the deepest ends of free agency, and their record signing of defensive end Mario Williams in 2012 did more to hasten Nix's exit than improve much of anything regarding the club's on-field progress during yet another 6-10 season. The Steelers don't operate that way, and Whaley isn't inclined to do so, either.
"Look at teams like Pittsburgh, Green Bay, the Giants," Whaley said. "They mostly are homegrown. That's the philosophy I was brought up in, and I subscribe to it wholeheartedly. Obviously we made a big push with Mario, and that's one of those things where we had a chance and decided to go for it. But most likely from now on it's going to be more building through the draft, re-signing our own guys, and if we do free agency, it's going to be some guys that have real value."
It's all about the draft.
That won't change, because even now that Whaley is the primary figure in Buffalo's football operations department, he will make sure he gets his own eyes on college talent all season long. (While Whaley's ascent to the GM title was long in the works, going back to before Marrone was hired in January, it became official in May).
"Oh, it's still going to be a big part of what I do," Whaley said. "I'm going to try to get to at least two-to-three colleges a week, depending on what's going on on the home front with injuries and anything that happens. Most likely I'll be in the office in the beginning and ending part of the week, and I'll try to get out in between. And a crucial time will be our bye week. I can get a good eight to ten schools out of that. Everywhere I've been, everyone I've worked for who has been in this position, that's how they did it. That's all I know."
Naturally, the first bold stroke of this new regime came, where else, but in the draft.
With the rumor mill grinding about the bond between new coach Doug Marrone and Syracuse quarterback Ryan Nassib, his college pupil, the Bills were secretly in love with Florida State's EJ Manuel. Anything they accomplished would be defined by an ability to land a true franchise quarterback.
The Bills haven't had a consistently quality starter since Jim Kelly retired and their dynasty (sans-Super Bowl) crumbled. Buffalo hasn't had consecutive winning seasons since 1998-99, and has finished above .500 just once since then (9-7 in 2004). That 2004 season is also the only one since 1999 the Bills have ranked in the NFL's top 10 in scoring. No coach has lasted four full seasons here since Marv Levy's final season in 1997.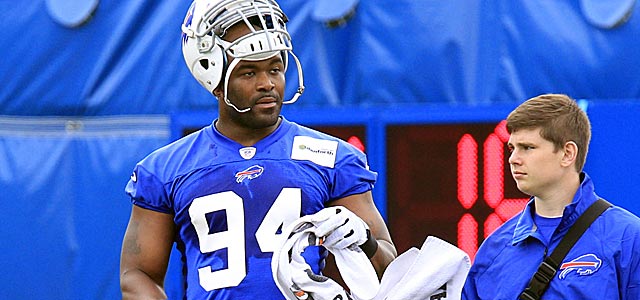 Whaley, and this organization, saw Manuel as the kid who could change all of that. And in a draft in which some wondered if any quarterback was worthy of the first-round, and with evaluations of these passers fluctuating wildly (Manuel was the fourth or fifth rated passer on some boards), the Bills pounced on him at 16th overall, defying conventional wisdom. That can often be a very good thing, but, well, can also have the same affect as a Mario Williams free agent signing if it doesn't work out.
Whaley started to become convinced Manuel was the guy during their personal workout with him at Florida State. The more they talked to him, sat with him, watched tape with him, the more they felt like he had the size, character and make-up for the job. He had that certain presence they desired.
"If you go back in history, the successful quarterbacks, most of them have that presence," Whaley said. "They walk in any room and they have a presence about them. And it means so much to this guy to be good, and not just for himself but for everybody else."
As Whaley was becoming more comfortable with the idea of Manuel as their first-round pick, so too were Marrone and Nix, still in the GM role at the time, the coaching staff. Finding a quarterback was the primary objective.
"We met with the quarterbacks in this draft as much I think you possibly could," Marrone said.
The magnitude of this decision, so early in the young regime's tenure, necessitated constant communication, and the coach and general manager say they are committed to maintaining that health level of dialogue.
"You talk and you talk and you just feel very comfortable together," Whaley said. "You know we're going to make the right decisions. There's no hidden agendas. We're able to speak freely regardless of titles, and it's been great. We meet often, we talk often, we're heavily involved giving our opinions to each other and that's what makes a great working relationship.
"We're on the same page and if there's something maybe we're not on same page about we talk about it. There's a great comfort level and we know the direction we're headed in."
Some teams backed away from the 2013 quarterback class, thinking it thin and sketchy, and more enamored with what could be sizing up to be an historic class coming out of the college ranks next spring. Whaley conceded that if Manuel was off the board it might have caused a overall rethink on their approach to quarterback via the 2013 draft, but he never let what could be in 2014 influence how he'd act today.
"I've never mastered that one to say, 'Alright, next year it's going to be this,'" Whaley said, "because we don't know where we're going to be picking, and so much changes in this league in a year. So we thought doing our due diligence that this was the best quarterback for the Bills in the future."
Whaley then smiled a bit, thinking back to one of Colbert's old sayings: "Don't give me problems I don't have."
At this point, early as it is, Manuel seems more like a potential solution than a problem. He improved as Sunday's preseason debut went on, was pretty accurate, scored a touchdown, and the Bills romped. With Kevin Kolb, brought in as nominal competition for the starting job, still recovering from yet another injury, it's becoming increasingly likely, if not certain barring injury, that Manuel is leading this offense come Week 1.
Whaley feels good about the depth the Bills have built up on defense, and everyone around here is hoping star safety Jairus Byrd stays healthy and contributes (he likely won't sign his franchise tag until just before the season begins). Offensively, Buffalo is still looking for key parts pretty much everywhere except at the running back position, where Fred Jackson and C.J. Spiller may be the best duo in football (and look for them both to be on the field a fair amount at the same time).
As much as Whaley will call upon what he learned in Pittsburgh to guide him, he knows his team must eventually be constructed to slay a very different beast. The Patriots remain the team to beat for Buffalo, even with Rob Gronkowski's injuries and all of the Aaron Hernandez drama, and at some point perhaps one of the teams in this middling division find a way keep New England from wrapping up the division title well before Christmas.
"We have to knock off New England," Whaley said. "A lot of our strategy is, 'How are we going to beat New England?' And we're taking it day-by-day, and just trying to get better."
The former Buccaneers kicker did not have things start well for him in Chicago

Bears special teams showed up in a big way against Arizona

Beast Mode got loose with Oakland and looked pretty impressive in the early going
Beast Mode was one of several players to sit during the Raiders-Rams game

The cleaning staff in Houston missed a couple of things while cleaning up after Super Bowl...

Marvin Jones had some serious fun in the end zone after scoring against the Jets