What does future hold for Alex Smith, Andy Dalton, Carson Palmer?
Three starting QBs -- Alex Smith, Andy Dalton and Carson Palmer -- enter contract years. The Chiefs, Bengals and Cardinals have some decisions to make.
More NFL offseason: League minicamp dates | Latest news, notes
It's understandable that the Chiefs are struggling with where Alex Smith slots in the quarterback financial world. In the same regard the Bengals are probably struggling about the contract Andy Dalton would receive going forward and the Cardinals with Carson Palmer's value.
Make no mistake, all three teams will have their quarterback back for 2014 and need to come up with the right contract for 2015 and beyond. But at what price and how far down the road do they want to be tied to the signal-callers?
Forget the "elite" tier of quarterbacks making over $20 million a year -- Peyton Manning, Drew Brees and even Joe Flacco. Forget the low-level starters such as Matt Cassel, Matt Schaub and Michael Vick that average just over $5 million a year. The level two tier where Jay Cutler, Tony Romo and Matt Stafford are means an $18 million a year average and that may be the sticking point for the three quarterbacks with expiring contracts after this season.
Romo, Cutler and Stafford have a combined postseason record of 2-5 while Palmer, Dalton and Smith have a combined postseason record of 1-7. Alex Smith may be 1-2 in postseason play but he has thrown nine touchdowns and no interceptions in those three games. Dalton has taken his team to the playoffs the first three years of his career and Palmer in his first year with the Cardinals went 10-6.
Any good agent could make a case that all three belong in the conversation with the Cutler, Romo and Stafford deals based on production, but it appears they will not win that argument unless they go out and have a great 2014 season. The risk is they could all play well enough to bypass the level two contract tier.
If Smith, Dalton and Palmer simply have another year like last year what will their teams do then? Franchise tag the quarterback at a probable value of $17 million for one season or let the player go? I doubt the Chiefs, Bengals or Cardinals would let their quarterback go and turn the team over to second-year quarterbacks like Logan Thomas, Aaron Murray or AJ McCarron. I really think these teams are trying to create a level three tier that would look something like a two- to four-year deal that averages $12 million to $14 million a year.
Good luck selling that idea to these quarterbacks if all three take their teams to the playoffs.
Rumblings about OTAs
The Sean Lee injury could have happened in many different ways, but the timing will put a large microscope on the whole concept of organized team activities.
First we will hear that the NFL will review all 32 teams' OTA practice routines. Then someone with a football background will conclude that the permitted 11-on-11 drills are unrealistic with the no-contact rule.
I've surveyed a number of active and retired coaches and all of them know that no-contact, 11-on-11 drills can't exist unless it is a total walk-through practice. Coaches are trying to get some up-tempo work in for timing and technique reasons and walk-throughs just don't get it done.
As Dave Wannstedt pointed out, "What about teams that want to teach press coverage to their corners? If you can't put your hands on a receiver are you teaching press coverage?" Of course you aren't teaching press coverage within the rules of OTAs.
Wannstedt went on to say that Jimmy Johnson used to remind his assistants not to "negative" coach just to get through non-contact periods, which basically means don't tell players one thing during an OTA and something else during a real practice.
My advice to the NFL is drop OTAs altogether, get a lot of classroom work done in the spring and start camp a week earlier. Of course, the league and the players association would have to agree on such a change, so it has little chance of ever happening.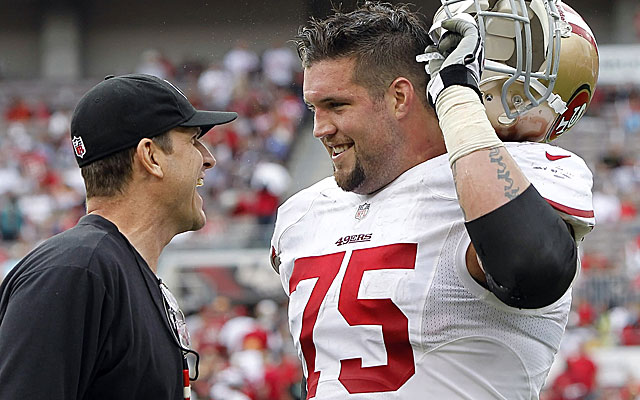 It's not often I take a look at the right guard market, but Alex Boone is not happy with his contract and I thought I should study right guard contracts to see what his gripe is about.
The average NFL fan who doesn't follow the 49ers closely might ask who Alex Boone is. The average 49ers fan might say he's the fifth-best starter on the offensive line. Well, Alex Boone is a solid football player who wants a new contract and he is holding his own little protest to draw some attention to his situation by skipping a voluntary camp.
Boone got the starting right guard job in 2012 when Adam Snyder left in free agency to join the Cardinals. Boone has started 38 straight games and the 49ers have gone 27-10-1 with him on the field. Boone gives up a sack every 148 pass plays and he is called for a penalty only once in every 239 plays. Since he joined the starting lineup the offense averages 4.87 yards rushing per play. Boone has also been a Pro Bowl alternate both years.
Adam Snyder has returned from his short stay in Arizona and is a backup for the Niners. San Francisco also drafted Brandon Thomas in the third round this year, but he may not be ready for health reasons until 2015. Boone can see the handwriting on the wall, especially with left guard Mike Iupati's contract up after this season.
So what is the right guard market that Boone feels he belongs in at this point in his career? Jahri Evans is the gold standard at an average of $8 million a year and that's way out of Boone's league, but Boone's average of $1.65 million a year seems low when you consider Zane Beadles got a deal in Jacksonville that averages $6 million a year, Jon Asamoah signed a deal in Atlanta averaging $4.5 million, Kraig Urbik averages $3.65 million in Buffalo, and Dan Connolly in New England averages $3.25 million.
Boone has two years left on his deal and has little leverage, but now that I see his position market I understand his frustration. The 49ers know what kind of player he is but they have salary-cap issues right now. I wonder if Boone would be happy with a deal that would give the team a little cap relief and extend him through 2017 with an average of $3 million a season.
If not then Boone will simply have to play out the last two years of his deal and see what free agency has in store for him in 2016.
The NFC is going to be a blast to watch down the stretch, but don't sleep on the Patriots'...

The Dolphins just created a serious shock in the AFC and MVP races by beating the Patriots

With their 2017 season basically over, it's time for Texans fans to turn their attention to...
Now 10 different players have intercepted Tom Brady multiple times in one game

Brady lofted it between two defenders and Lewis snatched it with one hand