What does the Colin Kaepernick deal mean for other young quarterbacks?
Colin Kaepernick's megadeal is a reality check for NFL GMs and owners, and a boon for other young starting QBs like Cam Newton and Andy Dalton seeking their big paydays.
The Colin Kaepernick deal is done, and the structure and richness of it will have a ripple effect in the NFL. As one former team president said to me, "What are teams going to do, walk away from their quarterbacks when it comes time to pay them?"
It's clear the 49ers thought they were getting a bargain by doing the deal -- worth up to $126 million, according to CBS Sports NFL Insider Jason La Canfora -- now, and they may be right. When I look at the extension I can see why the 49ers are as happy as Kaepernick, only giving him a $12.3 million signing bonus, which brings his 2014 money up to $13 million. Matthew Stafford took home well more than $30 million in his first year of his new deal, Tony Romo got a $25 million bonus and saw $27 million in the first year of his new deal and Jay Cutler was just short of $20 million in year one.
Kaepernick said in his news conference that "everyone is very excited about the new contract." He was referring to his family, the 49ers organization and his agents, of course. As excited as all of those parties might be, there is likely just as much excitement coming from the other young quarterbacks anticipating their new contracts.
But NFL GMs and owners? Well, that's a different story. They got hit between the eyes with a reality check about quarterback values. Granted, the Kaepernick deal has plenty of ways out for the club down the road, and the upfront money wasn't too bad, but what will Andy Dalton, Cam Newton, and even Ryan Tannehill each think they are deserving of, respectively? What will Andrew Luck, Russell Wilson and Robert Griffin III think they deserve two years from now?
Not many people thought the LA Clippers would sell for $2 billion, and that clearly changed the market for professional sports franchises. This Kaepernick deal did the same thing to the NFL quarterback market. My rule when negotiating contracts was try not to wait until someone else set the market, because nine times out of 10 it meant I would be paying more than if I was the first to go. There will be a few young quarterbacks who are going to work north of this deal, especially when they read all the fine print in it that puts the onus on Kaepernick to perform at a very high level to ever see the whole $126 million.
The ripple effect of the Kaepernick deal will reach way down into the quarterback market and will cost teams millions of new money now that the money game has changed. I remember when the Michael Strahan deal changed the defensive end market for good, and the same thing has happened again, except this time it's quarterbacks and a whole lot more money is in play.
Young quarterbacks who entered the NFL in the restructured rookie pool of the CBA like Andy Dalton, Cam Newton and Ryan Tannehill took a bath in their entry contract, but they are about to make up for it now. Also, veterans like Carson Palmer and Alex Smith just saw their value increase significantly. As one former club president said to me, "Teams may talk like they don't want to pay the going rate, but when it comes right down to it they all will." Clubs, get your check books out.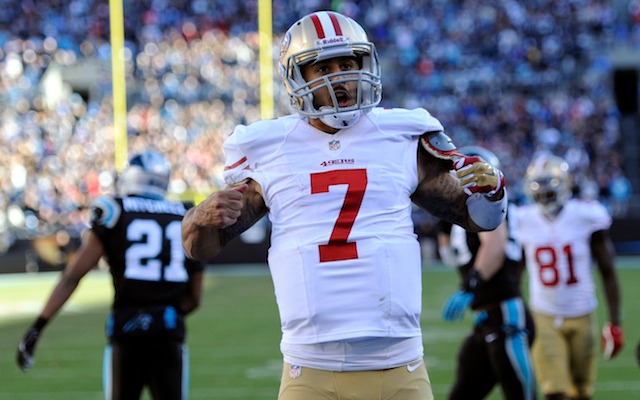 A month ago I said there was an elite level of quarterbacks who got paid more than $20 million a year (Peyton Manning, Eli Manning, Drew Brees, Tom Brady and Joe Flacco) and the second tier belonged to Romo, Stafford and Cutler. If Kaepernick's new deal -- which includes the final year of his previous contract for a total of seven years -- is really worth $126 million, then it is in the $18 million a year range. If he can't live up to the high standards written into the deal it could go back to a lower-tier average of $16 million or go away all together. So in plain English, the Kaepernick deal appears to be a second-tier deal that could fall back to a third-tier deal.
The agents for the remaining young quarterbacks lined up and looking for new deals aren't going to want all that risk in their deals. The clubs may not want to pay like the 49ers did, but given the reality of having to use a franchise tag with a projected worth of $17 million in 2015 and $18 million in 2016, GMs will likely come around to the idea of working off the framework of the Kaepernick deal.
Andy Dalton has gone to the playoffs three straight years, has 22 more starts, a 30-21 record, 43 more touchdown passes but has yet to win a playoff game. If I were the Bengals, I would push the Kaepernick deal across the table and hoped Dalton signed it. If they wait until the end of the season, it may be a bigger deal or a franchise tag.
I would suspect that Cam Newton will get a larger contract than the Kaepernick deal or a Dalton deal. It wouldn't surprise me to see Cam Newton sign a seven-year, $130 million dollar deal with none of the language that takes the club off the hook. Considering Newton has already thrown 27 more touchdown passes than Kaepernick, and is a former No. 1 pick in the draft, his deal might be a hard pill to swallow for the Panthers.
The older veteran quarterbacks who are facing expiring contracts like Palmer and Smith will also experience the benefits of the Kaepernick deal. It would be my guess that both signal callers just realized at least another $3 million to $5 million a year more because of the Kaepernick deal, and I wouldn't be surprised to see both of them average more than $16 million a year when their deals get done. Arizona and Kansas City may wait until the end of the season, but that's a risk I might not take.
Looking down the road, there's no chance Luck, RG3 or Wilson will take the Kaepernick deal, but they will use it as a starting point in negotiations. At least one of these three quarterbacks will see a $20 million average when their turn comes, and the other two may be in $18.5 million to $19.5 million range. Wilson, in 38 starts, has won a Super Bowl and has 28 more touchdown passes thrown than Kaepernick. Andrew Luck, with a 23-12 record, 2,838 more passing yards and 14 more touchdowns than Kaepernick, as well as 11 games with more than 300 yards passing, is headed for a bigger deal. Robert Griffin III has some ground to make up after his injury but he can catch up quickly if he's healthy this year.
Finally, if you think the quarterback market has gone through the roof, your team can always say goodbye to its starter and hope it hits a home run in the draft or signs a journeyman like Matt Schaub or Matt Cassel and try and win with a fourth-tier quarterback.
The Colts quarterback may have to deal with more issues if he suffers a setback

Will the Bengals be able to land a big fish? Let's take at look at seven potential candidates...

One of Tom Brady's favorite targets will be sidelined with a shoulder injury vs. the Steel...
Emory Hunt has his finger on the pulse of the Boys and locked in a strong pick for 'Sunday...

Carolina will not be allowed to conduct an internal investigation

The longtime Bengals coach and the team are planning to part ways after the season ends