What I learned at camp: Expect flags to decrease in regular season
The NFL reacting to physical secondary play by emphasizing illegal contact penalties isn't new. And it'll subside because the league doesn't want four-hour games, either.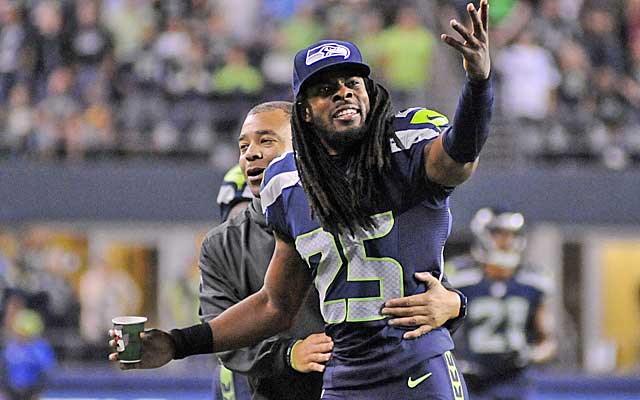 After finishing my annual NFL training camps tour, here are a few things I learned, including the ongoing debates about penalties and the longtime name of franchise in Washington DC.
Up in arms about penalties: Everyone is bothered about the number of penalties called in preseason games. I've seen it before. Think back to the 2004 AFC Championship, when the Patriots beat the Colts 24-14. There was an uproar over New England's secondary getting rough with Indy's receivers. The next summer it was point-of-emphasis time for illegal contact and defensive pass interference. The difference this summer is officials are not being told "when in doubt, throw the flag," which was the directive from Park Avenue before this preseason.
Ironically, this outcry involves another aggressive defense defeating a Peyton Manning offense with physical secondary play (Seattle, in the Super Bowl), and now we are besieged by penalty flags in every preseason game. During the 2013 regular season teams averaged slightly fewer than seven penalties a game. That number has nearly doubled this preseason.
Some fans are furious -- one emailed to say the game has been ruined and another said he knows more about referees' throwing arms than the arm of his rookie QB. However, I believe there are four reasons calls will be reduced during the regular season:
NFL officials study all calls at Park Avenue after games, and a reliable source told me they estimate about 25 percent have been incorrect, and game officials are being instructed where they have been wrong. Some clubs believe the incorrect calls are closer to 40 percent.
Common sense will prevail, and a number of clubs are sending in the videos with complaints about over-officiating of defensive holding, pass interference and illegal contact. Contrary to some popular opinion, the league listens to coaches' concerns.
Nobody wants a four-hour game, and 30 penalties a game -- the number we're approaching in the preseason -- will push the games to that length. Adding 5-7 more penalties per team to a game will push the average time to complete a game past 3 hours, 30 minutes.
Clubs and players are working to correct illegal habits in coverage and with receivers on downfield blocking to stay within the rules. I saw more officials at camps than ever before and they were officiating individual drills as well as team periods.
The Washington situation: I do not expect changes to the Washington team name anytime soon. According to sources, the club has received enough positive feedback from Native American groups that it's no slam dunk the pressure to change the name is enough to force an alteration.
I also spoke with the attorney representing the franchise in this case and he's confident the club would prevail.
On my Redskins camp stop in Richmond, Va., there were close to 25,000 fans watching a scrimmage vs. New England with no evidence of protestors. However, there was an awful lot of support to keep the name. Right or wrong, the Washington Redskins aren't changing the name in the near future.
Sideline innovation: The league is moving away from sideline still pictures we're used to seeing coaches and players studying, instead utilizing tablets. Black and white photos shot from end zone and sideline cameras are giving way to tablets delivering those shots in color within 2-4 seconds after each play. They can be viewed individually or in a sequence.
While no video capability exists, there will be 13 tablets on each sideline, a marked improvement over one set of pictures sent to the bench. Coaches and players can take tablets to the locker room to help with halftime adjustments. Some coaches have concerns about viewing tablet screens in sunlight, but the league is planning modifications to remedy the issue and also will allow clubs to shoot the old pictures as a backup. One caveat: If one sideline's tablets malfunction, the other club will not be precluded from using theirs to even the score.
Salary cap space: I took a look at each team's cap space and outside of three teams -- the Lions, Rams and Redskins -- most clubs have plenty of space. At least 11 teams have more than $10 million in space and the NFL average is about $6 million. So there is no rush to cut veterans and keep rookies at the final cuts for financial reasons.
"Of course, we would like to see all of our draft picks make the team but we don't have to cut veterans this year to save money," one GM said.
As the league continues with plans to expand practice squads from 8 to 10 players, expect more rookies to be sent down and veterans retained on active rosters.
Plus the Saints are rolling in the NFC South, the Falcons are in trouble, the Bears are weird...

Here are the Week 7 grades for every team that played on Sunday

It was the Falcons' first score against the Patriots in over 90 minutes of game time
Hooker, the 15th pick in the draft, was in the middle of a stellar rookie year

Plus Jordy Nelson's lonely pre-game, Jamal Adams' Milly Rock, Le'Veon Bell's stiff arm and...

Justin Timberlake is headed back to perform at the Super Bowl for the first time in 14 yea...