What to watch: Chris Johnson, game length with regular refs, scuffling Packers offense
How long can the Titans put up with Chris Johnson's lack of production? Will the Packers offense show up? Pat Kirwan tells us what he's looking out for in Week 4.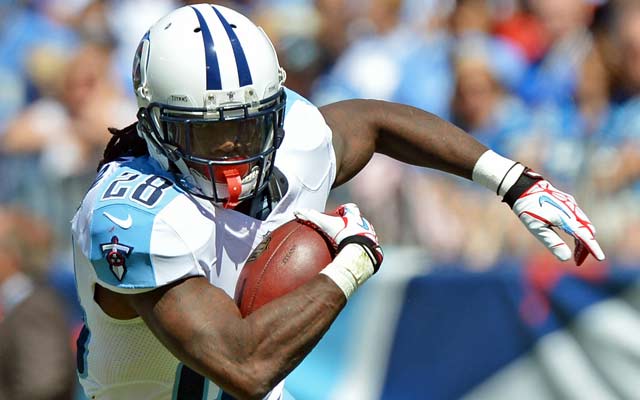 Chris Johnson is averaging under two yards a carry for the Titans.
(US Presswire)
We are at the quarter pole in the 2012 season and the story is starting to unfold for many teams. The good news is last year three teams that were 1-2 went on to make the playoffs. Right now six of the 2011 playoff teams find themselves 1-2 or, even worse, 0-3 and need to get going. Here are seven things I will be watching during Week 4 action.
 1. How long should Chris Johnson keep his job? C.J. is averaging 1.4 yards a carry -- with a long run of 13 yards -- and 0 touchdowns. In his last 21 games he has 4 rushing touchdowns, which makes it look like his 2012 woes aren't something new. In his last 35 games he has 19 games were he rushed for less than 4.0 yards a carry. In 17 of his last 21 games he did not rush for 100 yards. Now he plays Houston and he hasn't had a rushing touchdown in the last six games against the Texans. It all adds up to how much longer can the Titans keep giving him a chance? Is it time to see if someone else can get the job done?
 2. Great Quarterback, winning tradition and a losing record: It's not uncommon for five or six playoff teams to miss the playoffs the next year, but not teams with quarterbacks like the guys with losing records that need to win and win now. Teams that drop to 1-3 have an 8.7% chance of making the playoffs since 1990. That makes the Patriots, Broncos, Lions, and Packers games critical. The Steelers are off so they dodge the bullet for a week. The Saints play the Packers and are in the worst situation. An 0-4 start means they drop to a 1.3% chance of making the playoffs. I expect at least three of these teams find a way to win, but we'll have to wait and see.
3. Length of games: The replacement officials are finally gone and the regular refs are back on the field, but don't think it means the games are headed back to three hours. The game is getting longer no matter who officiates it. The replacement officials averaged 3:14 and were criticized for the length of the games. Thursday night the game lasted 3:15 even though most people felt it went smoother and had a better flow. There were 18 penalties and 45 incompletions in the game and all of those situations stop the clock. I believe the modern game is rarely going to be three hours.
 4. Cam Newton: Cam Newton is going to be an elite quarterback in the NFL someday, but he is going through the growing pains along the way. Newton needs to handle adversity and realize it's the next play, not the last play. When Newton has thrown an interception in a game his record is 0-11. When he doesn't throw a pick his record is 7-1. Is it because of the turnover or is it the emotional reaction he may have to the poor paly whether it's his fault or not. Newton lost both games to Atlanta last year and threw five interceptions. How does he respond this year?
 5. The Revis-less Jets: Losing a starting quarterback can be the most devastating injury a team can have, but for the Jets losing Darrelle Revis it is just as bad. The Jets are a pressure defense that wants to blitz over 50% of the third-down situations. Without Revis that may be impossible to do. The 49ers don't even have to throw at Antonio Cromartie anymore. Look for San Francisco to work on Kyle Wilson. In 111 plays without Revis, the Jets gave up 4 touchdowns with no interceptions, 7.6 yards per attempts and 62% completion rate. With Revis (88 plays): One touchdown, four interceptions, 5.4 yards per attempts and a 54% completion rate. What awaits the Jet defense this week?
6. What about the Packers? The Packers looked like a scoring machine while going 15-1 last year. In their last seven games dating back to last year they are 3-4. They have given up 28 sacks. In the last seven games the Packers have averaged just 24 points and give up 21. Keep your eye on the soft coverage the Saints will play, keeping the passing game in front of them. Will the Packers hand the ball 25 times to Cedric Benson against the worst run defense in the NFL or will they try and keep throwing the ball?
 7. Michael Vick: Mike Vick finds ways to beat the Giants, but his turnovers are now a big issue -- 12 in three games spells trouble for the Eagles. Opponents have converted the turnovers into 40 points. Eli Manning is a very good road quarterback with an 8-3 record in his last 11 games, averaging 306 yards passing and two touchdowns. The Eagles are 7-1 in their last 8 against the Giants but a loss by Mike Vick will put a lot of pressure on him going forward.
The Titans are getting ready to unveil a uniform that won't be 'anything close' to any other...

The NFL announced on Friday that 32 compensatory draft picks have been awarded to 15 teams
Jonathan Martin's old high school was forced to close on Friday after he appeared to threaten...

It doesn't look like the Jaguars will be making any front office changes anytime soon

The Buccaneers quarterback received a citation after causing a car wreck February 13