What's the call? First-and-goal from the 1, NFL trends dictate a pass
In the last five years the NFL has seen a dramatic shift in offensive philosophy of play-calling in goal-to-go situations. Passing is preferred.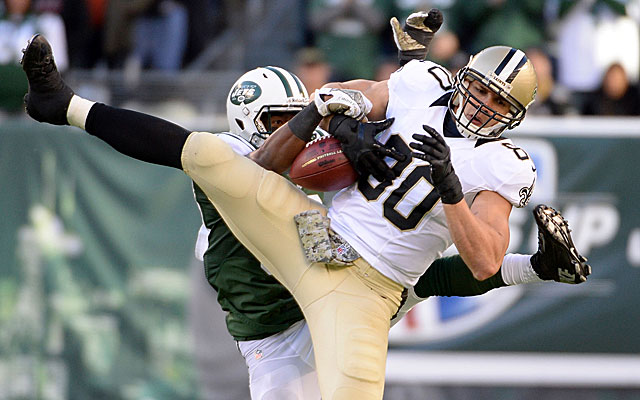 I was sitting with Dan Marino last Sunday watching the Broncos-Chiefs game as well as the Steelers-Ravens game earlier, and in both games there were 1-yard touchdown passes thrown. Marino just shook his head.
"I didn't throw a lot of one-yard touchdown passes in my career,'' Marino said.
Keep in mind Marino threw 452 touchdown passes including playoffs, but it got me to think about goal-line scoring and especially scoring from the 1-yard line.
In Week 13 of the NFL season there were 11 rushing touchdowns from the 1-yard line but also three passing touchdowns and the league is on pace for close to 50 1-yard touchdown passes this year after 52 last year. That is a significant jump in 1-yard touchdown passes from years past.
Before I get the ball to the 1-yard line let's look at goal-to-go scoring, which starts when the ball is inside the 10. It has changed dramatically since 2009 and it continues to grow in the opposite direction of the previous 15 years.
From 1995 to 2009 rushing touchdowns dominated passing touchdowns. In fact, in 14 of those 15 seasons there were more rushing touchdowns than passing touchdown each year except 2007. The 15-year average in that time period for goal-to-go rushing touchdowns was 284 a year to 238 passing touchdowns. Since 2009 we have not seen a season when rushing touchdowns exceeded passing touchdowns in goal-to-go situations, which is a complete reversal of the previous 15 seasons.
Each year since 2009 there have been more passing touchdowns than in any of the previous 15 years. This year we are on pace for 295 passing touchdowns on the short field and only exceeded by last years' 301 passing touchdowns.
In the past four years NFL teams combined to average 295 passing touchdowns to 275 rushing touchdowns for the season in the goal-to-go field. When you drill down inside the growth of the passing touchdowns in goal-to-go situations you discover the growth of just what Marino said to me last Sunday ... the 1-yard touchdown pass.
In Marino's last six seasons he threw six 1-yard touchdown passes out of the 126 touchdown passes he connected on. Spin forward to the last six seasons for Peyton Manning with 17 1-yard touchdown passes and Drew Brees with 16 and you get a sense of where this is headed.
I get it when the 1-yard touchdown pass is on third or fourth down and the run game hasn't punched it in on the previous downs, but take a look at when teams throw the ball from the 1 for scores and it paints a much different picture.
If you just look at 2011 through this season there have been 133 1-yard touchdown passes and the down and distance breakdown is important to note for fans and coaches alike. Teams aren't waiting to see if they can punch in the run or the sneak like they did in the past. They are coming up to the ball and throwing it right away much more than they ever did before.
Basically, 63 percent of the 1-yard touchdown passes since 2011 are coming on first or second down, which is the reason the run TDs are down and the passing TDs are up.
NFL defenses confronted with goal-to-go at the 1 have changed how they line up and what they can call. No longer does the D just dig in and play the run or the QB sneak and play the pass on third down.
Marino was right when he said he didn't throw a lot of 1-yard touchdowns in his day. Marino only threw 22 among 420 regular-season touchdowns. Peyton Manning already has 33 1-yard scores in his 236 starts and 477 touchdowns. Brady and Brees are right behind. Brady has played 187 regular-season games with 353 touchdown passes and 26 1-yard passing scores while Brees has played in 181 games with the exact same number of touchdowns, 353 and 25 from 1 yard away.
From 1995-2009 the NFL averaged about 35 1-yard passing touchdowns a year. Since 2010 the league is averaging 48. Are we headed to 60 a year because Ben Roethlisberger and Matt Stafford among others are using it more?
The tight end is the No. 1 target from the 1. Since 2011, 88 of the 133  touchdown passes from the 1 have been caught by a tight end or an eligible lineman playing a tight end position. With the growth of the big athletic tight ends like Jimmy Graham, who already has 6 1-yard touchdown receptions, all the more reason to throw it from the 1.
The Patriots quarterback has been listed as questionable for Sunday's AFC Championship

It appears the Raiders didn't break any rules during their hiring of Jon Gruden

Jacksonville cornerback does not lack confidence heading into AFC Championship
Payton was seen mocking Vikings' fans at the end of the Saints-Vikings game on Sunday

Tom Brady didn't really feel like talking about his hand injury on Friday

Anderson was also arrested in May