What's the most popular TD celebration in the NFL? Find out
There have been 1,150 touchdowns scored in the NFL so far this season and the Wall Street Journal decided to break down the celebrations that followed each of those scores.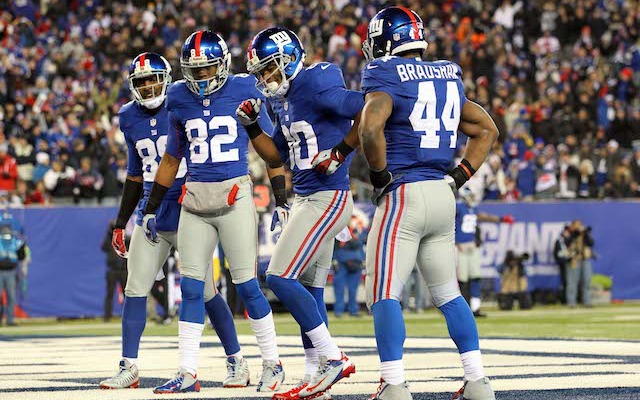 Through 15 weeks this season, there have been 1,150 touchdowns scored in the NFL. That's a lot of touchdowns and a lot of touchdowns mean a lot of touchdown celebrations. From Joseph Fauria's boy band inspired touchdown celebrations to Victor Cruz's famous salsa dance, NFL players have done a lot of different things when they've reached the end zone this season. 
Still waiting to hear what @jimmyfallon & @jtimberlake think about my execution of "Bye Bye Bye!" #EndzoneDance http://t.co/Xn2dnreaPt

— Joseph Fauria (@BigJoeFauria) September 23, 2013
How many different things? The Wall Street Journal broke it down with what's probably the first-ever touchdown-celebration audit.
It might seem like players are celebrating every time they score a touchdown, but that's actually not the case. According to the audit, the most popular way to celebrate a touchdown is by celebrating with your team/doing nothing notable. That's happened on 305 of the touchdowns this year or 26.5 percent of the time.
A complete breakdown of 1,150 touchdown celebrations from this NFL season http://t.co/pi8UTBMNcO pic.twitter.com/uKCby6eYZ0

— WSJ Sports (@WSJSports) December 20, 2013
Cruz's salsa dance falls under the category of signature move and players have done a signature move 105 times this season or 9.1 percent of the time.
The chest bump has been done 130 times, making it the second most popular end zone celebration.  
Dunking the ball over the crossbar isn't as popular as you might think: it's only been done 34 times this season. Although Saints tight end might have scared everyone away from the dunk when he almost broke the field goal posts in Atlanta in Week 12. 
As for other celebrations: Leaping into the stands has been done 51 times this season. Getting on one knee and praying has been done 22 times and 'shushing' the crowd has been done five times. 
One of those five times came in Seattle in Week 3 when Jaguars running back Jordan Todman 'shushed' the Seahawks crowd after scoring a fourth quarter touchdown. It's probably worth mentioning that the Jaguars were trailing 38-10 when Todman scored. 
Of course, one thing we didn't see this season was a river dance. 
In the past week, Marshawn Lynch and Michael Bennett have both sat during the national ant...

As expected, the internet had jokes about the Chick-fil-A at Mercedes-Benz being closed on...

Harrison is the franchise's all-time leading sacker, but J.J. Watt's brother will get the starting...
More than 17 percent of fans say they would never consider dating a Pats fan

Brady said that his lack of speed is why he fell so far in the draft in the first place

If Thomas is right, that means it's bad news for DeShone Kizer's chances of starting early