When it comes to landing Super Bowls, cash, new stadiums get call
When Minneapolis, flush with a big-money new stadium in tow, beat old NFL favorite New Orleans for Super Bowl LII, it was no shock. In fact, it highlights a trend.
• 7 min read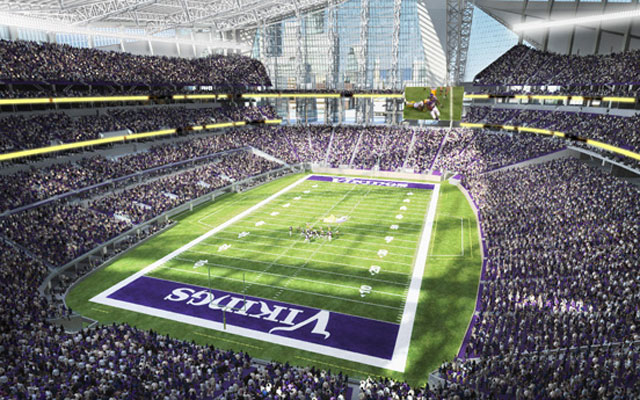 More NFL: NFC Over/Unders | 2015 Mock Drafts | 2014 Draft Grades | News
Follow the money.
You don't need to spend 10 years at The Washington Post, as your humble columnist did, to understand how that continues to apply in powerful organizations -- be it government, big business or sports leagues (outright professional or faux amateur, like the NCAA). The NFL didn't approach $10 billion a year in annual revenues without watching its bottom line, protecting franchises and adhering to a revolutionary revenue-sharing model -- rewarding its own by finding ways to put more money into the collective trough.
It works. It has always worked.
Which is why I feel like a rube for thinking for one minute that New Orleans would land the Super Bowl in 2018, based on it never having lost a past vote for the game, and considering that its 300th anniversary happening to coincide with the title game in a few years. You won't find many Super Bowl veteran observers who aren't always charmed by how well The Big Easy puts on The Big Game. And, well, the notion of another SB there so soon seemed very quaint. So I, too, bought the notion of NOLA as the frontrunner for Super Bowl LII.
But I forgot what Watergate, via All The President's Men, taught us, oh, so long ago. Silly me. Of course Minnesota was going to get this Super Bowl when it was awarded during a brief league meeting this week. Was it ever really in doubt? Somehow I stopped paying attention.
Money talks, and the Minnesota Vikings pulled off a very difficult revenue-boosting feat during a recession in a tricky political climate and in a state that seemed -- at least for a while -- willing to buck the trend of giving financial handouts to uber-wealthy pro sports franchise owners. They got a brand-new, state-of-the-art domed stadium funded, financed and under construction -- despite the nearby Twins and the University of Minnesota each getting new stadiums recently as well. So they were going to get a Super Bowl as soon as they were eligible.
These owners ain't stupid, especially when it comes to things like stadiums. If you (i.e., taxpayers) help build it, then the Super Bowl will come. That's how it's been working for quite awhile, and I don't anticipate that changing anytime soon (so, Atlanta, come on down in 2019, when Arthur Blank's new dome, including its $200M in public funds, almost certainly will host the big game). And I'm not mad at them. You can't be, either. Even the good folks of New Orleans can't be. It's their league, there are only 32 families in the world in control of this ever-growing sports empire, and it's not hard to get two-thirds of them to buy into the fact that better stadiums and facilities increase the appeal and profits of the entire league.
It's a total no-brainer. And should any of the other California teams manage to go what the Yorks pulled off, turning a dilapidated Candlestick Park into a new Super Bowl-worthy stadium in Santa Clara (where historically-significant Super Bowl 50 will be played), well, they won't have to wait too long for their chance to host the final game, either. And if the Miami Dolphins could get their stadium-with-an-ever-changing-nickname up to snuff, and/or get a new facility built in South Florida, well, suddenly they could go from sad outsiders right back to the head of the Super-Bowl hosting class (owner Stephen Ross, worth nearly $5B, has now proposed a $350M renovation using private funds, according to a report this week in the Miami Herald).
So, it's simple: Get the public money to get the thing built and get the game.
Except, well, actually, it's damn difficult to get a new stadium pulled off, particularly to do so largely to the league's liking -- that is, with Ma and Pa fan chipping in. Getting a private/public funding split in states like Minnesota and California, that skew a little more left, is even tougher. And it requires years of politicking and lobbying and filing environmental reports, and going to budget meetings and planning meets and more minutiae than you can imagine. But, oh, the payoffs are well worth it.
The Wilf family is out of the rundown Metrodome, and gladly will have their team play outside for a few years (and ship a few "home" games to London in the process) while their new dome is constructed. They go from an outdated, sagging stadium with limited luxury suites and lacking all of the creature comforts, sponsorship opportunities and revenue streams of their rivals who play in modern facilities, to a sparkling new home that not only allows them to reap more rewards, but makes more money for the entire league in the long run, with them able to charge more for tickets and with the value of their franchise surely skyrocketing.
In the NFL's model, what's good for the Vikings is good for the overall business, and it's a primary reason why commissioner Roger Goodell has made getting all NFL stadiums up to modern standards such a chief cause. It's why other owners will dig into their pockets to help teams secure loans and have resources available to get these stadiums built, and it's why the league championed NFLPA involvement and made it a tenet of its new CBA with the players, too.
The G-4 program allows teams to get as much as $200M of potential funding for new stadiums, and provides access to banking interests that can help fill in additional gaps. Also, teams can get loans to update existing stadiums (just go back to the October 2013 NFL fall meeting, when the Carolina Panthers got $38M in loans, the Washington Redskins qualified for $27M in loans and the Cleveland Browns nearly $63M in loans for stadium upgrades). The loans certainly require a legitimate payback, so it's not free money, but their availability is huge and money is often paid back via sending the barrowing team's share of gate receipts from road games directly back to the league. And, well, teams looking for new stadiums will only qualify for the G-4 loan if the NFL is satisfied with the private/public component of the proposal. And that is obviously very good business for all 32 franchises.
The Vikings stadium projects to cost around $1B, with the Vikings on the hook for $477M; the city of Minneapolis owes about $680M over 30 years, including interest and construction costs. You don't think that kind of work would be rewarded, and as soon as possible? Yeah, I'm a fool. As for the San Francisco 49ers ' new stadium, well, the Santa Clara City Council agreed for the city's Stadium Authority to barrow $850M to cover most of the costs, with the 49ers getting their $200M G-4 loan. Do the math. They were going to get Super Bowl 50.
The Houston Texans , without their beautiful domed stadium, wouldn't be in the Super Bowl mix. The Arizona Cardinals were rewarded quickly for securing their new stadium with the Super Bowl. A tax increase funding $325M helped get Jerry Jones' new stadium built (although construction costs went way, way beyond original estimates). And Jerry World hosted a Super Bowl that many will remember for the horrible weather and pre-game ticket crisis, as more than 1,000 seats were deemed too hazardous to be used. We can't forget about the Detroit Lions (Ford Field) getting another Super Bowl after their downtown stadium was built, either.
Oh yeah, and does anyone think the old Meadowlands would have hosted a cold-weather Super Bowl? Come on. No way New York/New Jersey gets that game, and all of the years of controversy leading up to it, unless there was a new facility standing more or less right where the old one used to be. MetLife Stadium is an anomaly in that its $1.6B in construction costs are split between its tenants, the New York Giants and New York Jets , the state did donate land for practice facilities and New Jersey allocated $250M for related construction costs.
The model is working, and thus the pool or potential Super Bowl cities is growing. It remains to be seen if the San Diego Chargers , St. Louis Rams , Oakland Raiders , Buffalo Bills , Jacksonville Jaguars -- or even the Redskins, who would covet a retractable domed stadium back downtown and not in struggling Prince George's County,  eventually will join the club. But keep in mind two of those franchises are ultimately headed to Los Angeles at some point if/when a Super-Bowl worthy stadium is constructed there, and lest you not take Goodell's statements seriously, London remains very much in play down the road, too, for another (these owners are happy splitting the pie in 32 pieces; this isn't about expansion but rather making the existing clubs as profitable as possible in current markets or elsewhere).
So follow the money, read the terms of the leases and the funding requirements closely, and save yourself any angst over where future Super Bowls will be awarded. If a newly constructed stadium is in the mix, and there are sufficient hotels in the area, bet on that locale getting the game. You might cash in, too.
In the past week, Marshawn Lynch and Michael Bennett have both sat during the national ant...

As expected, the internet had jokes about the Chick-fil-A at Mercedes-Benz being closed on...

Harrison is the franchise's all-time leading sacker, but J.J. Watt's brother will get the starting...
More than 17 percent of fans say they would never consider dating a Pats fan

Brady said that his lack of speed is why he fell so far in the draft in the first place

If Thomas is right, that means it's bad news for DeShone Kizer's chances of starting early