Where do 2013 Broncos rate among greatest all-time offenses?
Peyton Manning and the Broncos are ripping through the NFL record books, but how do they stack up with the 2007 Patriots, 2001 Rams and the other great offenses of the past?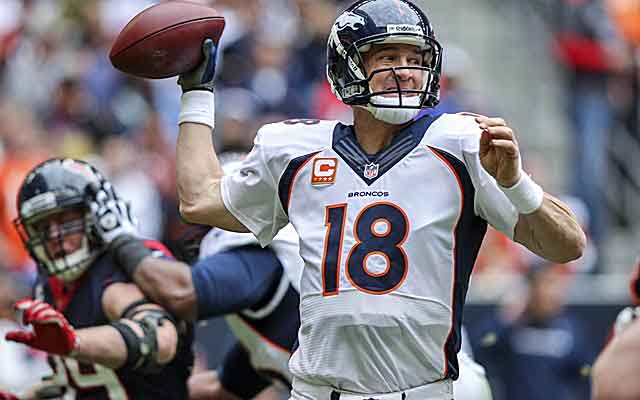 This week on the CBS matchup show I was asked if the Denver Broncos' offense was the greatest of all time. It is a hard question to answer without doing some research and thinking about past teams and the era they performed in compared to today. My first reaction was that they could very well be the best offense of all time, but I thought I would open up the question to the radio listeners on my Sirius radio show "Moving the Chains." Many people weighed in on the subject via call in, emails and twitter. When it was all said and done, seven different offenses dating back to 1984 made it to final consideration.
The finalists are the 2013 Denver Broncos, 2007 New England Patriots, 2005 Indianapolis Colts, 2001 Saint Louis Rams, 1998 Denver Broncos, the 1998 Minnesota Vikings and the 1984 Dolphins. To objectively look at these seven great offenses and rank them I used the following criteria:
1. How many offensive points did these teams score using only passing touchdowns, rushing touchdowns and field goals?
2. How many yards did they accumulate passing and rushing?
3. How many first downs did the offenses produce?
4. How many turnovers did they have for the season?
5. The team record during the season.
6.Where did the rushing game and passing game rank in the NFL for the year? Keep in mind the 2013 Denver Broncos have one game to go. The team offenses are listed in chronological order. Note the (*) designating the best of the group in that particular area.
Best offenses of all time
TEAM
POINTS
YARDS
SCORES(RUN/PASS/FG)
1ST DNS
TURNOVERS
TM RECORD
RANK(RUN/PASS)
'13 DEN
538*
6,859
16R/51P*/23FG
407
26
12-3
14R/1P
'07 NE
532
6,580
17R/50P/21FG
393
15*
16-0*
13R/1P
'01 STL
468
6,690
20R/37P/23FG
340
44
14-2
5R/1P
'05 IND
419
5,799
19R/31P/23FG
363
19
14-2
16R/3P
'98 MIN
511
6,264
17R/41P/35FG*
335
20
15-1
11R/1P
'98 DEN
475
6,092
26R*/32P/23FG
347
20
14-2
2R*/7P
'84 MIA
487
6,936*
18R/49P/9FG
502*
28
14-2
16R/1P
If the 2013 Broncos just hit their average on Sunday they will land up with 573 points, which will be 41 more points than any of the other contenders. And as you can see they already have the most points. Denver could also hit 7,316 yards, which would be 380 more yards than the next closest team. The 26 turnovers by Denver is a negative, and if they win this week their 13 victories would still keep them in last place among these seven. The only team in this group to win the Super Bowl was the 1998 Denver Broncos.
It's always going to be a debate and I could make a case for at least five of these teams for the greatest offense of all time, but for now here's how I ranked them.
1. 2013 Broncos
2. 2007 Patriots
3. 1998 Broncos
4. 1984 Miami Dolphins
5. 2001 Rams
6. 1998 Vikings
7. 2005 Colts
Feel free to make a case for a team to move up or down. Of course, if you believe another team belongs on this list let me know who it is and who should go.
An example of how not to use social media

Mike McClure, a DFS pro with more than $1M in winnings, gives optimal DraftKings and FanDuel...

Let's check in on the Giants a day after their loss to the Lions
Mike McClure has made over $1 million playing DFS and gives his best daily fantasy football...

The veteran linebacker is the franchise's all-time leader in sacks

It's unclear when Timmons, a free-agent signing in the offseason, will make his Dolphins d...