Where will Tim Tebow play now that the Jets have set him free?
Where will Tim Tebow play now that the Jets have set him free?
On Monday the New York Jets ruined everyone's day cleared up their quarterback situation by releasing Tim Tebow .
"We have a great deal of respect for Tim Tebow," Rex Ryan said in a statement released by the team. "Unfortunately, things did not work out the way we all had hoped.  Tim is an extremely hard worker, evident by the shape he came back in this offseason. We wish him the best moving forward."
The best for Tebow might be just finding a job at this point. No one really seems to want him, and it's hard to blame other NFL teams for their lack of interest. Tebow's an unproductive media distraction. That's about as welcome as a bounty scandal for an NFL team these days.
So it's not shocking that Tebow got dumped by the Jets and it's not shocking that he's not wanted anywhere. But we shouldn't be shocked because Tebow's not that good, honestly.
Whether it's his fault or not, New York ruined him. By accepting the trade to the Jets, Tebow became irrelevant. The Jets weren't on the same page with what they wanted to do with him. Maybe they lied to him too, and led him to believe that by coming to New York he'd have a shot to compete with Mark Sanchez and a chance at becoming the starting quarterback. Once people saw him in practice, he never had that chance.
He had a choice on going to New York, and he put himself into that situation. But New York did him wrong; a year after taking the Denver Broncos to the playoffs and beating the Pittsburgh Steelers , Tebow was completely and 100-percent irrelevant on the football field. It's a stunning fall from whatever he had (grace doesn't seem like an appropriate word).
It's looking like Tebow's got a single news cycle remaining. Let's look at where he could end up.
NOT JACKSONVILLE
Yes, I realize "Not Jacksonville" isn't a place, per se. And, yes, I realize I'm screaming in all caps. But you need to get one thing straight: just because Tebow is from the Jacksonville area and just because he's wildly popular down there (my grandfather sends me newspaper clippings of his good deeds) doesn't mean he'll end up there. If you think that's the case, you're not paying attention to what David Caldwell is trying to build. He traded out of a spot where he could land a high-profile quarterback in Matt Barkley, and that was only in the fourth round. Caldwell already said he "can't imagine a scenario" where Tebow becomes a Jaguar. ("Even if he's released.") Let's stop listing this team just because it's convenient.
New England
The New England Patriots don't make sense for Tebow because the Patriots don't like cameras snooping all over the place. But the Patriots do make sense because Josh McDaniels is the coach who originally drafted Tebow and Belichick can tell the cameras to get bent. In a nightmare like New York, Tebow remained part of the focus because he was behind a badly-struggling Mark Sanchez. Sit him behind Tom Brady and no one's asking when he'll see the field. Clearly McDaniels sees something in Tebow -- or, at the very least, saw something -- since he drafted him. Scoop him up, send him to quarterback camp and turn him into a viable backup quarterback (or something else) over the next two years.
Philadelphia
Tebow doesn't get the ball out quickly, doesn't seem to really be a football brainiac and Philly already has a pile of quarterbacks to deal with, thanks to Michael Vick , Nick Foles , Matt Barkley and Dennis Dixon being on the roster. But Tebow did run a spread-option offense in college and he could be considered a "weapon" or some such. Chip Kelly is nothing if not unconventional, so it's difficult to completely rule out Tebow as a possibility for the Philadelphia Eagles . Right? Maybe?
Green Bay
Again, lots of reasons why Tebow does NOT make sense here. But the team that takes him needs to have a stable quarterback in place. Aaron Rodgers is the definition of stable, having just received a $120 million extension. I don't think that Mike McCarthy's team necessarily wants the issues that come with Tebow in terms of camera time, but I do think that sticking Tebow in McCarthy's passing camp for a few seasons, deflating his public profile and letting him try to get better at quarterback wouldn't be a horrible move.
New Orleans
Same sort of thing here. The Saints have Drew Brees. Drew Brees is quite good. No one thinks that Tebow should play over Brees, which means he can go there and people won't mention him getting playing time. In fact, the Saints would get attention for something other than Payton's return to the field; maybe this wouldn't be such a bad fit. Give Tebow some time with good offensive minds and maybe he could change the way he approaches the game as a quarterback and learn to make an impact.
Chicago
The Chicago Bears have a franchise quarterback they're clearly comfortable rolling with in Jay Cutler , but he's also in the final year of his contract. Tebow is a Marc Trestman guy, having worked with the Bears coach leading up to his selection in the 2010 NFL Draft. Would he actually play for Chicago as long as Cutler is healthy? No, of course not. But the Bears have seen first hand the miracles that Tebow can work late in games, they have had major issues with back-up quarterbacks in years past and it's not like Chicago is stacked at QB on their depth chart, with only Josh McCown behind Cutler at this point.
Oakland
The Raiders don't make sense in the whole "have a stable quarterback and are a winning franchise" thing. Instead they make sense in the total opposite way. There's no stable quarterback situation there and they stink. The roster is gutted. Tyler Wilson has some major upside and Matt Flynn could hold down the fort for a little bit. It's really just a desperate heave into the end zone with the hope that Tebow could come in and win some games. Or something.
Canada
This is, apparently, the most logical solution. Because there's no real options remaining for Tebow in the NFL, he should head north! There's only one problem: you actually have to pass MORE in the Canadian Football League. Yahoo! Sports' Andrew Bucholtz did a nice job outlining the issues in Tebow coming to Canada at the 55 Yard Line noting that with only three downs to work with, passing is more important and that any duel-threat quarterbacks who succeeded in Canada tended to be good passers as well.
ESPN
This is only sort of a joke. The obsession with Tebow is off the freaking chain: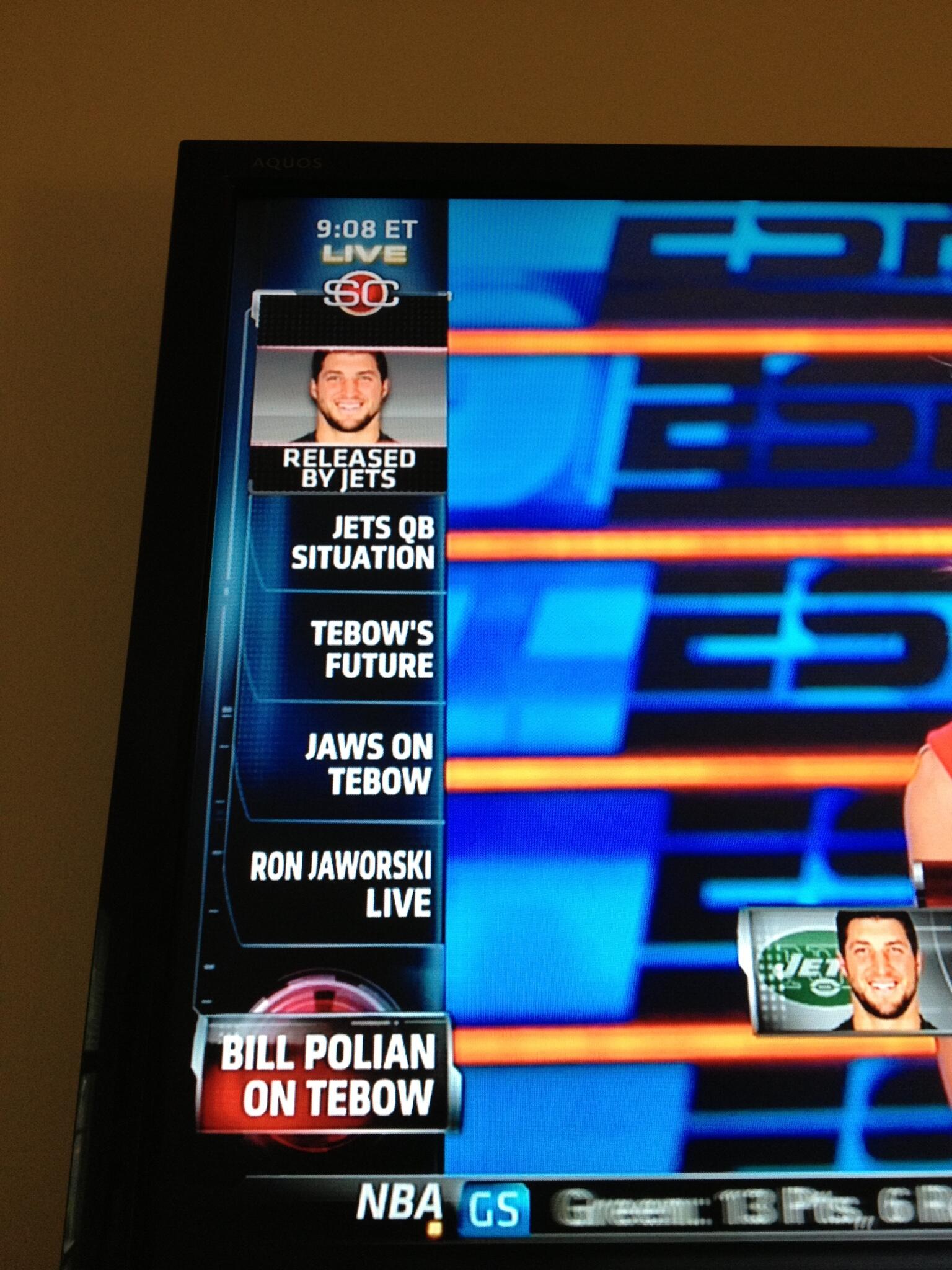 And if Tebow can't play football anywhere, then an analyst job makes sense. At the very least he'd get to talk about himself a lot.
The Lions are being recognized after beating two popular preseason picks to make the playo...

Hernandez was 27 when he committed suicide in April 2017

Mowins is set to become the first female play-by-play announcer in NFL on CBS hisory
The Rams have struggled against the 49ers but that was during the Jeff Fisher era

The Cowboys' running back owns his mistake, says it was 'just bad effort'

Casey, who died at 78 on Wednesday, was a top-10 pick in the NFL Draft and an eventual Pro...