Which NFL coach will be fired next? Oddsmakers like 49ers, Lions, Colts
Who will be the next NFL coach to get canned? Let's take a look at the candidates.
The 2015 season could turn into the year of the interim coach soon if head coaches keep getting canned at the rate they're getting canned. We're less than halfway through the NFL season and we've already seen two coaches fired this year. 
The Dolphins dumped Joe Philbin on Oct. 5 after the team got off to a 1-3 start. The second firing came earlier this week when the Titans canned Ken Whisenhunt. Although it was surprising move, you can't really blame them.
Whisenhunt was 3-20 in his 23 games on the job and two of those wins came in season openers, which means Whisenhunt can handle anyone when he has three months to prepare, but isn't so good at this week-to-week thing. 
With Whisenhunt and Philbin both out, the big question now becomes: Will we see another firing this year?
The oddsmakers seem to think we'll see one soon and if we do, that firing will be in Detroit. 
If anyone does get fired, the NFL would inch toward its highest in-season firing total since 1990. Over the past 25 years, the most coaches to be fired during the season is four, which happened in both 2010 and 2000. 
Anyway, let's take a look at who the likeliest coaches are to get fired in 2015.
Odds on the next NFL coach being fired (via Bovada)
Jim Caldwell (1/2 odds): The offensive coordinator, general manager and team president have all been fired already, which means Caldwell should probably just start packing now. Although Caldwell may be the next to coach to go, it is still slightly surprising to see him here considering he's less than one season removed from leading the Lions to a playoff berth. A playoff run that only ended because of a few questionable calls in a postseason loss to the Cowboys. 
Jim Tomsula (5/1 odds): Anyone who starts Blaine Gabbert by choice has to be on this list. Although it's hard to imagine Tomsula getting fired after less than one season on the job, this is the same front office that dumped Jim Harbaugh because he wasn't "winning with class," so Tomsula getting canned is definitely a possibility. 
Chuck Pagano (6/1 odds): The Colts stole a strategy from the Lions' playbook this week and fired their offensive coordinator, something Detroit did in October -- and by the way, you should never steal anything from the Lions' playbook. If Pagano makes it through the bye week, I think he'll make it through the season, but that's a BIG if. Before hitting their Week 10 bye, the Colts play the Broncos on Sunday and a loss would drop them to 3-6. If the Colts lose to Denver, Pagano will probably want to turn his cell phone off during the bye. 
Mike Pettine (8/1 odds): The Browns aren't going to turn things around until they get their quarterback situation figured out for the long term and right now, it doesn't look like they're anywhere close to making that happen. 
Lovie Smith (10/1 odds): The only way Smith is getting fired is if the Bucs end the season on a nine-game losing streak and even if that happens, he'd probably be given at least one more year, especially since Jameis Winston's a rookie.
Gus Bradley (12/1 odds): Surprisingly, Bradley might actually be the safest coach on this list. When the Jaguars were in London last month, NFL.com reported that Bradley's job was safe through at least the end of the 2016 season unless there was a "player mutiny." I'm going to predict no player mutiny. 
Jason Garrett (20/1 odds): This is a longshot and probably won't happen, but I'm guessing Bovada put him on this list because Jerry Jones is completely unpredictable. Jones could wake up tomorrow morning and decide he wants to fire everyonen except for Tony Romo and Dez Bryant's monkey.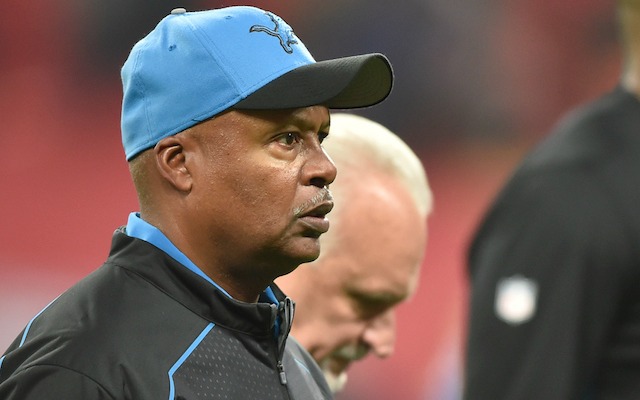 Pick Six Newsletter
Get the day's big stories + fun stuff you love like mock drafts, picks and power rankings.
Please check the opt-in box to acknowledge that you would like to subscribe.
Thanks for signing up!
Keep an eye on your inbox for the latest sports news.
Sorry!
There was an error processing your subscription.
Running backs around the league have their eyes on Gordon's contract standoff with the Cha...

Looking at some under the radar games for early in the season and camp storylines on the Pick...
The retired QB has made it no secret that he's gotten interest from teams around the leagu...

The Texans need to keep their young franchise QB upright, but who's the right man to do it...

College football's best QBs have some work to do to bolster the reputation of the 2020 cla...