Whisenhunt: Whitehurst, not Mettenberger, still Titans' No. 2 QB
Although Zach Mettenberger is the league leader in passing yards this preseason, he's still No. 3 on the Titans depth chart.
• 1 min read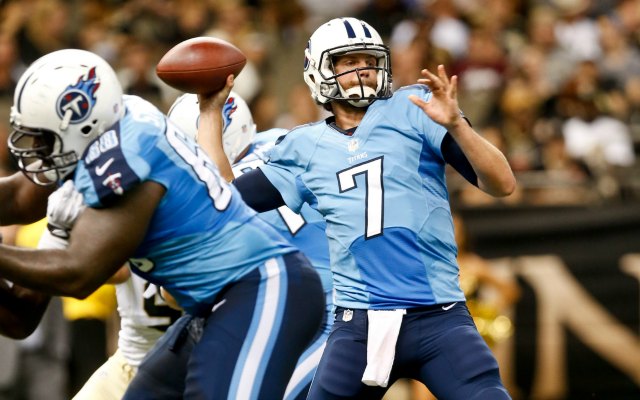 Jake Locker has missed a combined 14 games in the past two seasons with injuries, so it's not out of the realm of possibility that the Titans might need to start somebody other than Tennessee's former first-round pick at some point.
For now, that certain somebody would be Charlie Whitehurst rather than sixth-round pick Zach Mettenberger.
This despite the fact that Mettenberger has played this well this preseason -- well enough to lead the league in passing yardage after three weeks of exhibitions -- while Whitehurst hasn't seen much time lately because of a hand injury.
"Charlie's had a very good preseason, too, and a very good camp," coach Ken Whisenhunt said, via the Tennessean. "I've said Charlie was the [No.] 2 coming in, and I don't think that is going to change."
From an experience standpoint, sure, that makes sense. Whitehurst has been in the league since 2006, and he's been called into spot starting duty four times in his career (he's won exactly once). Mettenberger is a low draft pick who's never played a regular-season NFL game.
But Whitehurst, in his career, has never impressed the way Mettenberger is right now.
Yet that kind of production isn't enough to make the Titans comfortable in moving the rookie up the depth chart. Maybe it feels like a punch to the face, but Whisenhunt doesn't necessarily see it that way.
"There are times he struggles with some things, which is not uncommon for a young player," Whisenhunt said. "He has done a good job, and he has made some plays. … He has a good pocket presence, and he has made some accurate throws. … He is taking advantage of his opportunities to improve, which is good to see."
The league has been working closely with civic-minded players on ways to assist them in their...

The 2018 draft class is shaping up to be absolutely loaded at the running back spot

Micah Roberts is gunning for nine straight winning NFL picks on 'Thursday Night Football'
Did Jackson text Deshaun thinking it was DeShone? Not the case, according to the Browns co...

The Vikings coach says the way that linebacker Anthony Barr tackled Rodgers was within the...

The defending NFC champs look lost after home defeats to the Bills and the Dolphins