Why did Bengals give Andy Dalton $115M if they have AJ McCarron?
Why are the Bengals giving Andy Dalton all that money when they have AJ McCarron?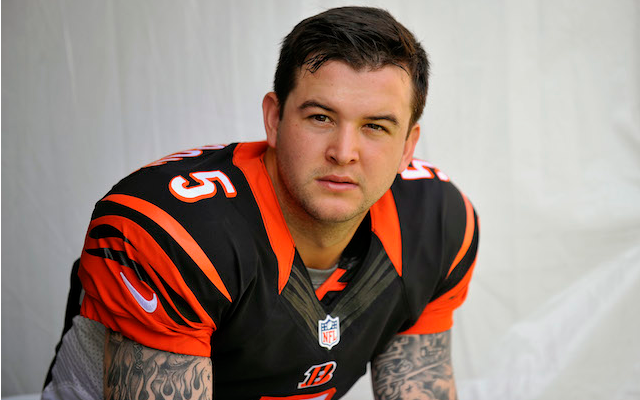 More NFL: Photos |  Videos & GIFs |  Training Camp updates | Manziel watch
There was a lot of reaction after Bengals quarterback Andy Dalton signed a six-year, $115 million extension with the team this week. 
Some people thought it was a good deal, some people thought it was a bad deal and then there were some people who thought the Bengals were crazy because why not use that money to BUILD A STATUE OF AJ MCCARRON!
OK, so no one actually suggested that the Bengals build an AJ McCarron statue, but plenty of people on Twitter were wondering why the Bengals gave Dalton so much money if McCarron's on the roster. 
The Bengals first problem is that they paid a guy who's not going to start after Week 12. 
Andy Dalton will not be the starter by seasons end b/c of performance.... McCarron will start by week 12. Book it.

— MR.E The Uncommon 1 (@BEmejuru) August 4, 2014
Actually forget Week 12, Dalton's not even going to make it to Week 6. 
They still gonna keep payin Andy Dalton that money when he loses his job to AJ McCarron by week 6?

— Crimson Tide Casey (@casey22rolltide) August 4, 2014
This guy's mad because Dalton's contract means no first-team reps for McCarron, a fifth-round pick. 
Only thing that gets me mad about the Andy dalton resigning is that A.J Mccarron won't get any first team anything

— Scheme (@AnthonyBollard) August 5, 2014
Lets just call the Dalton contract what it is, a 'stupid move.'
Why would the Bengals sign Andy Dalton for 6 more years and $115M when they have Aj McCarron? Stupid move...

— Dakota Knapton (@dakota_knapton) August 4, 2014
ROLL TIDE 
@NickC941 Andy Dalton is getting paid a ton of money to be AJ McCarron's backup ROLL TIDE ROLL

— Thom B (@thomb65) August 4, 2014
This guy at least has a somewhat realistic timeline about things.
@dpshow Andy Dalton will not be the QB in 2 or 3 years and then AJ McCarron will be the starter for the #Bengals

— Al Schulte (@bullpenal1963) August 5, 2014
This guy took things straight to the Bengals official Twitter account for answers.
.@bengals you guys have AJ freaking McCarron. Why would you give Andy Dalton all that money

— Corey Koogler (@Koogs242) August 4, 2014
Lets get back to reality though: The Bengals signed the wrong guy, Andy Dalton is not the future. 
"@SportsQuotient: Andy Dalton and the Bengals ink a 6-year, $115 million deal. #NFL pic.twitter.com/k7dLawdYea" Aj McCarron is the future

— kj fivetwo (@NoLimitWylie) August 4, 2014
Now it's time for a guy from CNN to weigh in because we need the opinion of an unbiased, non-Bengals fan, non-Alabama fan.
I still think AJ McCarron takes over for Andy Dalton sometime in the next two seasons.

— Brian Carberry (@CNNBrian) August 4, 2014
Finally, we'll end on this tweet because it puts things into mathematical perspective for us and everyone loves math. 
AJ McCarron > Andy Dalton

— Trent Hunt (@trent_hunt42) August 4, 2014
Forget Andy Dalton and his contract, it looks like all the pressure is on AJ McCarron. 
(Wink of the CBS Eye to @JoeGoodberry.)
He'll reportedly appeal the suspension

Rodgers is eligible to return after eight weeks and the Packers reportedly aren't giving up...

The Packers think the hit is dirty, but the NFL apparently disagrees
Here's every official injury designation for each NFL team for Week 7

If it wasn't already clear, the Packers are not happy with the hit that injured Rodgers on...

Passengers were treated to some explicit chants from the Oakland running back, too