Why not London Bucs? Don't assume Jaguars are moving
We know the NFL wants London, and Jacksonville is the team linked there, but why not Tampa Bay or someone else? Why always Jacksonville?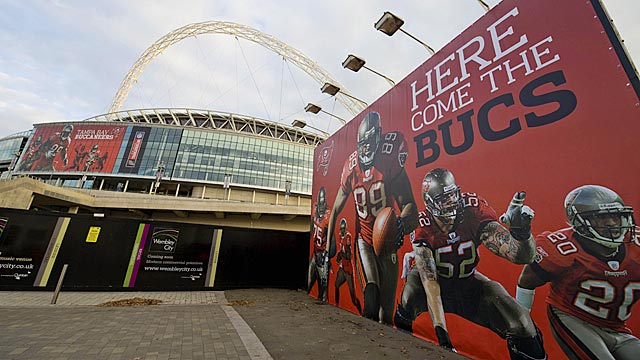 NFL commissioner Roger Goodell is a smart man with a vision, even if some players don't think so.
He is bullish on London as a home city for an NFL franchise. That is smart. It's going to happen, and it should.
The NFL is always looking for more, and the global picture is what they have their eyes on now. But having said that, why is it always the Jacksonville Jaguars who are the team that is mentioned to be moving?
When Los Angeles was talking about getting a franchise, it was always Jacksonville.
Now it's London. Not to shoot holes in what my colleague, Jason La Canfora, wrote today, because he has his rock-solid sources, but I have been told by league sources that Jacksonville is not alone as a potential London team. And Jaguars sources insist the team isn't going anywhere anytime soon.
So why is Jacksonville always the target? Because of the tarps covering seats? That's all anyone ever says. Reality is this: As is, the Jaguars' stadium is still bigger than almost a third of the NFL stadiums in the league. Even with the tarps. 
Is it their attendance? They averaged more per game than either Miami or Tampa Bay last year -- the two other Florida franchises -- by a lot. The Jaguars averaged 64,984 fans last season to rank 20th. Tampa Bay was 31st at 55,102 and Miami was 29th at 57,329.
Last time I checked, the Miami and Tampa markets were a lot bigger, and both teams had better records than the 2-14 Jaguars. So, does that make Jacksonville a better football market?
Why not Tampa Bay to London? The Bucs' owners -- the Glazer family -- also own the Manchester United Football Club -- soccer in this country. They know about the market.
Yes, the Jaguars have committed to play a game in London in each of the next four seasons. New owner Shahid Khan is trying to build his team into an international one. That is smart.
But to just automatically assume it will be Jacksonville making a move is foolish. Is it possible? Sure. If they don't win, the fans don't come, and the attendance dips -- of course, it is. But it's no different for Tampa Bay or St. Louis or any other of the franchises that have either stadium or attendance issues.
Back in the day, when the Jaguars started out, they drew more than 72,000 per game. It was new and trendy. Then they won. The crowds stayed. But when they lost, there were no diehards, and attendance dipped.
Now the crowd is younger. The kid who couldn't go to school the Monday after the 1996 Jaguars lost in the AFC Championship Game to the New England Patriots is now old enough to buy season tickets. The Ponte Vedra wine-and-cheese crowd has been replaced by a younger, more passionate fan base.
Former Jaguars owner Wayne Weaver used to tell me all the time how he needed to just bridge a six- or seven-year gap as the young fans grew into season-ticket buyers. It would have been easy to do if they won. They didn't. That made it tough. But now they are old enough.
The fans are coming back. The passion is still there. Jacksonville, contrary to what you might think, has always been a Jaguars town. Not a college town. In 1996, the Florida Gators won a national title. Later that week, the Jaguars upset the Denver Broncos in the playoffs.
The Gators' title was a distant second around the office coolers. It was all Jaguars.
Tampa Bay has had big-time crowds in the past as well. And they have more big business and a bigger market than what is in Jacksonville.
So, why aren't they going to the games there? Something doesn't add up. Tampa Bay was a much better team than Jacksonville in 2012 and didn't draw.
What's the better market?
I live in Jacksonville. But if the team moved, I could live anywhere. So I really don't care if it does. But I hate to hear all the misinformation about a franchise that isn't nearly as bad as many make it out to be.
There's just one problem: Like the rest of the franchises struggling at the gate, you have to win when you are not a legacy franchise.
Going 2-14 makes you a candidate for any other market. Do it again after playing a game in London this year, and it will be even worse.
That's the reality. What isn't a reality is that Jacksonville is going to London no matter what. They are not alone as a possible team that could move.
See Tampa Bay and others.
Pick Six Newsletter
Get the day's big stories + fun stuff you love like mock drafts, picks and power rankings.
Please check the opt-in box to acknowledge that you would like to subscribe.
Thanks for signing up!
Keep an eye on your inbox for the latest sports news.
Sorry!
There was an error processing your subscription.
Osweiler has been good for the Dolphins this season but in 2016 with the Texans, he was one...

Here are the Week 7 grades for every team that played on Sunday and Monday

Wondering which NFL teams are going to win in Week 8? You've come to the right place to find...
According to reports, Bengals owner Mike Brown told Reid he 'intends to prohibit' anthem p...

All the latest trade news and notes from around the NFL including the latest rumors floating...

Breaking down everything you need to know about the Le'Veon Bell holdout