Why the Rams should explore the trade market for Sam Bradford
Trading Sam Bradford could be the move that maximizes the Rams' chances to win. But would they be willing?
• 8 min read
More NFL offseason: Mock Drafts | Prospect Rankings | Pro days | Top free agents
At the risk of being inundated with phone calls from radio producers in the greater St. Louis area -- because that's what seems to happen merely by writing Sam Bradford's name in almost any context, the quarterback's very presence seemingly a hot-button issue on local sports talk -- I have a suggestion to make to the St. Louis Rams: Why not maybe see what Bradford might fetch via trade?
About a month from the draft, at a time when there are growing rumblings among scouts that the overall strength of elite players at positions other that quarterback could lead to the passers falling a bit, this might be as good a time as any to covertly gauge a market for Bradford. If it's me, I'm seeing if someone else out there would want to buy-in to Bradford's antiquated contract that's the offspring of a collective-bargaining agreement long since overhauled.
If I could opt out now -- with Bradford having two years and $27M left on his deal but all of his $50M in guaranteed money already in his pocket -- and get decent value in return, that might be too good to pass up. And several other execs I spoke with thought the Rams might be best served by taking a proactive approach to this conundrum. A team could select multiple quarterbacks in the first round of multiple drafts, for instance, and still not owe their cumulative 2014 quarterback the $14M Bradford is set to make this season.
(And, to be perfectly clear, in this era of extremely selective reading comprehension, let me state this unequivocally: I am NOT reporting the Rams are shopping Bradford. I am NOT reporting the Rams are even considering shopping Bradford. I'm not reporting anything in that regard. I am merely positing that a case could be made that based on his age, contract and Bradford's potential relative value economically and cap-wise, that dealing Bradford and finding a replacement in the draft might advance the franchise given his stunted production and injury woes to this point.)
I'm not proposing a fire sale here, where you just try to dump the contract if at all possible the way we've seen teams float guys like Julius Peppers and Chris Johnson this offseason. I'm talking about making a football trade that brings a starter at a position of need and a high pick in return, when, combined with the fact the Rams are already in a strong position with the second and 13th selections in the draft under their control, puts the team in position to capitalize on its influx of talent the past few years and propels them into playoff contention, making the kind of jump the Cardinals did in 2013.
Who could be most interested?
Could be that no one would make that sort of a trade for Bradford, but I'd want to hear it for myself, and there remain several teams in the draft that need a quarterback -- Cleveland, Minnesota, Jacksonville, Houston, perhaps Buffalo -- that may start to prefer a young veteran like Bradford to the likes of Blake Bortles, Johnny Manziel or Teddy Bridgewater at the top of this draft. It just so happens that several of those teams remain loaded with more cap space than they could ever need, and some are short on players who are worthy of imminent contract extensions. So they have money to spend and relatively few options to spend it on (and keep in mind all teams must spend at least 89 percent of the cumulative cap from 2013-2016 on its payroll).
Several front office executives I spoke with -- guys who aren't in the quarterback market one way or another and wouldn't have a dog in this fight -- believed Bradford could still fetch a strong return. They believed that some of the young GMs picking high in this draft who need quarterbacks might fancy Bradford over possibly swinging and missing on a quarterback high in the first round. They cited Bradford's lingering appeal with offensive coordinators and quarterback coaches, who first fell for him at Oklahoma and still look at him the way they did when he was selected first overall in 2010.
"They love the kid, at least the ones I've talked to about him," one NFL executive said. "He's still a pretty popular figure with them. And everyone knows he's a tremendous kid. If he was available I would expect there to be a lot of coaches in personnel meetings who would think they would be the guy to get him to fulfill his potential."
So with all of that in mind, might it make sense for the Rams -- who have been defined by bold and aggressive moves under this Jeff Fisher/Les Snead/Kevin Demoff regime -- to see what might be out there? I understand that the mere thought that a starting quarterback, even one coming off a lost season due to injury, is being shopped might send shockwaves through an organization. The reality is, as I have noted, Bradford has been compensated quite well to this point, and the idea of a contract extension or how to move forward with him long-term has no easy solution given the empirical evidence provided to this point. (The Rams maintain they are open to doing an extension for him).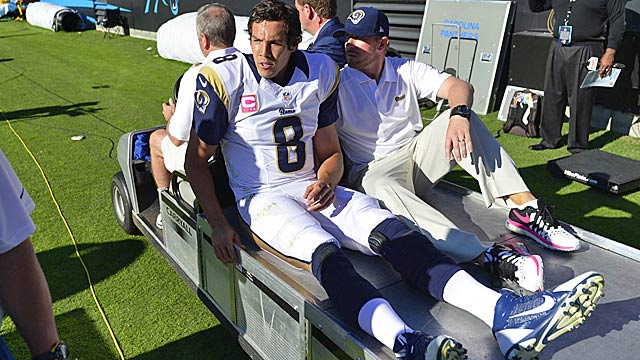 The Rams struck gold with the trade with the Redskins (that landed Washington RG3). If they pulled off a strong return for Bradford, including a proven starter at another position and a high pick (if Trent Richardson went for a first-rounder, who not Bradford?), and then draft someone like Sammy Watkins and then one of the stud tackles at 13, and use the pick they got for Bradford to take a quarterback, could they be better set up to win right now? And, obviously, they would have considerably more cash and cap flexibility moving forward than they would if they were negotiating an extension for Bradford coming off a 2015 season in which he is scheduled to make $13M.
Bradford is the kind of kid everyone pulls for. He is a true gentleman, a wonderful kid who has had some bad luck, some even worse pass protection and a lack of reliable weapons for much of his career. There have been system changes and coordinator changes and a head coaching change already in his brief career. All of that has to be part of the equation.
Is he a fiery leader of men? Does he command a huddle and a sideline? Will he be able to stay healthy? Those are real questions that still linger after four seasons in the NFL. Bradford has completed less than 60 percent of his passes in his career (58.6), he has 59 touchdowns and 38 interceptions thus far, been sacked an astonishing 120 times in just 49 starts (that begins to take a toll, quickly, on a player who dealt with health problems in college), and has a career passer rating under 80 (79.3).
That isn't overwhelming, especially for a first-overall pick.
What to make of Bradford's 2013?
Bradford was off to a strong start through seven games last season -- 14 touchdowns to four interceptions, a rating over 90 -- though the Rams were doing much of that trying to crawl back into games as they started the season slowly. Unfortunately for Bradford, he also has to play in the best division in football, against three defenses that can humble, confound and pummel even the best quarterbacks in the NFL (ask Peyton Manning about that Seattle defense). That hasn't helped, either.
No matter where you come down on Bradford's tenure, the fact is that since he came into the league, among all quarterbacks with at least 500 attempts, Bradford ranks 29th in passer rating (just behind Kevin Kolb, Jason Campbell and Josh Freeman), he ranks 32nd in completion percentage (tucked between Campbell and Colt McCoy), he ranks 36th in yards per attempt at 6.29 (tucked between Christian Ponder and McCoy, and behind Brandon Weeden and Mark Sanchez), and he ranks 20th in TD/INT ratio (he betters guys like Jay Cutler and Cam Newton in that regard, it should be noted).
So, if the Rams are able to upgrade multiple positions via the draft and by hypothetically trading Bradford, could they find a quarterback in the second day of this draft who could better the output that Bradford has provided to this point? Even if they don't, if they did trade down out of, say, the second spot, they could possibly land a 2015 first-round pick out of that swap, which would have them primed to dabble in that quarterback class as well if need be.
And, if they stick with Bradford, absent him signing some kind of team-friendly extension, will they find themselves in this same position with him again next year, only then perhaps without all of the additional flexibility they have now to be major players in this May's draft, given that they are reaping the final remains of their fleecing of the Redskins from two years ago. Perhaps there is no better time than the present.
Things are further complicated by the fact Bradford is still working back from his November ACL surgery. And, in all likelihood, the Rams just might not see a quarterback in this draft who they think could do more for them in 2014 than a healthy Bradford could (assuming this is his breakthrough season). It would take some major guts to pull off something like this -- and I applaud the Rams for being as bold and forward thinking as they have (this concept would be a complete nonstarter to even mention in connection to some of the more conservative franchises in the league).
But as the draft keeps pulling closer, and if some quarterback-needy teams continue to seem tepid about the crop of first-round passers up for grabs in May, in a league where a perennial Pro Bowlers like Darrelle Revis and DeSean Jackson were outright released in the primes, the premise of shopping Bradford ahead of the draft should rank as anything but crazy.
Penn Medicine's Dr. John Kelly thinks Wentz's late-season ACL tear is an "RG3 equivalent"

Landry set career highs in receptions and TDs but only averaged 8.8 yards per catch

One of the Steelers most dynamic players suffered a serious spinal injury in early Decembe...
The draft stocks of these prospects will change the most based on their performances at the...

Buffalo moves up to the No. 5 pick to land their franchise quarterback

Like everything with Luck, there's some good news and some bad news with his latest health...