With healthy RG3, Orakpo, Redskins out to prove NFC East title no fluke
RG3 looks great at practice and with the return of Brian Orakpo and Fred Davis, the Redskins are thinking big. But Pat Kirwan says the schedule outside the NFC East is brutal.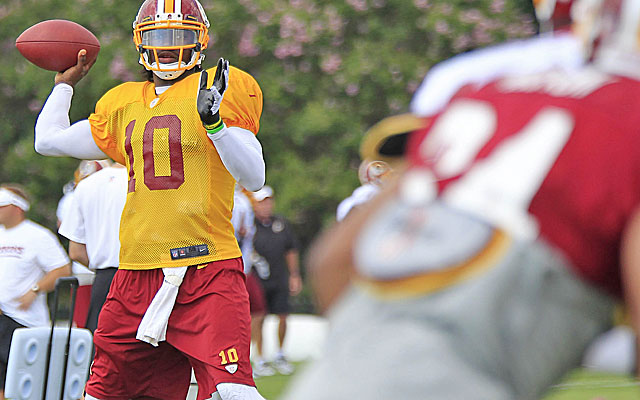 Last year the Redskins surprised everyone by winning the NFC East. This year there are no surprises coming out of the nation's capital. This team expects to win it all -- and they are better than last year.
There was little doubt in my mind about that after visiting Redskins camp. The team practices fast and players at every position have real playing experience from last season.
Things I saw or heard on my camp visit
1. Brian Orakpo is a man possessed and practicing like a guy who really missed playing. Trent Williams said Orakpo is bringing it on every pass rush, and Mike Shanahan said he is taking everything more seriously. I watched Orakpo practice like it was a game.
2. Robert Griffin III looked great running around on the practice field and looks like a lock to start in the opener.
3. The Redskins wide receivers and tight ends hardly dropped a ball all day with Josh Morgan and Fred Davis looking exceptional.
4. There is solid depth on the offensive side of the ball with good backups at offensive tackle, tight end, running back, quarterback and wide receiver. It's a classic Bruce Allen roster with players who the team can win with on the back end of the roster.
5. There are three rookies trying to crack the starting lineup in the secondary, safeties Bacarri Rambo and Phillip Thomas as well as corner David Amerson. My bet is one of the safeties will crack the lineup. Amerson also made a great play on a deep ball that caught the attention of the veteran corners.
6. The Redskins were the fifth-most penalized team last year. When it was brought up to coach Mike Shanahan, his response was that the world champion Ravens were the most-penalized team. Shanahan did say that his Redskins are working hard to clean it up. A good place to start is eliminating the false starts (26 last season) and defensive offsides (13).
7. Trent Williams is quickly becoming an All-Pro left tackle. When we talked blocking for RG3 he said that pass rushers really have to contain rush because his quarterback will break contain and take off. Williams knows he rarely gets pass rushers who cross his face and rush inside.
8. In the 7-on-7 passing drill RG3 went 13 for 16 with one interception off a tipped pass that the receiver should have caught. He also had one scramble that ended with an all-important slide that created a big roar from the 15,000 fans at practice.
9. The Redskins are working hard to not have to blitz to get to the quaterback on third downs. Look for Ryan Kerrigan and Orakpo from the outside and Darryl Tapp and Barry Cofield inside. After watching these four rush the passer I believe they will top the 32 sacks they had last year.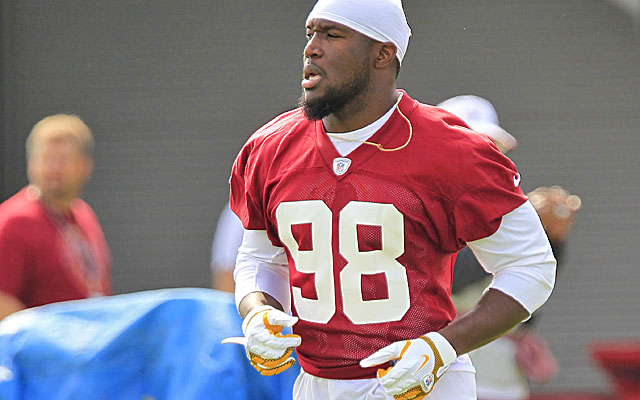 10. It was clear the defensive players I spoke with don't understand why defensive coordinator Jim Haslett was under fire and on the hot seat. Haslett has the respect of the players and the defense looks ready to defend the NFC East title.
The hot storylines from camp
1. How will RG3 adapt to the game after his injury? The second-year quarterback is moving well and looks just about ready to play. He leads his team down the field in sprints, can escape and change direction as well as set his feet and drive the ball. It doesn't appear that the Redskins are moving away from the pistol/spread option concepts because RG3 was injured. I expect a lot of what we saw last year from this offense.
2. Can the Redskins fix their 30th-ranked pass defense? It's going to take a better pass rush and a few rookies in the secondary to fix this problem. As long as Orakpo is healthy the pass rush will be better. In the secondary, a rookie or two will crack the lineup and upgrade the defense. Rookie CB Dave Amerson will push to start.
3. Will the 23rd-ranked pass rush improve? Orakpo and Ryan Kerrigan will generate 20 sacks between them as I watched both guys rush quarterbacks in practice. Expect to see both of them moving around and lining up in different spots, stressing offensive lines to decide how to call protections. Throw in Darryl Tapp lining up inside as well as a few blitzers and the Skins should have 40-44 sacks.
4. Position battles: Who is the fifth wide receiver? Aldrick Robinson and Dezmon Briscoe look like they are fighting it out. Who is the second tight end? Fred Davis is back and on top of his game for the No. 1 TE spot. Logan Paulsen is getting challenged by rookie Jordan Reed. Which running back is the solid No. 2 back behind Alfred Morris? Evan Royster and Roy Helu are in a good battle for the spot but keep an eye on Keiland Williams, who had a few explosive runs in practice.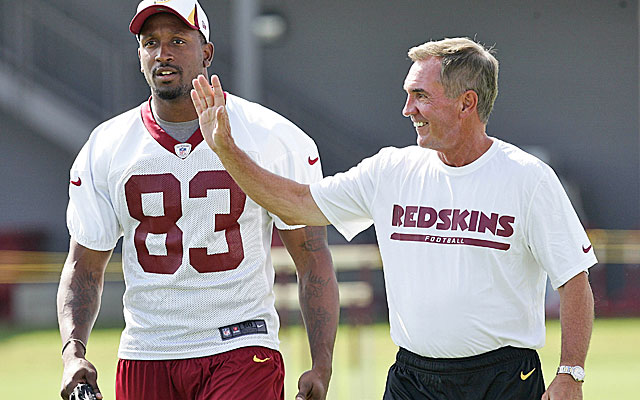 5. Rookie report: The sign of a good team is the difficulty rookies have winning a starting job. That is quickly becoming the case with the Redskins. The Skins see Reed, the rookie tight end, as a flex player who can line up as a tight end, slot, wide receiver or wing. I expect more multiple tight end personnel groups like the 49ers use, especially in no-huddle situations. It looks like the club stole a player in the sixth round when it selected safety Bacarri Rambo. He is taking lots of first-team reps and will help the team with 'big nickel' packages. The same can be said for fourth-round safety Phillip Thomas .
6. Guys on the Bubble: Only one of the backup offensive tackles, Tony Pashos or Jeremy Trueblood, will make the team. Quarterbacks Rex Grossman or Pat White are fighting it out for the third spot, but I still like Grossman to make it. Roy Helu or Evan Royster should both make the roster unless someone like rookie Chris Thompson or Keiland Williams has a big camp. DE Adam Carriker (medical-will not be ready before November) could be lost for the season. The three rookies pressing to make it in the secondary as well as Chase Minnifield could put defensive backs Jerome Murphy and DeJon Gomes on the bubble.
7. Will the Redskins run Alfred Morris hard again this season? I talked with Morris and he wants more work than last year when he carried the ball 335 times and caught 11 passes. Much of his success came from the read option run game, and it likely will again this year. Mike Shanahan wasn't afraid to run Terrell Davis 300-plus carry seasons in a row and the same will be true in Washington. Morris told me he has really worked on his route running and receiving skills, so figure him for 350 touches this season and 1,800 total yards.
8. The Skins were 5-1 in the division last year. Will they do it again? They are a faster team this year because so many players got playing time last year as rookies. You can see it in practice with the constant up-tempo pace they are able to sustain. TE Fred Davis missed all five division wins last year with an injury and he looks terrific. WR Josh Morgan missed all six division games and he is looking like the top wide receiver. Brian Orakpo missed all six division games last year after averaging more than nine sacks a season in the three previous seasons. Washington can go 5-1 again but the Giants passing game looms as the biggest threat. Eli Manning threw for more than 600 yards and had the only division win over Washington.
9. The schedule: Besides battling the always tough NFC East, the Skins play Green Bay, Atlanta, San Francisco, and Denver. They are a better team that may have the same record -- or even one less win.
The Pro Football Hall of Fame is one step closer to announcing the Class of 2018

Grab some turkey and get ready for this NFC North showdown

SportsLine's top NFL and college football experts pick a 4-team parlay that pays 10/1
After an epic collapse against the Saints, the Redskins are hoping to right the ship

Brice Irvin is not a happy camper right now

Linda Del Rio is not happy with the president